Rickshaw Ban on 3 Major Roads
Traffic police go easy on first day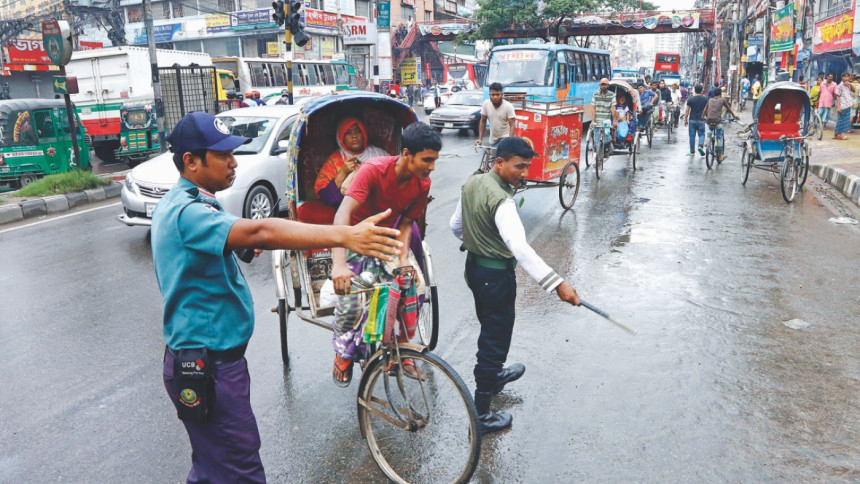 On the first day of Dhaka north and south city corporations making three major streets off-limits to rickshaws, some pedal-powered three-wheelers were seen on the streets, as traffic personnel said many rickshaw-pullers and passengers were not aware of the restrictions, while a half-day hartal also affected public transport availability.  
Meanwhile, commuters said if authorities stop rickshaws on the roads without adequate public transport and alternative arrangements, they would have to face acute trouble.
"We started the day by enforcing the ban strictly, but relaxed it later as there was heavy pressure of rickshaw commuters," said traffic official Md Faruq at Khilgaon crossing. "Many rickshaw pullers don't yet know about it," he said, adding that they will strictly handle the situation from the next day (today).
The road going through Kuril-Rampura-Malibagh-Kamalapur-Sayedabad area saw a small number of rickshaws plying.
"I came to Dhaka from Gaibandha 30 years ago in search of a living, and have been pulling rickshaw since. The government must not overlook the misery we have to go through," said Nuronnabai, 50, of Shabujbag.
Another puller Sajal, 32, said, "Our earnings have taken a hit as the number of trips have decreased substantially. We have to starve to death if the government does not take any initiative to rehabilitate us."
Some school-going children of the area, as well as some other commuters, were seen walking to short-distance destinations, which they said they used to take rickshaws for.
Rejaul, a rickshaw puller, demanded Tk 150 fare from a passenger for Khilgaon to Bashundhara, which was Tk 80-100.
When asked about the high fare, Rejaul said, "This is probably the last day of pulling rickshaw on this busy road, so we are taking extra fare."
However, staffers of two buses -- one of Turag Paribahan and one of state-run BRTC -- on the Khilgaon-Kuril road said they did not see any extra pressure of passengers yesterday.
SHAHBAGH-SCIENCE LAB AND AZIMPUR
Meanwhile, the scenario was a little different on the Shahbagh-Science Lab and Azimpur-Gabtoli routes, as a half-day hartal observed by left-leaning parties protesting gas price hike made buses scarce.
Quite a few rickshaws were seen passing through the Shabagh intersection as Dhaka University had classes, and traffic police officials said they allowed the three-wheelers because other modes of transport were unavailable because of demonstrations in the area.
"It is difficult for us girls to always travel in public buses; that is why I use rickshaw to come to class. If the government strictly restricts rickshaw movement on this route, how am I going to commute to the university?" said an annoyed Jasmin Shanta, who commutes between Azimpur and Dhaka University regularly.
"I have an exam but I am late already, as rickshaw pullers refused to go to the university," Azimpur resident Tareque Hossain, who studies at a private university in Panthapath.
On July 3, a special committee led by Dhaka South City Corporation Mayor Sayeed Khokon decided that three major streets would be made off-limits to rickshaws, in a bid to ease traffic congestion in the areas.
The roads are: Kuril to Sayedabad via Rampura and Khilgaon; Gabtoli to Azimpur via Asad Gate; and Science Laboratory intersection to Shahbagh intersection.