A three-month wait that didn't end in three decades
812 families living in misery at Babuchhara Guchchhagram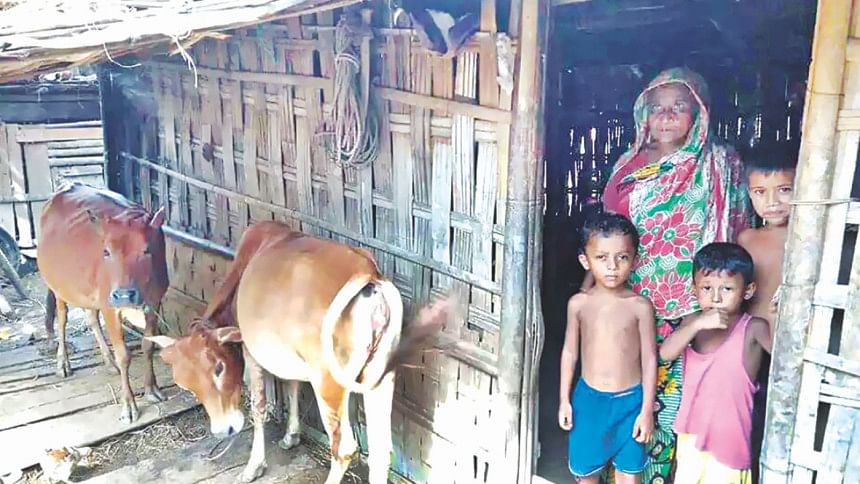 Nasima Begum's three-month wait for returning to her homestead did not end in three decades leaving her with an abject life at a temporary cluster housing that best resembles a refugee camp.
Like hers, authorities relocated a total of 812 families from their homesteads in Sonamia Tila of Khagrachhari's Dighinala upazila to a cluster housing named Babuchhara Guchchhagram in 1986 temporarily on security reasons.
"We had homesteads, farmland, cultivated fruit-bearing and timber orchards, school, madrasa, hospital and graves of family members in the Sonamia Tila," said Nasima. "But now all of it is under occupation of hill people, with their dwelling structures and prayer houses."
"The graves of my father and sister have been turned into space for their toilet," she lamented. "Several hundred graves of other families too have been turned into something else."
"At Guchchhagram, we have to accommodate our sleeping berth, latrine and cattle all within a tiny makeshift space of eighty square feet," she said.
Mahfuza Begum of another family at Guchchhagram said it is inhuman to live a life in the horrible condition of cramming four or five families into a swarming small space having nothing called sanitation.
"Our latrine and kitchen are accommodated side by side, and two to three families have to share a single latrine by turn," she said. "It is over-crowded like a refugee camp without any sewage system; everything gets mucky with filth during monsoon."  
During a visit to Sonamia Tila last week, a number of houses of hill people, a temple named "Sadhonatila Bonbihar" and an adjoining under-construction structure were seen in Sonamia Tila.
Abdul Malek, president of Dighinala Bhumi Rokkha Committee, said they had appealed time and again to the government authorities to return to the homesteads, to no avail.
The government had rehabilitated the said families, internally displaced due to natural disasters, in 4,060 acres of hilly Khas (public) land of Sonamia Tila in 1983.
At the time, the government permanently allotted each family 23 decimals of homestead and 4.77 acres of arable hilly land for their livelihood.
But by 1986, life in this remote area became dangerous in the face of decline in law and order situation due to emergence of armed group, Shanti Bahini, according to official information.
The families had to be relocated to shabby and overcrowded makeshift cluster housing, a few kilometres away from Sonamia Tila, for three months.
A government primary school was established for the families in Sonamia Tila in 1984, and still remains a testimony to the habitation in early '80s.
Having been displaced from their homesteads and livelihood for long, some of those affected are getting involved in unlawful and criminal activities out of poverty, said Abdul Malek.
"In some cases, regional-level armed groups exploit their poverty and abuse them in carrying and smuggling illegal arms, and as covert informers to carry out terrorist activities," he said.
Md Sheikh Shahidul Islam, upazila nirbahi officer (UNO) of Dighinala, said the last time he wrote to the deputy commissioner of Khagrachhari about the plight of the displaced families was around five months back.
Guchchhagram accommodation has turned uninhabitable with the population growth and lack of civic amenities over time, he said. "But tribal people have been occupying Sonamia Tila with makeshift Kiangghar (temple) and dwelling structures."
Replying to why the local administration does not take a move for return of the displaced families to their homesteads, he said, "If we do that, it will ultimately lead to a law and order situation we, together with law enforcing and security forces, may not be able to tackle peacefully."
"The politics is completely different in the hills," said the UNO.
So, they are in fact waiting for a decision from the central government in this regard, as it has "become a big issue" because of its political sensitivity with both tribal and non-tribal communities hard-nosed for possession of the land, he said.
Mikel Chakma, spokesperson of regional hard-line party United Peoples Democratic Front (UPDF), claimed that the very land tenancy in favour of the non-tribal people by the government was "illegal", arguing that it was not done in pursuance of the local tradition.
UPDF has been fighting for full autonomy of Chittagong Hill Tracts since 1998, immediately after the 1997 Peace Accord was signed between the government and Jana Sanghati Samity, to put an end to a bloody armed struggle in the hills.
Asked why leasing out Khas (public) land by the government among its citizens would be illegal, and whether existing law of the land was sufficient, he said, "It was illegal because it was done without taking consent of the local Headman and Raja -- a traditional practice."
Swadesh Smriti Chakma, general secretary of Khagrachhari Headman Association, echoed him, saying land ownership in the Hill Tracts had to be determined on the basis of Headman's report.