In the realm of allegories
Poetry thrives on loyal fan base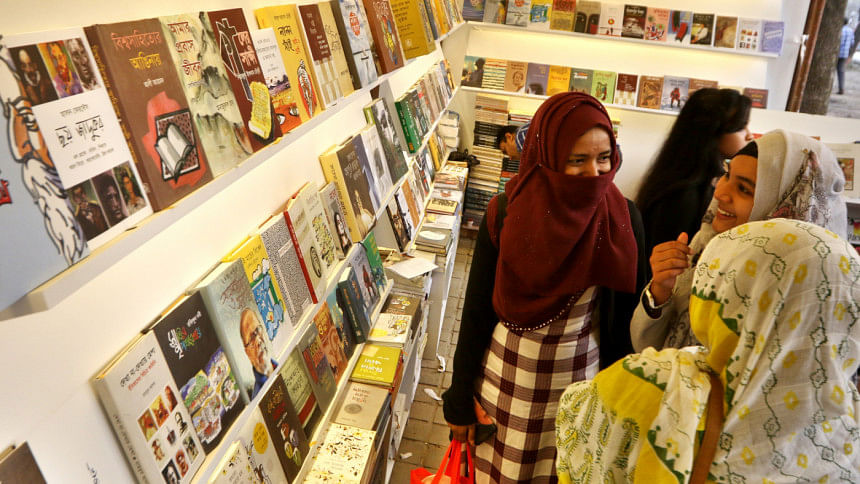 While literary fiction remains the heavyweight at Amar Ekushey Grantha Mela, a loyal fan base has kept poetry well and truly alive at the month-long book fair.
 "Whenever you read poetry, you can feel the passion in every line a poet has put in. It resonates with me so strongly, that I can feel the emotions in every rhythm of a poem," said Nadia Haque, a final-year Dhaka University student, whose favourite book is Syed Shamsul Haque's "Nuroldiner Sara Jibon."  
 While some prefer works of prominent poets, others are more keen to explore the endeavours of new poets. 
 "I gifted my wife a book by a new poet, as she is a poetry lover and wanted to explore new authors," said Sariful Alam, holding hands with his partner Shemonty Kabir.
 "I love to read poems of Helal Hafiz, Nirmalendu Goon, Rudra Muhammad Shahidullah and many more. This year I have decided to try out new poets," said Shemonty, holding a copy of "Obhijog Nei" by Rudra Goswami.
Anindya Prokash has published a total of 110 new titles, of which 15 are of poetry. The books include – "Selected 10 Poems" by Sabina Yeasmin, "Nil Projapati" by Mehebub Haque and "Obak Jothsna" by Mizharul Islam. 
Regarding demand of the books, its publisher Md Afzal Hossain said, "Novels record the highest sales. However, poetry books also compete in the race of reaching readers."
Nirzhar Noishabdya, a promising writer and poet, says, "Poetry doesn't express anything directly. It is the readers who should decipher it. It is also like painting and you can interpret it with your own experience," he said while talking about poetry.
Nirzhar has published 16 books so far, of which six are of poetry. His first book of poems was published in 2011.
Regarding readership of the literary form, he said, "As poetry uses lot of metaphors, it is not very popular among masses. However there are loyal readers. They are the ones who buy poetry books and support us."
Daily Star Books
While not its most common form of publications, Daily Star Books also released a new collection of poetry, its first, available at stall no 491-492.
"Inner State": is a new collection of poems by Mohammad Shafiqul Islam, professor of English at Shahjalal University of Science and Technology. The themes of the book revolve around around identity, love, sensuousness, freedom, complexity of city life, nature, nostalgia, grief and suffering.