The miracle of a mother's touch
'Kangaroo Mother Care' helping premature babies thrive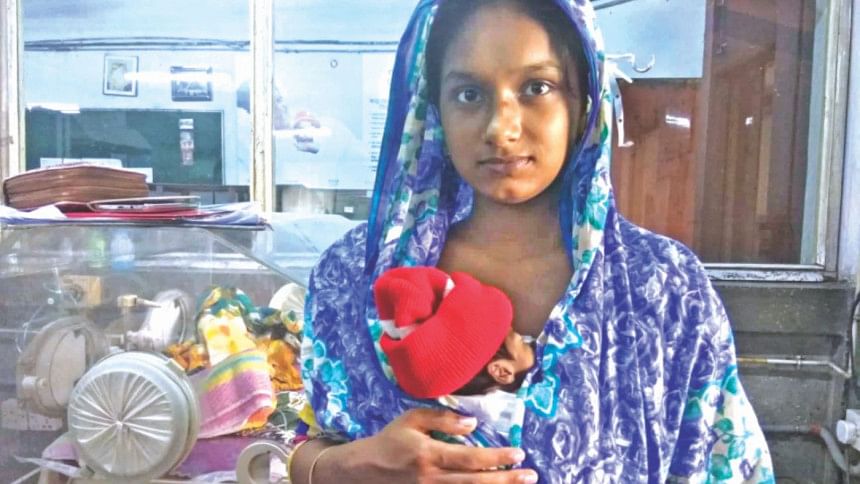 When Shanta became pregnant for the second time, her family was elated.
Two years back, the 18-year-old mother gave birth to her first child and luckily, there wasn't any pregnancy or childbirth-related complications, despite her being underage.
So, the couple from Narsingdi was looking forward to welcome the new addition to their family. Shanta was admitted to the same hospital where she gave birth to her first child.
But little did the young mother know the joy of motherhood would turn to worry as her second child, born in October, was born premature. The baby, born at seven months, weighed 1,085 grams and had breathing difficulties along with other health hazards.
The doctors at the hospital recommended that the couple take the child to Dhaka Shishu Hospital. The baby boy was admitted there early this month.
Thanks to the initiatives taken by the doctors at the hospital, especially the Kangaroo Mother Care (KMC) method they taught Shanta to practise to improve the child's health, he is getting better now.
KMC refers to the practise of providing continuous skin-to-skin contact between mother and baby, exclusive breastmilk feeding, and early discharge from hospital. Premature babies, usually born before 37 weeks and weighing under 2,000 grams, are treated with KMC.
"I was very worried when my child was born premature. I feared I was about to lose him due to his poor health," Shanta told this correspondent at the hospital on Wednesday.
She was holding the baby in her arms. In between conversing, the mother was also being attentive towards her child. She hummed him to sleep.
"At first, his condition deteriorated and doctors had to put him in an incubator for a couple of days to maintain his temperature. Later, they suggested using the KMC method. Now it has been 18 days, my baby's health is improving," said the relieved mother.
She said her first child is staying with her grandparents in Narsingdi and her husband, Mohammed Helal, a trader, is staying in Dhaka to be with them.
This correspondent also spoke to Naznin Nahar Ruma, 30, who gave birth to her first child at a hospital in Narayanganj. She said her child was born at seven months and weighed 900 grams.
As per doctors' recommendation, she is also using the KMC method and said her child's condition is also improving.
Dr MAK Azad Chowdhury, head of neonatology department at the hospital, said, there is nothing as powerful as a mother's love. "This continuous skin-to-skin contact between the mother and baby and exclusive breastfeeding method is the best treatment a child can have."
"Incubators or other machineries can cause problems to a child like burning of skin due to excessive heat," he added.
Dr Azad also emphasised the negative impact of early marriage and consequently pregnancy. He said early marriage, lack of nutrition and insufficient antenatal medical care are some of the reasons behind deaths of premature babies.
As a precautionary measure, many developed countries are also using the KMC method, he added.
Dr Md Mahbubul Hoque of the same hospital said KMC has been helpful in decreasing mortality and morbidity in preterm and low birthweight infants by providing protection from infection; regulating temperature, breathing, and brain activity; and encouraging mother-baby bonding.
It reduces the risk of potential infection threats to babies, prevents hypothermia, mitigates respiratory problem and reduces the risk of death, he said. Both parents can use the method at home and should continue the process until the baby gains more weight (at least 2,500 grams).
98 KMC CENTRES IN COUNTRY
Premature babies are getting treatment in 98 KMC centres across the country with the help of Save the Children, Unicef and WHO, under National Newborn Health Programme of the government.
The government started the programme (January 2017-June 2022) with an aim to reduce the newborn mortality rate to under 12 per 1,000 live births by 2030.
Directorate General of Family Planning (DGFP) and Directorate General of Health Services (DGHS) under the Ministry of Health and Family Welfare are implementing the programme at a cost of around Tk 422 crore.
Under this programme, various steps, including KMC, are being taken to improve the health of newborn and mother, said officials.
WORLD PREMATURITY DAY TODAY
This year, Bangladesh is celebrating World Prematurity Day with the theme -- "Working together: Partnering with families in the care of small and sick newborns".
Since 2012, Bangladesh has been observing the day to create awareness of premature birth and its impact on families.
According to health officials, around six lakh babies are born prematurely each year in the country.
The premature babies are born usually with low birth weight (less than 2,500 grams) and run the risk of deaths, said Dr Md Jahurul Islam, deputy programme manager of the neonatal health programme of the health ministry.
GOVT INITIATIVE
The government has targeted to set up 200 KMC centres under DGHS and 70 centres under DGFP by 2022 to reduce premature deaths.
Officials and doctors said programmes such as awareness building and providing quality healthcare services to mother and child are crucial along with applying the KMC method.
The method was first initiated by paediatricians Dr Edger Rey Sanabria and Dr Martinez in 1978 in Colombia.
Uzma Syed, senior adviser (maternal and newborn health) to Save the Children, said the government first included KMC in its health policy in 2013 and then started implementing it from 2016.
She stressed the need for creating awareness among rural people regarding premature births.
Wahida Siraj, senior manager (improving newborn survival project) of Save the Children, said they are involved in 25 KMC centres, maintained by the government.
Contacted, Sultan Md Shamsuzzaman, director of DGHS, said, "We want to reduce infant mortality and are working towards it. So far, we have trained around 2,000 health workers and doctors and will train up 7,000 more."
But, he said, lack of awareness remains one of the major challenges in reducing premature births. "We are also initiating various programmes at the KMC centres in this regard."