The inequalities in online education
Students in rural areas lag behind due to poor infrastructure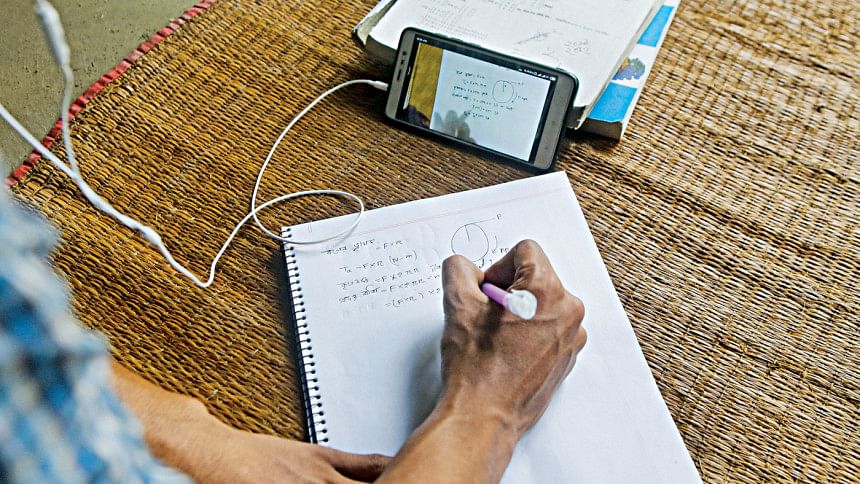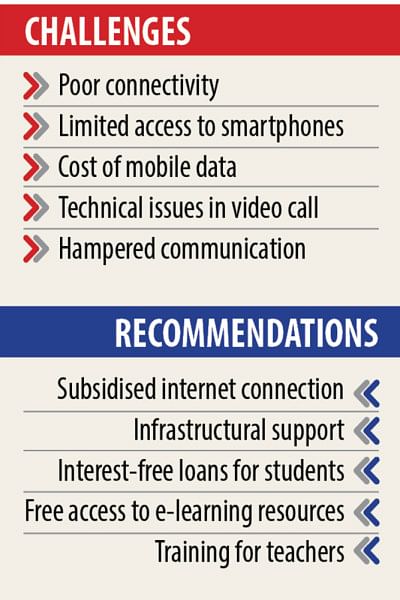 Most days of the week, Jagannath University student Ayesha Nijhum is seen sitting in an open field near her house in Gazipur's Kapasia. The second-year student of management attends online classes on her cellphone for about two hours and prefers the field over her house due to the better signal reception in the open area.
She said they started attending two classes online, five days a week, from July. But she had to miss many classes due to lack of stable internet connection in her village, although marks are still assigned to regular attendance.
Farhana Mita, a third-year student of management studies at Government Titumir College, affiliated under Dhaka University, said teachers sometimes end up cancelling classes as only one or two students join the online lectures, although they have over 400 students.
Although the pandemic prompted universities to move their classes online, poor internet connectivity is disrupting the learning process of a large number of students like Ayesha and Farhana, who have been staying at their village homes since the universities closed in March. The closure has been extended till January 16, 2021.
The 2019 Multiple Indicator Cluster Survey (MICS) of Bangladesh Bureau of Statistics found only 5.6 percent of households in the country have access to a computer and 37.6 percent of households have internet access.
University Grants Commission in August asked public universities to prepare a list of students who cannot attend online classes for not having smartphones.
Thirty-nine public universities sent lists of 41,501 students who need assistance. The UGC decided to provide these students with Tk 8,000 each interest-free loan so that they can buy smartphones to attend online classes.
According to UGC Secretary Ferdous Zaman, UGC already sent the money to the respective university funds on December 15. "The university authorities will scrutinise who need the money, and disburse it on their own. As far as I know, some students already received it, while others will get it soon," he said.
RURAL STUDENTS STRUGGLE TO CATCH-UP
The Daily Star spoke to 20 students of different public universities and colleges who said they have not been able to reap the benefits of remote learning due to poor connectivity and lack of smart gadgets.
Before the pandemic, students could do their assignments and projects at their university computer labs.
"Now when we are asked to complete an assignment in 30 minutes and email it after converting the file to PDF, many of us simply cannot do that on time. This will affect our results," said Ayesha, also listing creating presentations as a major hurdle in this time.
Anwar Hossain, a fourth-semester student of Islamic studies at Dhaka University, said a communication gap exists due to online learning, which affects the lessons.
He said the learning dynamic is heavily affected by the mechanics of video communications platforms. "Often the videos get paused in the live feed due to server issues and by the time they resume, students have already missed out the point the teacher was making," he said.
Teachers spend a significant amount of time behind roll calls. "Sometimes, over 25 minutes of an hour-long class is spent taking attendance," said Anwar.
Sumaiya Chowdhury, a first-year student of Eden Mohila College, said the unavailability of books and journals in the form of ebooks negatively affects their learning.
WHAT SHOULD BE DONE?
Experts say slow internet connections or limited access in rural areas can contribute to students falling behind academically.
Although the government took steps to widen the reach, it has to ensure affordable and accessible e-learning methods, they added.
"The biggest impact of Covid-19 is the learning loss," said noted educationist Rasheda K Chowdhury.
"Students must be provided with appropriate infrastructure and subsidised internet connection immediately. Otherwise, online classes will not be useful for those in rural areas," said Rasheda, executive director of Campaign for Popular Education.
In a recent survey on the impact of Covid-19 on youth's education, Bangladesh Youth Leadership Centre (BYLC) found that students of certain regions and institutions were disproportionately affected.
The most affected were those who hail from indigenous communities, madrasas, and remote areas including chars, islands, and hills, according to the survey conducted among 698 college and university students and five private and public university teachers in October.
The study recommended students be given digital infrastructural support and subsidised access to the internet by telecommunication operators, along with the state-owned Teletalk.
It stressed the need for accelerating process of providing interest-free loans to students, arranging training for teachers and providing free access to e-learning resources -- e-books, online journals, articles, and online courses.