The Bird of My Dreams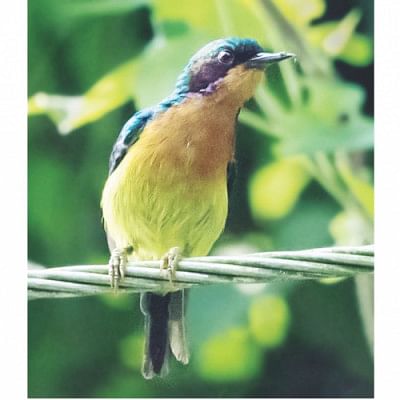 Sometimes when we want something very badly and try hard to get it, it eludes us.
For example, that girl (or boy) you secretly admired as a teenager. Somehow, she (or he) was always out of your reach. But you did not give up. You worked hard to get a chance to impress. And that day came – you had one chance – but somehow it did not work out like you planned.
On the job, there was that promotion you longed for. You sacrificed your free time for it and earned great reviews. It was oh so close... but always out of reach. It dangled in front of you and disappeared as someone else was chosen.
Perhaps there was a city you wanted to see, or the landmark you wanted to explore, that turned out disastrous. Or the designer outfit that looked elegant in the shop window but all wrong when you wore it. How about that coveted top ranking in class or a spot in the school cricket team?
We can all list any number of unattained but sought-after goals in our lives.
Enter the Ruby-cheeked Sunbird.
Readers of this column know I have a weakness for sunbirds (moutushi). These small, fast-moving birds are the Old World equivalent of hummingbirds of the New World. In Bangladesh we have five species of sunbirds, all beautiful. The colour of their plumage varies from purple to blue to turquoise to crimson, with splashes of yellow, orange and ruby. In sunlight they sparkle like jewels.
Sunbirds are exquisite photographic subjects. If I can catch them in a nice pose with the right lighting, I end up with a spectacular photograph. However, they are so busy flitting from flower to flower for food that they don't sit still for more than a second. They are also shy and fly away quickly if I come close. (Like other birds, it is male sunbirds that are colourful.)
Whenever I see a sunbird I freeze and try very hard to photograph it. And most of the time I fail. Yet, with enough attempts I have gotten lucky and photographed most of our sunbird species including the Purple Sunbird and the Crimson Sunbird.
But the Ruby-cheeked Sunbird is another story: the most beautiful and the most unattainable.
I have seen it in many places: Sundarban, Kalenga forest, out in the Haors, Satchori National Park. But every time, I want a good picture so desperately that I mess up.
In Sundarban, one morning my friends pointed their camera toward a leafy tree. I squinted and searched but found nothing. Eventually, just when I saw the Ruby-cheeked Sunbird and pointed my camera at it, it turned its back towards me and flew away.
More recently in Satchori I found one that miraculously set on a perch for a few seconds. And I was so nervous that I badly underexposed the photograph.
In other places, it was partially obscured by leaves or twigs, or my camera could not focus on it, or it was too dark. Once, just as I was about to get a perfect picture, a forest official came up behind me and startled me. He wanted to know where I was from.
So the Ruby-cheeked Sunbird remains the bird of my dreams. Perhaps it will become reality one day. In the meantime I thank my lucky stars that I was less clumsy when I met the girl of my dreams!
www.facebook.com/ikabirphotographs or follow ihtishamkabir on Instagram