The bike lanes to nowhere
Cyclists, urban planners say the two dedicated lanes in the capital are of little use without a wider network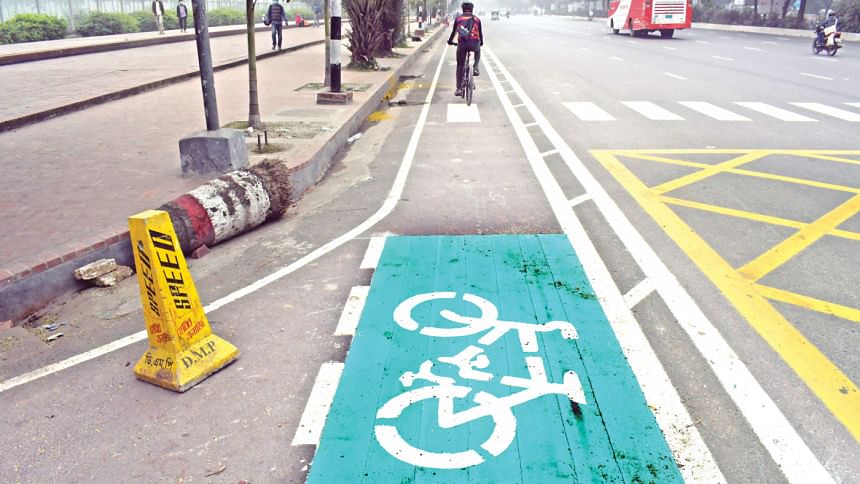 Around 15 months after the inauguration of Dhaka North City Corporation's first dedicated  bicycle lane in Agargaon, the initial optimism of cyclists surrounding the lanes is waning due to illegal occupation and lack of integrated networks.
In addition to the one in Agargaon, DNCC later unveiled another lane in Manik Mia Avenue a couple of months back -- as part of a Tk 694 crore  urban development project. But either of them is  yet to make any meaningful impact in city life, cyclists say.
"We've  been calling for such lanes for a long time. But now that they're here,  we're disappointed that they aren't serving their purpose," said  cyclist Rafiq Zaman, a regular at Manik Mia Avenue.
"What we  need is a long, integrated lane that can take us from one place to  another. Without any link between them, the two bike lanes lead to nowhere,"  he told this correspondent.
"Both of the lanes are marred by  illegal parking, makeshift stalls, and hawkers, basically rendering  them unusable for us," Rafiq complained.
On the occupants' side, traders said when it comes  to illegal occupation one problem leads to another.
"Bikers park their  vehicle here (on the cycling lane). If they can do it, why can't I set up my stall?" said Md Hasan, a chotpoti seller at Manik Mia Avenue. "In  fact, I have a greater need for this, as my family's survival depends on  this stall."
On December 28 last year, DNCC conducted a drive on  the road to free it from such obstructions. But within a few days, the  scenario returned to normalcy, sources said.
"We try to conduct drives every week to  free the place of illegal possession," said Masud Hossain, zonal executive of DNCC (zone-5).
"But it's difficult to  accomplish this properly as occupiers disappear the moment  they sense us. Once we're gone, things go back to usual. It is  quite a challenge," he said.
"(In light of this) We  have suggested fencing around the cycle lanes to our high-ups. We believe it can reduce  indiscriminate illegal possession," he added.
INTEGRATED NETWORK NEEDED
Bangladesh Institute of Planners general secretary Adil Mohammed Khan said, "If we want traffic or transport solutions in a city, we need to ensure it comes as part of a network. Without this, it's almost a case of  'Developed countries have bicycle lanes, let's have one here too.'"
As a way out, Adil proposed some solutions. "We can start with thinking of community or ward-based lanes."
"The reverse can happen too," he continued. "If the government decides that instead of community-based lanes, they want lanes in major roads across the city, then a plan to construct a network could work too. Unfortunately, there is no such plan in place yet," he added.
"Without these steps, the lanes are little more than a token or symbol of development," he opined.
On July last year, climate action activists and urban planners took a voluntary initiative to prepare a strategy for DNCC in this regard.
The paper -- a joint effort by Bangladesh Poribesh Andolon (Bapa), VITTI Sthapati Brindo Ltd, WBBTrust, Institute of Architects and Institute of Planners and more -- has received DNCC Mayor Atiqul Islam's nod.
Bapa Joint Secretary Iqbal Habib, coordinator of the initiative, said, "The mayor said he intends to make the city cyclist, pedestrian, and eco-friendly. But this cannot be achieved merely by random construction of a few lanes here and there without connectivity."
He told this correspondent they are finishing up the strategy paper with these issues, along with existing laws and international perspectives, in mind. If all goes well, it could be finished by March, he estimated.
DNCC's PLAN
In a recent  interview with the Daily Star, Mayor Atiqul Islam said, "Cycles are  getting popular. Besides the 9km cycling lanes in Manik Mia Avenue and Agargaon, from now  on, wherever we find space we will construct bicycle lanes."
The mayor also spoke about the integrated strategy paper by planners and climate action activists and said the  city corporation will take appropriate measures according to their suggestions.
"In  spite of challenges, we will go for an integrated bicycle network as it  will be beneficial for the environment and public health," he said.
Cycling activist Fuad Ahsan Chowdhury, spokesperson of BDCyclists -- the  country's biggest cycling platform and an aide to the paper -- said, "We welcome DNCC's  initiative, but we hope they will work to ensure usability of the  lanes."