A surgeon of film cameras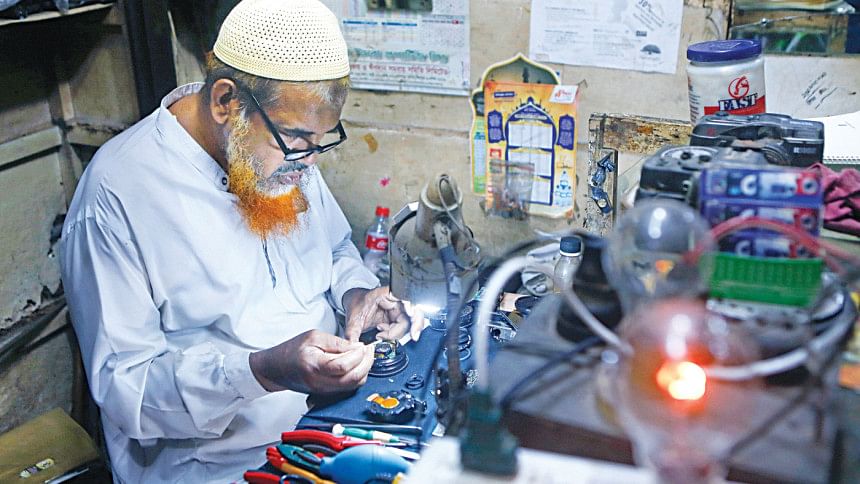 In this era of digital photography, we've almost forgotten about the time when the art form required much more tedious work. In fact, with the old 35mm film cameras, the whole process of taking a photo and getting to see how it came out, could take days. All that can be achieved in a matter of seconds now.
Fixing digital cameras aren't as big of a hassle either -- the issues with such cameras are usually with the firmware or shutter. But back in the day, fixing a film camera was more of a surgical procedure than some simple tweaking.
And one person (or camera doctor, in this case) known for his ability to mend these old broken cameras is Salahuddin Swapan.
Born in Narsingdi, Swapan came to Dhaka soon after his birth. In 1974, he found himself working as tea boy at a camera repair workshop in Farmgate, ran by one Md Altaf Hossain.
Swapan was quite curious about cameras, and would often lurk around Hossain, and watch him fix those old film cameras. Hossain took note of his curiosity, and soon took Swapan as an apprentice in the workshop.
"That's how I got into this hobby of mine," says Swapan. "I learned to fix these cameras by observing my mentor. No one can learn a skill like this by trying things out on their own. They need to observe and study a professional first before they can take these cameras apart, find what's wrong, and fix it back to working order."
Soon enough, Swapan found himself at the helm of his own camera repairing workshop deep inside Saudia Super Market, opposite Ananda Cinema Hall in Tejkunipara.
His passion for cameras and photography turned into a successful business, and people from all walks of life would visit his "Swapan Camera Hospital" to get their devices repaired.
"When a person falls ill, their treatment is conducted in many ways," explained Swapan. "You might even need to take them to the hospital, where the doctors will try to help them get better. For me, this shop does a similar job, but instead of human beings as patients, I tend to cameras."
Swapan also had the good fortune of working at Bangladesh Film Development Corporation (BFDC) in the early nineties, when stars like Ilias Kanchan, Farooque, and Abdur Razzak ruled the silver screen.
Swapan has embraced the digital era as well, and can now fix more modern cameras. "At first, I had to struggle a bit," he said, "But then I started opening the devices up, and looking into the details inside, slowly learning their mechanisms. I realised it was pretty similar, except everything was now electronic." In fact, fixing digital cameras has been a lot easier for him, because the parts are more readily available.
Nowadays, a lot of young people seem to be regaining their interest in old school film photography. They're often seen scouring for film cameras on the internet, and trying to reinvent the age-old format of photography. This rejuvenated interest in a long lost form of hobby could very well see Swapan's business experience a boom.
"That's a plus point for me," said Swapan when asked how it feels to see young people take an interest in film photography, "After all, that is what I excel at."