From streets of Dhaka to London
Bangladeshi youngsters taking part in Street Child Cricket World Cup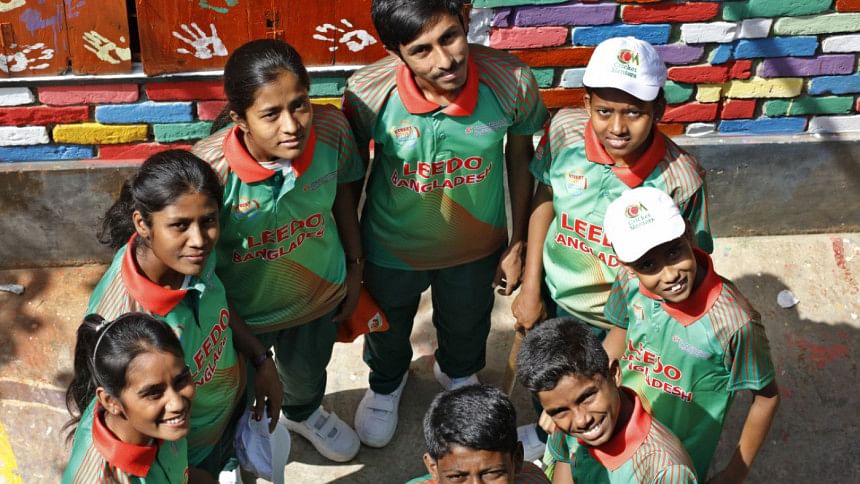 Running between ministries, passport office and court is over. Fifteen-year-old Jesmin Akter and seven other children are now excitedly ready -- with all their documents -- to fly to the UK tomorrow to play cricket.
With pride, they will be representing Bangladesh in an international cricket tournament throughout the first week of May in London and Cambridge. Seven nations including England, India, Pakistan and Nepal will be participating in the event organised by Street Child United, a UK-based charity that aims to change negative perceptions about street children through sports.
"The Street Child Cricket World Cup" convenes ahead of the 2019 ICC Cricket World Cup in England to bring street children under the spotlight. On the pitch, the teams will be representing their nations. Off the pitch, the youngsters "will make their voices heard and make recommendations to help improve the lives of street children worldwide", the charity says on its website.  
Like others, the Bangladeshi team will demonstrate how street children, if given opportunities, can prove to be resilient and reach their full potential. 
"They are ecstatic and excited," said Forhad Hossain, executive director of Leedo, an organisation working for the disadvantaged -- confirming over the phone that all procedures had been completed. 
That life would be taking them places was beyond imagination five or six years back for the eight young cricketers wandering around Dhaka streets -- homeless, aimless.  Jesmin was rescued from Kamalapur Railway Station. Like her, Nizam Hossain, Rubel, Sopna Akter, Abul Kashem, Rasel Islam Rumel, Sania Mirza and Arju Rahman were found in different corners of the capital. Between the age of 12 and 15, they now live in Leedo Peace Home in Dhaka's Basilla.
Getting over their bitter past and rebuilding life took years, Forhad said in a recent interview, as Jesmin shared her daily routine that revolved around school, cricket and 51 peers at the Peace Home.
At the time, participation in the international sports event was uncertain as the passport office had turned down applications of the "guardian-less" children. That was when Leedo sought an intervention from the court.
 With a declaration of Forhad being the legal guardian, the children found hope.
"The team consists of four boys, four girls… to maintain gender balance," Forhad said.  A coach had selected them from children of the Peace Home who were willing to play after days of practising. 
Like other residents of the Peace Home, none of the young cricketers' parents or relatives could be traced. Leedo took them to the Home upon filing a general diary and following an exhaustive search for their families who could care for them. They had also received a brief period of counselling at a temporary shelter in Babubazar. 
 With the joy of achievement radiating  from their faces, Jesmin, Rubel and two other members of the team sang a song -- composed by the band Shunno -- dedicated to street children.
 As the song goes, they will build Bangladesh with hope and love.