Special train for a special fruit
Railways offering parcel service to transport mango at discounted rate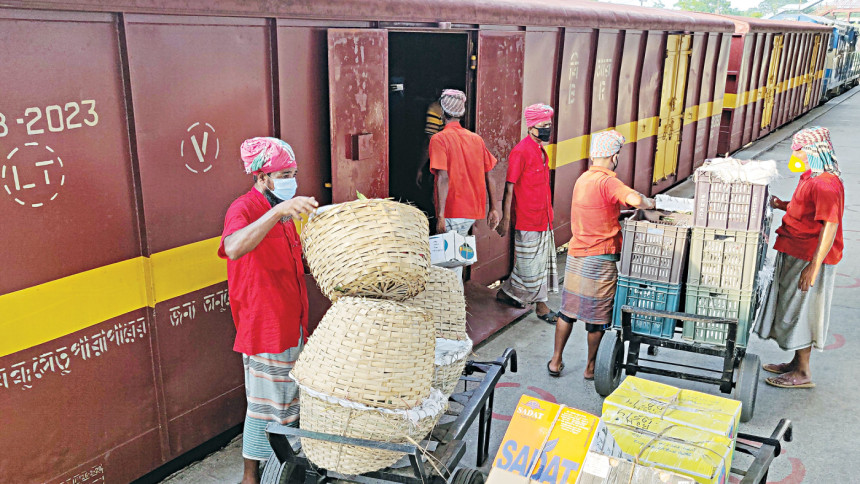 Mango is special.
With growers eyeing bumper yield and profit while buyers thronging markets to purchase these sweet delights, every year the "king of fruits" remains one of the best attractions of summer.
But this time around, amid the coronavirus scare, things are different. Mango growers had been suffering due to lack of transportation and buyers.
To ease growers' woes, the government has initiated a train service -- "Mango Special" -- to transport agricultural products, including mango.
The train began its journey on the route between Chapainawabgani and Dhaka yesterday at a reduced rate, said railway officials.
"We introduced the train for easing farmers' problems of transporting mango this season," said Md Nasir Uddin, railway's divisional transportation officer. The rates for booking parcels for the train was reduced to highest Tk 1.30 per kg from normal rate of Tk 3 a kg.
Both farmers and traders can use the facility, he said.
On the first day yesterday, around 1.64 tonnes of mango were booked from Chapainawabganj and six tonnes from Rajshahi, but each of the five coaches attached to the new train has the capacity of transporting at least 45 tonnes.
Appreciating the move, mango growers said this new train would reduce their sufferings, as they do not have to book at different courier services at exorbitant prices any more.
Most growers refrained from attending to their orchards this year as they were anxious about how they would market their products. Besides, the weather was not favourable this year as rain occurred during flowering and fruiting periods, hampering production.
Moreover, mango trees suffered two storms this year including the cyclone Amphan that caused dropping of around 10 percent of the fruit.
Amid the situation, introduction of this new train is a sigh of relief for growers. "I consider this special train a blessing," said Anwarul Haque, president of Rajshahi Safe Mango Producers' Association. "The process of booking is easier and the fruits will face lesser damage on train than on trucks." 
Growers will be able to save money on transportation cost too, he said.
He said transportation of a kg of mango in train would require not more than Tk 2 including expenditures for porters whereas they used to spend more than Tk 16 for booking mango with courier services and Tk 6 in private trucks.
Starting from Chapainawabganj, the train would stop at different stations for loading the fruit.  Other than Amnura, Rohonpur, Sitalai, Rajshahi, Sardaha road, Arani Abdulpur, the train will stop at Sirajganj, Tangail, Mirjapur, Mouchak, Joydevpur, Tangi, and Airport stations before reaching Kamalapur in the capital.
Starting from Chapainawabganj at 4pm, the train will reach Rajshahi at 5:20pm and Dhaka at 1am. It will then start from Dhaka at 2:15am and reach Chapainawabgaj at 10am.
But the train will continue to carry other goods including agricultural products round the year until further notice, said railway official Nasir Uddin.
"We named the train after mango as a homage to the region, which is known for the summer fruit," he said.
Against a capacity of 22 trains, at least 34 trains ply the routes of Western zone in normal times. Movement of the "Mango Special" has become possible as many trains are suspended over coronavirus situation.
Meanwhile, Directorate of Posts introduced a service called "Krishak Bandhu Dak Seba" from June 2 to transport mango to Dhaka free of cost.
The service is meant for only mango growers, said Md Shafiqul Alam, post master general of Rajshahi division. Only growers can transport at least 5 tonnes of mango free of cost daily from Puthia, Charghat, Bagha upazilas of Rajshahi under the service, he said.