Snail Kite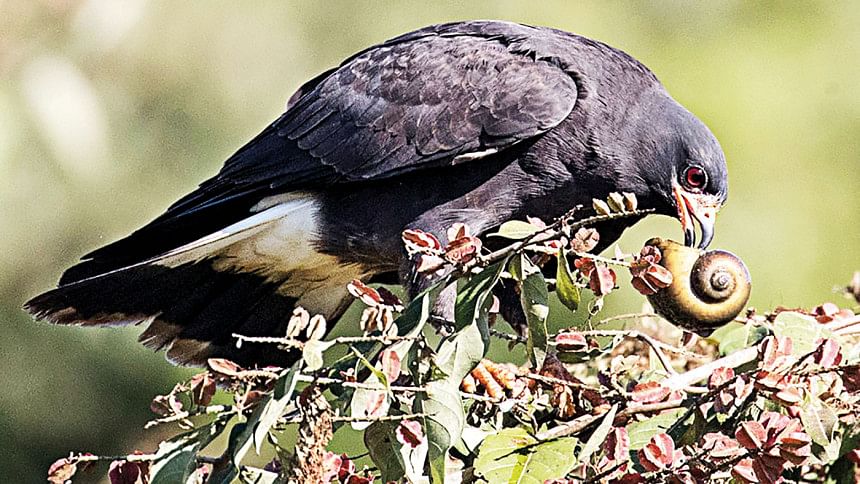 Five years ago, I was looking for birds at a lake in Florida. The lake had a grid of piers for boat landing. I was walking along one when a reddish-brown bird, medium in size, flew by close to me and started circling above the water. Its head was facing down and its talons were outstretched. It was clearly hunting. I thought it was looking for fish and waited for action, camera ready. In a few moments it swooped down. But instead of fish, its talons pulled out a large snail from the water, about the size of an apple.
The bird then sat atop a pillar on another pier. A strong wind was blowing and it had trouble balancing, but holding the snail with its feet, it used its sharp, hook-shaped beak to pry out the flesh from inside the shell. While photographing I came close to it, but it was so engrossed that it paid me no attention. Checking the photographs later I found the name of this bird: a female Snail Kite.
Three years after this sighting, I was on a boat in the Pantanal, Brazil's massive wetland. We were cruising the wide Paraguay River, checking different channels and tributaries for birds and animals. Our guide took us into a long, narrow channel. At the far end, sitting on the bank, was a dark grey bird. It had just caught a snake which was still writhing. As we watched, it tried to swallow the snake but apparently the scales were too much. So it used its talons and beaks to skin it before devouring it. Our guide informed us the bird was a male Snail Kite. On another day we saw a Snail Kite fly off with a large snail it had pulled out of a bush.
Snail Kites belong to the Kite group which are birds of prey belonging to one of three subfamilies of the large bird family Accipitridae. There are about twenty-five species of Kites. They are found all over the world, particularly in warmer lands. They are carnivorous birds, eating a wide variety of protein from mice to frogs to lizards to fish. Some kites are more avid hunters than others. For example, of the three species of Kites found in Bangladesh, two (Brahminy Kite and Black Kite) are lazy hunters, preferring to scavenge instead, while the smaller Black-winged Kite is a more active hunter.
The Snail Kite is a specialized hunter, preying mostly on large Apple Snails. But it will also take other prey as I saw in the Pantanal. At less than two feet long, its main features are its red eyes, its distinctive curved beak, and the white band on its tail. Male and female look different: the male is dark grey while the female is reddish-brown.
Globally, the IUCN considers Snail Kite as "Least Concern" because of its abundance in South America. However, in Florida, it is considered endangered and protected vigorously. It builds its nest on the ground in wetlands. People are not allowed to approach these nests. I know a photographer who was arrested and fined for approaching and disturbing the nest of a Snail Kite.
www.facebook.com/ikabirphotographs or follow "ihtishamkabir" on Instagram.