Shikra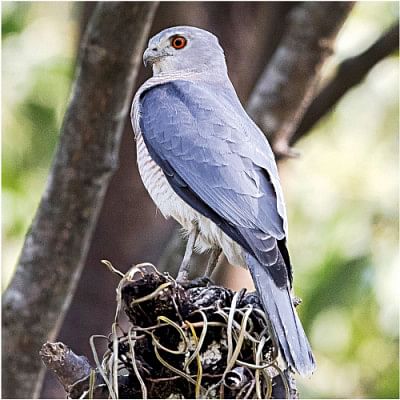 Shikra is a bird of prey found all over Bangladesh in forests, village groves, orchards and tea gardens. It is a handsome bird, the size of a large pigeon, with a fine bluish-grey back. Its underside is white with thin horizontal orange stripes running through it. It has the sharp, hooked beak seen in many raptors. Younger Shikras have yellow eyes which turn to deep orange as they age. The female Shikra is larger than the male by up to 20%. Outside Bangladesh, it is found in a wide band stretching from Africa through southern parts of Asia.
Since it can be trained to hunt, Shikras were once used for falconry in the Indian subcontinent. In fact, its name comes from Shikari, the word for hunter in North Indian languages. Shikras were easier to train than, for example, Peregrine Falcons. Female Shikras, being larger, could hunt Quails, Partridges, and even birds larger than itself such as young Peacocks.
Today's wild Shikras prey on a wide variety of food, from small birds, lizards, snakes and insects to rodents and small chicken at poultry farms.
I saw my first Shikra in Sundarban in 2008. It was a quick flash – I only caught a glimpse as it took off swiftly from its perch. Since then, I have seen dozens of them over the years, mostly in Sundarban but also in tea gardens, national forests and open places such as Purbachol. Nonetheless the sight of a Shikra – its trim profile, delicate colour, fast wingbeats and piercing eyes – never fails to thrill me.
Most of the time I see it perched high up, patiently scanning for a prey with alert eyes. In Sundarban it often perches on branches overhanging creeks and canals and as my boat approaches, it takes off with its typical flight pattern - a burst of quick flaps of its wings followed by a glide.
It was in Sundarban that my most memorable Shikra encounter took place. We were on a boat in a creek, watching a Shikra perched on a Keora branch. On both banks, wide swathes of mud criss-crossed with pointed mangrove roots, were exposed by the low tide. As I watched, the bird exploded into action, diving into the mud with eyes flashing and yellow talons outstretched. In a fraction of a second it snatched a mudskipper fish from between spikes of Keora roots and, turning away from us, flew away quickly while holding the kill in its talons, to be consumed in privacy.
Shikras live year-round in Bangladesh and mate in spring, laying three or four eggs in a large, untidy nest made from twigs. The eggs hatch after 30-35 days of incubation (mostly by the mother.) At two months, the fledglings are ready to fly the coop. Before they can do this they must learn not just to fly but also to catch their meals.
The Shikra belongs to the bird group (genus) called Accipiter. Its relatives in this group include the Sparrowhawk, the Goshawk and the smaller Besra which is also seen in our forests, albeit much less frequently. When you are outside Dhaka – among trees or in Sundarban - keep an eye open for this exciting bird.
facebook.com/ikabirphotographs or follow "ihtishamkabir" on Instagram.