'Same old story every year'
Low-lying areas in Ctg inundated after rain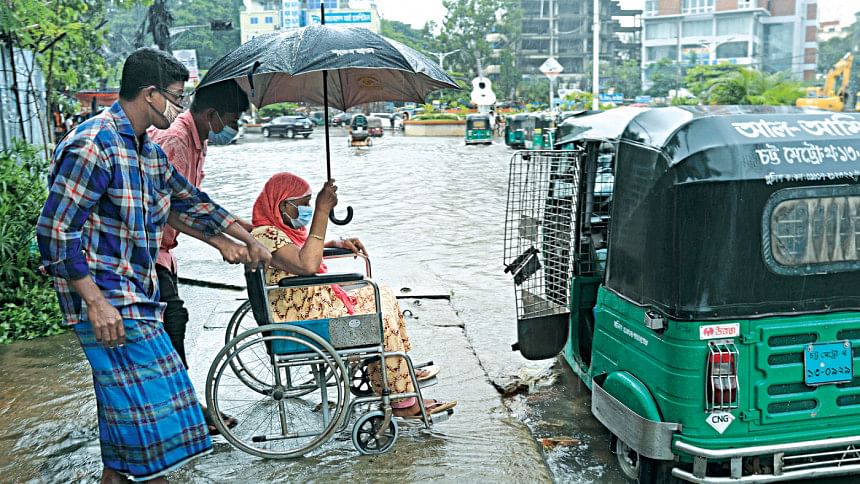 Incessant rain brought sufferings to port city residents, as many areas went under water.
On Tuesday, Chattogram Met Office recorded 33.6 mm rainfall in 24 hours till 3pm, said Ujjal Kanti Paul, assistant meteorologist of the office, and forecast more rain in the next 48 hours.
The Chattogram Port was advised to hoist signal-3, he said.
Coupled with tidal surge, rainwater submerged most low-lying areas including Bakalia, Chawkbazar, Rahattarpool, Bahaddarhat, Muradpur, Bibirhat, Chandgaon, Sholashahar, Shulakbahar, Badurtala, Agrabad and Halishahar.
People were seen wading through filthy water to go to their destinations. Some were busy protecting their homes and shops from water while others were trying to drain and scoop water out.
"This is the second time this week rainwater entered my house," said Mina Barua, a resident of Rahattarpool area. "It's the same old story every year… seems like there's no end to our sufferings," she said while scooping out water.
Locals said canals and drains remain filled up with garbage and fail to contain rainwater, which overflows onto the road and enters their residences.
"I don't understand what the authorities are doing. Can't they see we are suffering?" said a frustrated Mina Barua.
Due to incessant rain, very few vehicles plied the roads and a handful of rickshaws and three-wheelers were seen carrying passengers -- that too at exorbitant fares.
Around 3pm on Tuesday on KB Aman Ali Road, a worried Sultan Ahmed was seen standing in knee-deep water and searching for a ride to take his son, who had a cut injury in his right arm, to a hospital.
He said he had been waiting for a while for a vehicle. "I cannot wait any longer; I have to take him to a dispensary to bandage his arm," he said as he started walking towards a pharmacy with his 10-year-old son.
Near Bakalia DC Road area, Trishna Acharjee had to wait for almost an hour to get a rickshaw to go to Chawkbazar Gulzar Intersection for an emergency.
"It gets very difficult to survive during the rainy season. Years go by but the authorities concerned remain indifferent to our miseries," she added.
Like her, many city dwellers expressed their frustration over the authorities' failure to address the waterlogging problem.
Contacted, Mohammad Shamsuddauha, chief executive officer of CCC, said they are maintaining the smaller drain, with a width under three feet.
"The Chattogram Development Authority has been implementing a mega project to reduce waterlogging in the port city. All the canals and large drains are supposed to be cleaned and expanded as part of the project," he said.
Asked, Lt Col Md Shah Ali, CDA project director, said, "People are already being benefited for their project works. Many areas, which went under waist-deep water during the rainy season last year, are free from waterlogging this year."
Asked about waterlogging in many areas during Tuesday's rain, he said rain coupled with tidal water submerged the areas but water drained out quickly as soon as tidal water receded. "It should not be a problem as we are installing regulators at the mouth of canals to regulate tidal water," he assured.