Unpaid Wages: Workers block highway for over 5 hours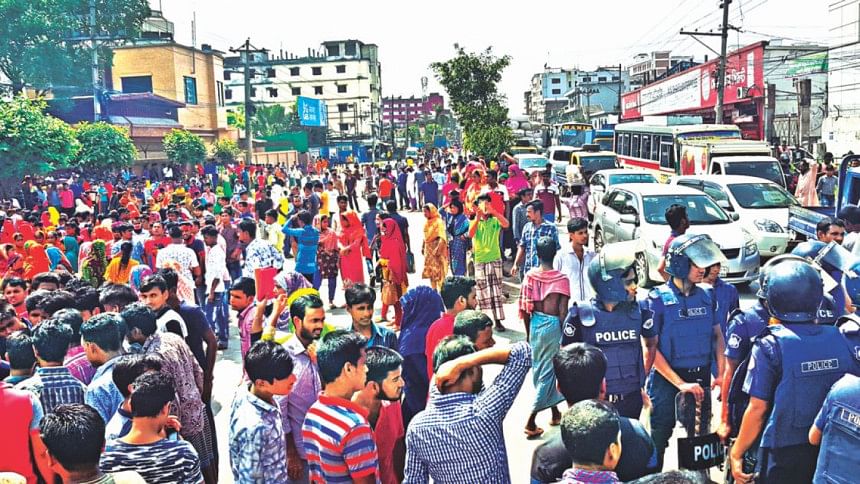 Garment workers of a factory blocked the Dhaka-Mymensingh highway for around five hours at Chhoydana Degerchala in Gazipur yesterday morning demanding arrears.
They also vandalised several vehicles and clashed with police, resulting in long tailbacks on the busy highway.
The workers of Knit and Knitex Private Ltd also claimed that the factory provided them with unsafe drinking water that made 50 of them sick.
They had blocked the highway around 10:00pm on Saturday but police drove them away. Around 10:00am yesterday, they put up a barricade in Chhoydana Degerchala area.
Jamil Yusuf, who was heading for Jamalpur in a bus from Dhaka, said he got stuck in Board Bazar area around 11:30am and his bus did not move for a couple of hours.
Sohel Borhan said he headed for Dhaka from Mymensingh in a car around 11:00am. He returned home after being stuck in traffic for two hours.
Ismail Hossain, officer-in-charge of Gachha Police Station, said the factory has around 1,200 workers. A few thousand workers of nearby factories joined in their agitation yesterday.
The agitating workers said the factory authorities paid them half their pay for August before Eid-ul-Azha and promised the rest at the beginning of this month.
The factory owners set several dates for payment but failed to pay, the workers alleged.
Shahed Pathan, additional superintendent of Gazipur Industrial Police, said the workers vandalised some vehicles. Police tried to persuade them to leave and later tried to chase them away to clear the highway.
At one stage, the workers started hurling brick chunks at police, who retaliated with teargas.
The workers left around 2:45pm following meetings with police, labour organisations and factory authorities.
Mostak Ahmed, knitting operator of the factory, claimed that the owners were planning to close the factory without paying the workers. More than 50 workers became sick Saturday night after drinking unsafe water given in the factory, he added.
Shamim Parvez, administrative officer of Tairunnessa Memorial Medical College and Hospital in Gazipur, said about 40 workers of the factory took treatment there on Saturday night and all of them were released in the morning.
Pronoy Bhusan Das, resident physician of Gazipur Shaheed Tajuddin Ahmad Medical College Hospital, said 10 workers were released yesterday morning after treatment.
The factory authorities could not be reached for comments.