RMG worker fired for reporting official over sexual harassment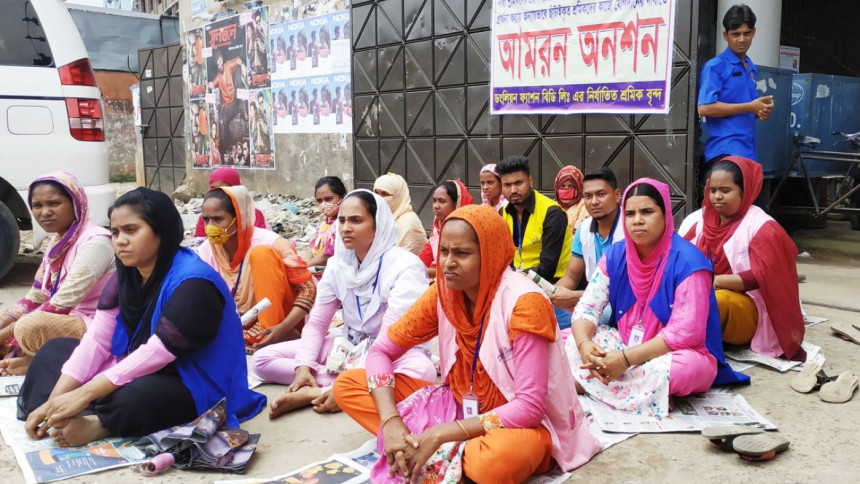 On March 18, an RMG worker in Ashulia was allegedly sexually harassed by an official of the factory she used to work for. When the 18-year-old and her 16 co-workers protested the incident, they were terminated.
Yesterday, her co-workers started an indefinite hunger in front of the factory, Donglian Fashion BD Ltd (unit-1), in Jamgora area at 8am, demanding their reinstatement and termination of Zohirul Haque, assistant production manager of the factory, for harassing the female employee.
The hunger strike was postponed till 3pm today upon assurance from law enforcers (Ashulia Police Station and Dhaka Industrial Police) that they would speak to the factory authorities to meet the workers' demands, said Sarwer Hossain, a leader of Bangladesh Textile and Garment Workers League.
The workers alleged that Zohirul sexually harassed the female employee last month. Two other workers witnessed the incident and informed others, they said. Protesting the incident, workers then went on a strike earlier this month.
On April 9, authorities shut down the factory for a few days. They reopened on April 15 and terminated them without clearing their arrears, they added.
The protesting workers said the authorities terminated them without any prior notice or valid reason. They just hung a list on a wall, containing their names and photographs.
Contacted, Rafiqul Islam, manager (admin and compliance) of Donglian Fashion BD, said, "We did not sack them. We issued a show-cause notice asking them why they disrupted the work environment. They did not show up."
About the allegation of harassment, he said the authorities have investigated the issue and found that the incident was "nothing serious". He did not elaborate further.
When asked if they have any cell or committee to look into such complaints, Rafiqul said they do not. He, however, said, "After the allegation was brought to our attention, we dismissed him [Zohirul]. He is no longer working with us."
Zohirul could not be contacted as his phone was found switched off.
Meanwhile, the worker, who was reportedly harassed, does not want to file a complaint to police, fearing social stigma, said her family members.
Talking to The Daily Star, she said her co-workers protested the incident and demanded punishment for the assistant production manager, but the authorities did not take any step against him.
"They terminated us to cover it up," she claimed.
The workers also claimed that Zohirul was still working at the factory and they were not given any show-cause notice either.
Worker leader Sarwer alleged that they tried to discuss the matter with the factory owners, but they refused to meet them. He also alleged that the workers submitted a complaint to the industrial police, but they did not take any action.
Seeking anonymity, an official of Dhaka Industrial Police said they asked the workers to file a case with a police station as they do not handle such cases.
Sana Shaminur Rahman, superintendent of Dhaka Industrial Police, could not be reached for comments.
Javed Masud, inspector (investigation) of Ashulia Police Station, said they did not receive any such complaint. "If we do, we'll take appropriate action in this regard."