'Riverbank grabbers mustn't contest in polls'
Savar residents demand at demonstration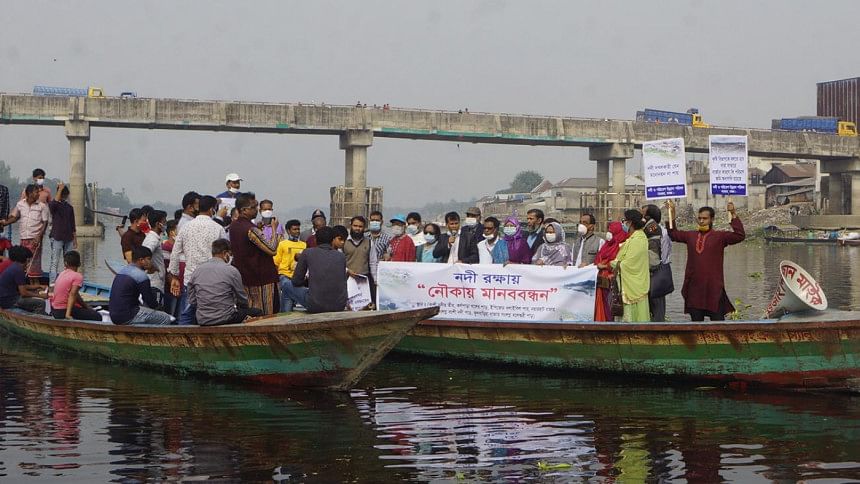 Savar residents yesterday urged authorities to bar riverbank grabbers from contesting in elections.
Under the banner of Savar-based Nodi O Poribesh Unnayan Parishad, thousands holding placards formed a human chain and rally at Savar Thana Stand area at 10am. Later, they formed human chain on boats.
They urged the government to save Bangshi and Dhaleshwari rivers from grabbers and pollution. They also demanded conducting immediate drives to remove all illegal structures on land surrounding Bangshi.
They provided a list of Bangshi River grabbers, prepared by Savar upazila administration in 2016, to journalists.
Meanwhile, most placards had slogans related to the upcoming Savar municipality election, such as "Be alert election commission, keep grabbers away from polls" and "Grabbers should not be nominated".
Dr Rafiqul Islam Mollah, environmentalist and president of the parishad, said Bangshi and Dhaleshwari are getting polluted due to poor monitoring by authorities. "We are also concerned that authorities are yet to take steps to evict illegal structures on both riverbanks."
A huge quarter of influential people, including Savar Municipality Mayor Hazi Abdul Goni, and his son Kamrul Islam Shahin grabbed land surrounding Bangshi at Nama Bazar area, but no action was taken against them, even after the administration prepared a list naming 65 grabbers, claimed Dr Rafiqul, also brother of Nazrul Islam Manik Mollah, secretary of Awami League's (AL) Savar municipal committee, who is vying for AL's nomination for mayoral post.
He questioned how a mayor and his son could do such a thing. "We are now hearing that the mayor will participate in the next municipality election," he said. "We are urging the government to ensure that such grabbers be unable to contest in elections."
Shamsul Haque, secretary of the parishad, said if the government takes steps to save Bangshi and Dhaleshwari, like they did for Buriganga and Turag, residents will be happy.
Rokeya Haque, vice-president of Savar Nodi Rakkha Community, and Saran Shah, general secretary of Sangskritik Jote, Savar, also spoke during the programme.
Contacted, Shamim Ara Nipa, upazila nirbahi officer of Savar, told The Daily Star that they will investigate the matter and take proper steps against grabbers.
Asked, State Minster for Disaster Management and Relief Dr Enamur Rahman, told this reporter that he is not aware of Abdul Goni's matter. The department concerned will investigate and take steps.
Refuting the allegations, Abdul Goni, in presence of Dr Enamur at Savar Govt College yesterday, told this correspondent that Abdul Goni named in the list is someone else. Some people are trying to tarnish his political image before the upcoming election and are falsely accusing him.
However, he did admit to his son's involvement in grabbing land.
Goni, also president of AL's Savar municipality committee, said, "I admit that my son has a piece of land on Bangshi riverbank at Nama Bazar area, but around 650 grabbers occupy land there. If the administration starts an eviction drive, I will at first evict my son's structures."
"It's true that my son's name is stated in the list, but I am not involved with it," the mayor claimed.