Research vessel ready to set sail in Rangamati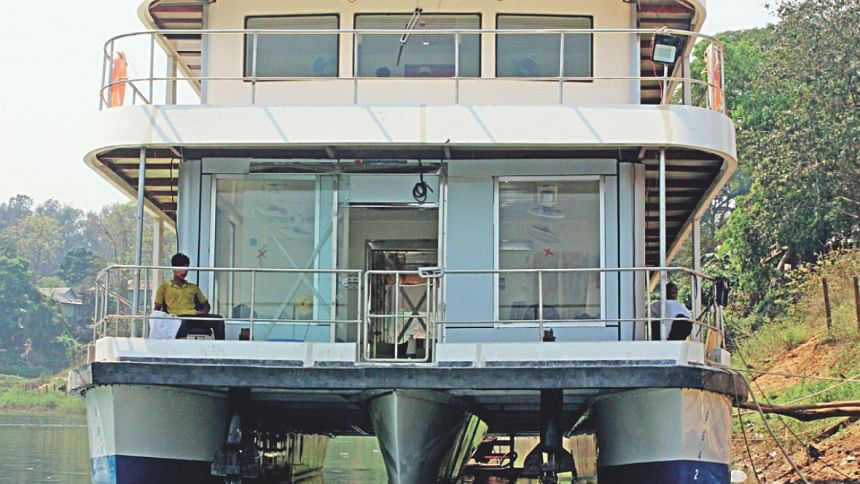 Chittagong Veterinary and Animal Sciences University (CVASU) is going to launch a research vessel in the Kaptai Lake this month to find out why carp fish have been disappearing there.
The construction of the vessel has been completed. It is now waiting to be inaugurated by the Prime Minister Sheikh Hasina.
Once launched, it will be the first of its kind in Bangladesh, claimed CVASU officials.
Many species of fish have disappeared from the lake over the last 20 years, said M Nurul Absar Khan, professor of Fishing and Post-Harvest Technology at CVASU.
"The number of carp fish has decreased while small fishes have seen growth. The vessel will help researchers trace the reasons and find out ways to restore fish numbers," the professor told this paper citing studies of different organisations.
Carp is a common name for various species of freshwater fish of the family Cyprinidae, a very large group of fish, native to Europe and Asia.
"There are three modern well-equipped laboratories inside the vessel. Twelve researchers will be able to work there at a time. Residential facilities are also available," added the professor.
Researchers will get the opportunity to study aquatic environment, pollution level, biodiversity, topography, and assess stock of fish in the lake, said Prof Goutam Buddha Das, vice-chancellor of CVASU.
"The project costs around Tk 3.75 crore," he said. "Not only our teachers and students, but also researchers of other universities at home and abroad will get to use the facilities upon permission."
The lake in Rangamati was once the breeding ground of carp fish but it has lost its uniqueness due to pollution, said Prof Goutam.
In 1965-66, over 81 percent of total fish were carp. Now 90 percent of the fish are small fishes like kachki and chapila, he went on.
"In Malaysia, researchers increased production of fish in a lake by seven times with the help of a research vessel. We hope that our researchers will be able to do many innovative things using the vessel's facilities," said Prof Goutam.
The Kaptai Lake was created following construction of a dam on the Karnaphuli River in Kaptai upazila in 1962, to produce hydroelectric power.
The main lake covers 1,722 square kilometre and has flooded around 777 square kilometre outside the upazila.
"Although the lake was created to produce power, it has been playing a vital role in agriculture, communication, and fisheries for decades," said SK Ahmad-Al-Nahid, head of Department of Fisheries Resources Management in CVASU.
"Farmers use its water to irrigate agricultural land. It is also one of the most popular tourist destinations," he said, adding,"about 10,000 tonnes of fish are produced there in a year."
Once, about 70 species of fish were available in this lake. Eight of them were commercially important: katla, mrigel, rui, kalibaus, ghonia, chitol, boal, and chapila, said Nahid.
Mohashol, pipla shol, bagha aair and nandina have disappeared while around 18 species including bachua bacha, bhangon bata, and sarputi are endangered, according to the professor.