Rainbow: where mixtape lives on
Record store inspiring generations since 1982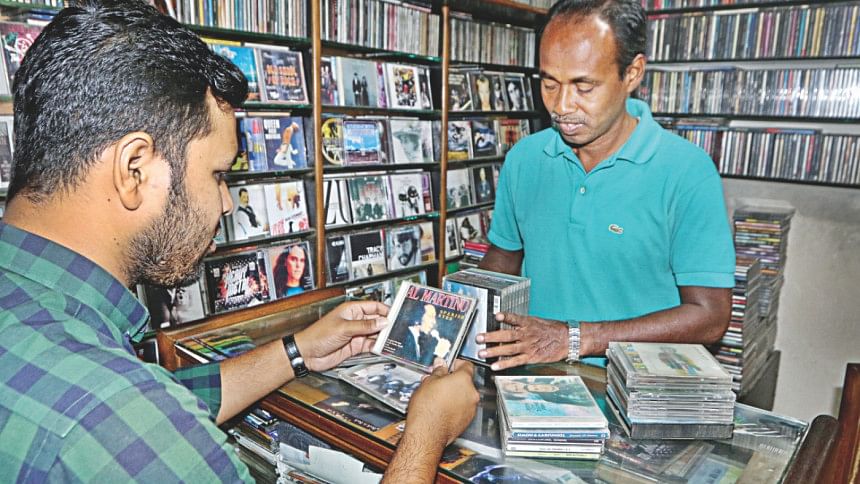 From outside, the place does not look much -- a small shop, around 7.5 feet by 5 feet, where hardly three-four persons can fit at a time. It may be small, but this record store has a lot of heart to it.
In this day and age, a record shop can be a rare sight, but here, in Dhaka, "Rainbow Music Store" has not only stood the test of time, but also continues to inspire generations.
Situated on the first floor of BS Bhaban on New Elephant Road, Rainbow has been helping melody lovers satiate their cravings since 1982 with an apt slogan, "Rainbow: where music never stops".
It was and to some extent still is the go-to place for music aficionados to find latest tracks and revisit old favourites. A passion for music is at the heart of the shop, which has earned it such a great reputation over the years.
And what a collection it boasts -- more than 10,000 compact discs (CD) stacked on the store's shelves, forming a perfect pattern.
Growing up in the 1980s or '90s in Dhaka, amid many uncertainties, one thing was certain -- when it came to music, if you can name it, Rainbow has it (and if not, they'll get it for you).
If you are looking for a rare Pink Floyd or The Beatles or The Rolling Stones record, or a hard to get Jim Morrison or Jimi Hendrix live concert, or need some help to make a decision whether to listen to Black Sabbath or Led Zeppelin, or in a hurry to present a mixtape to someone special -- the good people at Rainbow will do it for you.
This correspondent visited the store on a weekday afternoon. It has shifted from its original spot to a nearby building and one could tell, business is not what it used to be. But the CDs of Simon and Garfunkel, Dio, Queen, Deep Purple, Eric Clapton, Scorpions, AC/DC, U2, Pearl Jam, Nirvana and many more legendary artists and bands sure made up for the appearance.
At the same time, posters of Bob Dylan, Mark Knopfler and David Gilmour accompanied by other maestros added another dimension to it.
Rainbow is the brainchild of music enthusiast Abdul Kadir Murad.
"Back in those days, there was no music store in Dhaka for western music," said Murad. He said he decided to open the store to, in a way, introduce a place where youngsters could get access to western bands and their compositions easily.
Murad started off with around 1,500 vinyl records, his own collection, and converted those to tapes for patrons on request. "I sold each tape for around Tk 40-45. I also provided people with handwritten lyrics."
As he was a huge fan of the rock band Rainbow, led by Ritchie Blackmore, he could not think of any other name for the store, he said smilingly.
Around 1984, another music enthusiast Humayun Kabir joined Rainbow.
"Rainbow was never meant for commercial purpose. I started it on a whim. Kabir and I always wanted to keep it as a source of inspiration for music lovers," Murad said.
After the '90s, when Kabir went abroad, Murad got busy with other business ventures.
"At one point, I decided to close the place, but our regular clients did not let it happen," said Murad, who owns the building where Rainbow is located.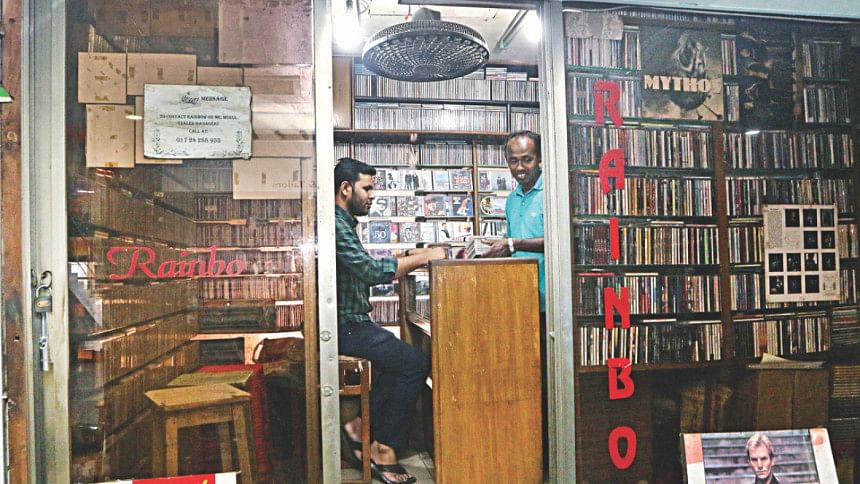 SAFE HAVEN FOR MUSICIANS, FANS
Back in the day, the narrow alley, where Rainbow is situated, used to be the "it" place for bands and fans alike. Every day after sunset, people, mostly youngsters, thronged the area to put in orders for mixtapes or get recommendations from Kabir (affectionately called Kabir bhai) or just to hang out with friends.
Many a times, they would also get an opportunity to meet members of famous Bangladeshi bands including LRB, Feedback, Warfaze and Rockstrata.
"I heard about Rainbow from my friends back in my Notre Dame [College] days," said Sheikh Monirul Alam Tipu of Warfaze. "My friends -- Kamal [Warfaze] and Arshad Amin [Rockstrata] -- introduced Rainbow to me, and since then I haven't stopped coming here."
"Kabir bhai and Murad bhai not just made tapes for us, they also suggested many bands… we would listen to Iron Maiden, Metallica, Dream Theater and what not!"
Expressing gratitude, Tipu said Kabir helped Warfaze participate in "Coca-Cola Band Music Award" in 1994, first of its kind in Bangladesh, where Warfaze's "Obak Bhalobasha" became song of the year.
"Kamal and I were crazy fans of Rainbow… it helped us listen to good compositions and introduced global music to us," said Tipu.
After recording a tape from Rainbow, Tipu said, "We [members of Warfaze, Rockstrata, In Dhaka and Aces] would share it among ourselves and play the songs over and over."
DOWN MEMORY LANE
With the advent of technology, youngsters these days hardly visit the store. However, Rainbow loyalists, mostly in their 40s and 50s now, still drop by from time to time.
"I started visiting the store with my elder brother in 1984," said Faisal Murshed, father of an A-level student. "Then I started coming here with my friends. I still come here to enrich my CD collection," he added.
Mahbubur Rahman, another Rainbow regular, said, "Rainbow was… personal. Kabir bhai always greeted us with a smile and helped find the perfect blend of songs for a tape."
"I proposed to my wife with a mixtape made with his suggestion," said the private service holder, adding that he now brings his son to the store.