A pharmacy full of love
Couple create a safe haven for 48 animals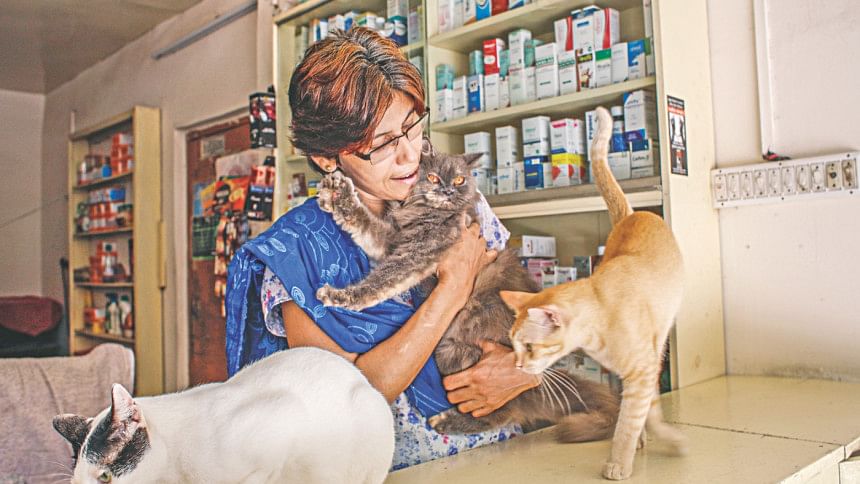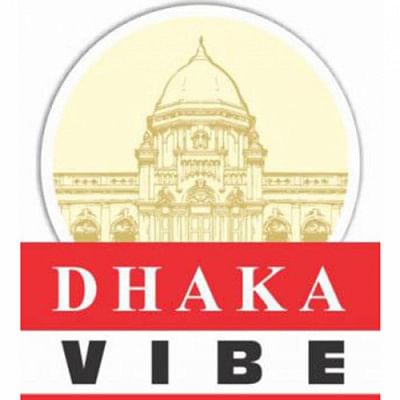 Rafiqul Islam and his wife Sabina Yeasmin have a different outlook on life. The couple care for pets and stray animals like very few do and spend a sizable portion of their limited income on feeding and grooming them. At present, the number of animals they care for exceeds 48.
The animals have found a home in their single-storey house, doubling as a drug store called Shreoshi Medicine Corner. It is located on Road 10 in the capital's Shekhertek area. Anyone dropping by the store or house may mistake the place for a play zone for pets or a small pet sanctuary, which in some aspect, it is.
A visitor may also see a few kittens curled up comfortably in the store's shelves, some others nestled under the chairs, and some playing hide and seek.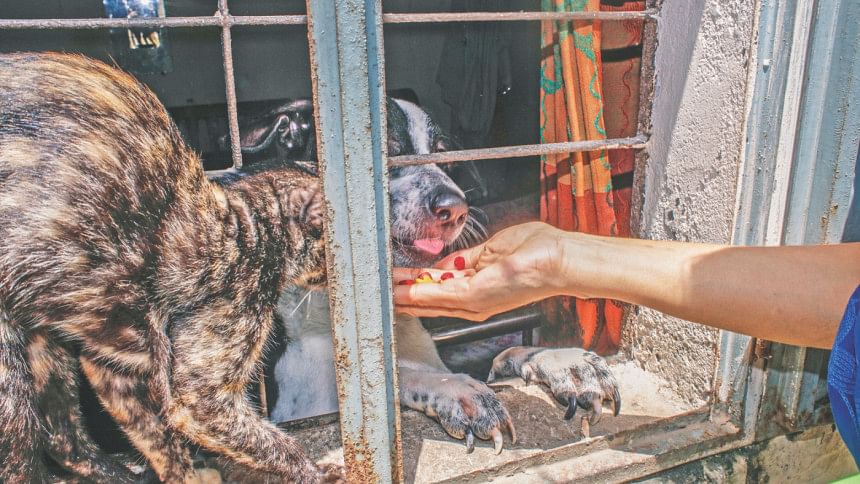 There are 39 cats and nine dogs now. Except for two cats, all were abandoned. Most of them were crippled following injuries inflicted by people or born with disabilities. The family fondly calls them by names like Frieda, Pluto, Sam, Sammy, Simon, Auberin, John, Sansa, Catalon, Shadow, Sando, Margarita, Maria, David or Lancaster.
The couple's daughter Cynthia Tanzim and her friends named the pets. Cynthia studies medicine at Armed Forces Medical College in Dhaka.  
Sabina's love for animals grew in childhood because pet-keeping runs in her family. Her parents used to rear animals, including monkeys and deer at their residence in Jashore town.  
In 2001, when Sabina came to Dhaka for work, she brought along five cats. Over time, they multiplied. Besides, whenever her daughter Cynthia and her friends find any injured or hungry cat or dog on the street, they pick them up and bring them home. Sabina then treats the animals.
"After recovering from injuries, the animals start living with us like family members," said Sabina, adding that once she went to rescue an injured kitten from the roof of a tin-shed house and got her backbone fractured after falling off the roof.  
But the severe injury could not limit her love for animals, she said.  
Sabina quit her job at a real estate company in Dhaka last year after working there for almost 17 years. Now she dedicates her entire time to caring for the animals and running the pharmacy. Cynthia helps her mother with the pets when she comes home from her college dormitory.
Sabina provides three servings of rice, fish, and chicken legs for the animals daily. She also feeds street dogs and cats in the neighbourhood on alternate days. Sabina said they have to spend around Tk 40,000 on animal food every month.
The family also takes the animals' health into consideration.
"Sabina herself vaccinated the abandoned animals," said her husband Rafiqul Islam. "All dogs are native species while two of the cats are foreign breeds. A relative gave them the pair as gift. Every day Sabina bathes the cats and dogs and cooks for them on her own."  
As this small medicine business is their sole source of income, they have to face difficulties to meet all the expenses, Rafiqul said, adding that they, however, have no regret about the financial constraint because they chose to care for the animals.
But their love for animals often scares away friends and relatives.
"Most of our relatives and neighbours avoid visiting our home because of the stray cats and dogs," Sabina said. "But where will they go if I don't keep them?" she asked.
"It feels bad when people speak ill of us for spending money on animal food. They often ask why I'm feeding animals instead of helping people."
What really hurts her is those people do not think about the helpless animals, Sabina said, adding that the dogs and cats would die if they are left on the streets; they have at least survived in this little shelter.
No matter what people say, her love for animals would never die, she said.