Patients suffer due to mad rush at Barishal river terminal
AL nomination seekers book entire launches to Dhaka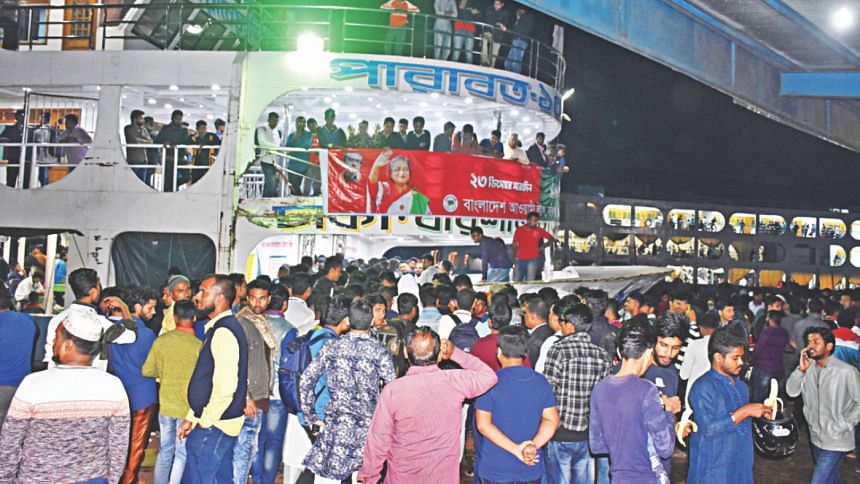 Cancer patient Ali Hossain Khan chose launch to go to Dhaka for his appointment with an oncologist there on Friday. But he failed to manage any cabin on any launch for two consecutive days since Thursday.
Finally, on Saturday, Ali Hossain boarded a launch after paying double the usual fare for a cabin. But now he is engrossed in the thought of how soon he would get another appointment with the oncologist. 
When it comes to travelling to Dhaka from Barishal, launch is usually the preferred mode of transport for many, especially for the elderly and the ones seeking specialised treatment in the capital city.
Comfort and privacy available in a launch cabin during the long-distance travel is the deciding factor for this group of travellers as the other modes of transport are not equipped with such amenities at an affordable fare.
Over the past few days, launch tickets to Dhaka have become scarce due to a sudden rush of hundreds of passengers -- mostly political leaders and activists from Awami League's six district units in Barishal division -- who are pre-booking the launches for procuring nomination forms from the party office in Dhaka.   
In some instances, an entire launch, having the capacity of at least three thousand passengers, was pre-booked for activists and followers of a political leader. 
Moshiur from Bashundhara Housing in Rupatoli area of Barishal city also could not find any launch ticket to Dhaka on Friday. "I missed my appointment with a neurologist in Dhaka on Saturday as I cannot travel on bus," he said.
Many others, seeking medical treatment in Dhaka, had to cancel their urgent travel plans due to the sudden onrush of launch passengers.
Speaking with this correspondent, Bakir Hossain, director of Sher-E-Bangla Medical College Hospital in Barishal, said each day they refer around ten to twenty patients to Dhaka and they usually go there by launch.
Admitting the situation, Sydur Rahman Rintu, owner of one of the largest river transport companies, Sundarban Shipping Corporation, said, hundreds of supporters of political leaders are taking launches to the capital every day. "A couple of my launches were hired for supporters of nomination seekers..."
Jhontu, manager of the company, said, "We usually carry 1,500 passengers [in a day], but now we are carrying 3,000 to 3,500 passengers daily."