Passengers exposed to high risk
Auto-rickshaws use household gas cylinders in Barishal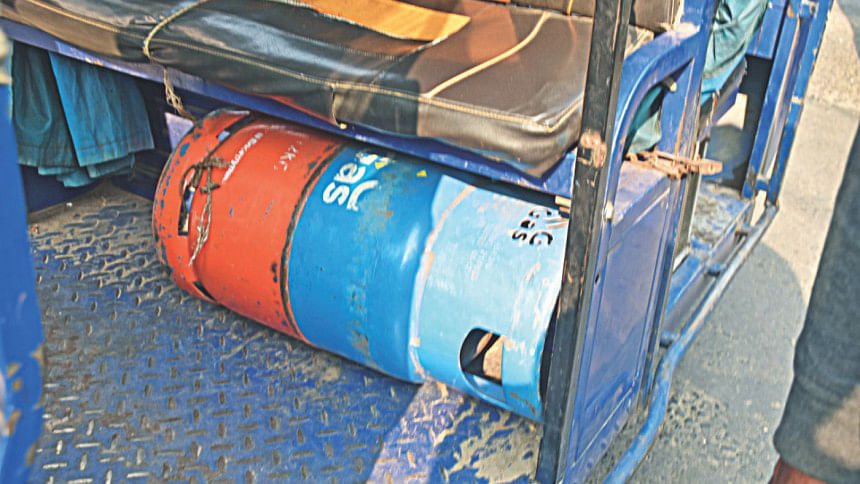 Many auto-rickshaws in Barishal city are using household gas cylinders, exposing passengers to high risk of accidents, according to the Department of Explosives (DoE).
"Vehicles cannot use such cylinders; they are for household use only. Moreover, it's against the law," said Mohammad Shamsul Alam, chief inspector of DoE.
"CNG cylinder is specially manufactured for use in vehicles, but LPG [liquefied petroleum gas] cylinders are not suitable for such use as its regulator is fitted for domestic purposes only," he said.
"It's dangerous to use LPG cylinder in a three-wheeler as the regulator might become loose due to jerking and gas may leak out, resulting in a fatal incident," he added.
Also, household cylinders contain simple regulators and are not supposed to be tilted or left in a horizontal position, said the chief inspector.
The three-wheelers keep those underneath passenger seats, he added.
The cylinders heat up if kept next to engines, and eventually may explode, he said.
About 22 LPG cylinders exploded last year with eight people being killed and 50 injured.
Despite the risks, around 200 such auto-rickshaws are plying the city streets.
These auto-rickshaws were registered with Bangladesh Road Transport Authority (BRTA), Barishal between 2014 and 2016 and got route permit from Barishal City Corporation (BCC), said Debashish Biswas, assistant director of BRTA, Barishal.
"BRTA stopped issuing fitness certificate to those vehicles since 2016," he said.
"Also, we did not renew certificate of any three-wheeler without its cylinder being converted to LPG first."
"But many owners install those cylinders [LPG] when they bring vehicles for fitness certificate renewal and after getting the document, they replace those," Biswas said.
The BRTA assistant director said due to manpower shortage, they could not monitor it properly.
"Also, we don't have a lab or proper instrument for testing. There is no authorised LPG conversion centre in Barishal."
Asked why Bangladesh Road Transport Authority and Barishal City Corporation allowed the vehicles to ply the streets before, Biswas said he could not comment on it, since he joined office in 2016.
Visiting the city areas recently, this newspaper spoke to a number of auto-rickshaw drivers. Some of them feigned ignorance regarding the risks, while others avoided the topic altogether.
Many, however, said use of domestic cylinders is increasing because there is only one LPG filling station in the district and they have to pay a high price for it.
"I use household cylinder because it's available everywhere and it's cheap," said Rafiqul Islam, driver of a three-wheeler.
Meanwhile, many city residents are unaware of the risk as well.
"We did not know we were travelling in such a risky way," said Sonia Akter, a student of Barishal Mohila College.
Many of her classmates echoed her.
Engineer Amir Hossain, director of a polytechnic institute, said, "These vehicles are like ticking time bombs. The authorities should take immediate steps in this regard."
Contacted, Khairul Hassan, chief executive officer of Barishal City Corporation, said, "We are taking steps to stop these auto-rickshaws from plying the streets."
"BRTA is responsible for checking fitness or issuing licence to these vehicles," he told The Daily Star yesterday.
"We are conducting mobile court drives regularly. I will also speak to the mayor to ensure strict monitoring with the help of all departments concerned," he added.