Paradise Flycatcher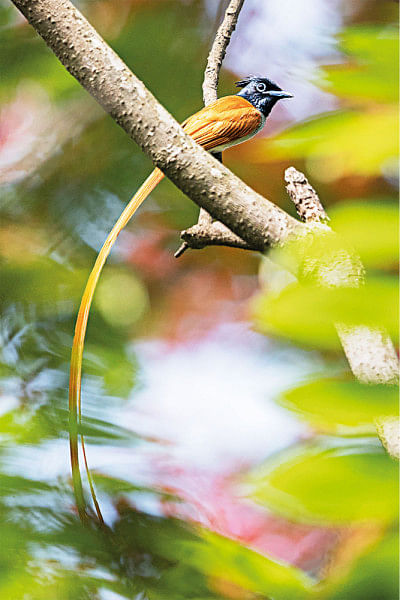 Taking in a sharp breath and forgetting to exhale is a common reaction when watching a flying male Asian Paradise Flycatcher. That's because, like an apparition straight out of the Arabian Nights, two long tail streamers several times the length of the bird glide behind it making waves in the sky. I've seen many beautiful birds around the world and this bird ranks high among them.
The Asian Paradise Flycatcher lives year round in Bangladesh. An uncommon bird here, it is found in forests and village groves. The female is rufous (reddish brown.) The male can occur in two colours (morphs): white or rufous. Both males and females have black heads, grey-blue oversized hooked bills and a blue ring around their eyes. The tail of the male bird has two streamers several times the size of the body.
Years ago I saw the white Asian Paradise Flycatcher at a pond deep inside Satchori National Park. It perched on a plant on the bank and made swift short flights to catch prey. Like all flycatchers, it went after insects on the wing: butterflies, bees, wasps, beetles and dragonflies. It also took several quick dips in the water – too fast for my camera – and then flew away with the long white tail trailing behind it like a mirage.
Recently I went to Narayanganj with friends to see a nesting pair of Asian Paradise Flycatchers. This time the male was a rufous morph. They had built their nest, the size and shape of a small cup, at the junction of two thin branches, impossibly difficult to see in the foliage. Both parents incubated, the mother more than the father. The father was out and about more, flying around looking for food to bring home. Occasionally it brought a bee or another insect and fed its mate while she incubated. When the eggs hatch, both parents will bring food to the nestlings.
When not incubating, the birds moved rapidly, hopping over short distances within a tree looking for prey before taking a longer flight to another tree. The father guarded his territory well. It buzzed a squirrel that was scouting out the nest. It also attacked a Rufous Treepie that came too close. However, it had no quarrel with nearby starlings and drongos. The pair stayed within a radius of perhaps two hundred feet from the nest.
Paradise flycatchers comprise sixteen different bird species spread around Asia and Africa. They belong to the monarch group of flycatchers. Their genus name, Terpsiphone, means "sweet voice of paradise."
Beside the Asian Paradise Flycatcher I also saw the Malagasy Paradise Flycatcher in Madagascar. It looked similar to the rufous coloured bird I saw in Narayanganj with two exceptions: its tail streamer was white, and it was shorter than our bird's. I saw several pairs in different forests of the island incubating eggs in tiny cups that looked the same as the one I saw in Narayanganj. They were just as fidgety but less wary than our birds.
facebook.com/ikabirphotographs or follow "ihtishamkabir" on Instagram.