Only in memories
There is a saying in Bangla: "Dhan, nodi, khal -- ei tin-e Barishal" [paddy, river and canal -- three things that make Barishal]. Reality contradicts this adage these days. There were a total of 48 canals in the city. Over the years, many of them have died. Here is the first part of a series on how the waterbodies experienced their demise.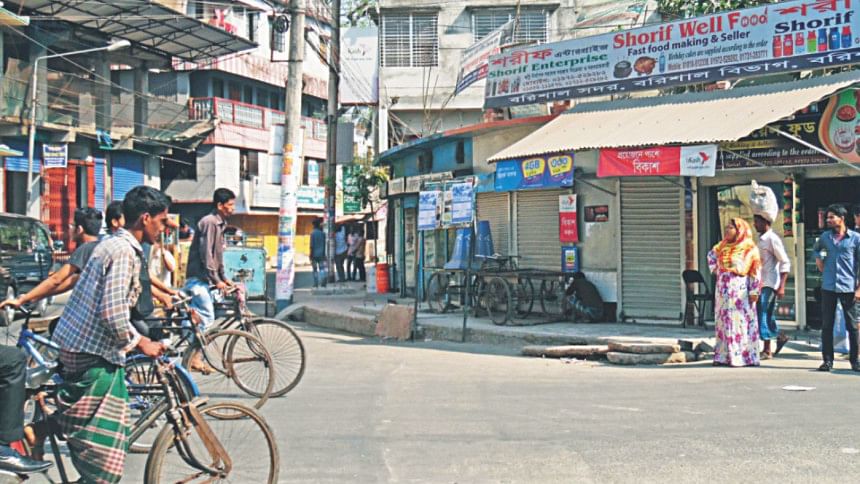 Even a few years ago, Barishal did not witness much waterlogging that the city is experiencing nowadays.
A flood-like situation will arise, like previous years, during monsoon. Roads will drown even after a brief rain, causing public sufferings. People will have to wade through ankle- or knee-deep water.
"Even five years ago, we could not imagine this situation," said Anower Hossain, a shopkeeper in Rupatoli area.
Similar comments came from Moklesur Rahman Moni, a student of BM College.
What's causing this gradual worsening of the situation? When asked, locals mentioned dead or dying canals as the root cause.
Once upon a time, rainwater would make its way to the rivers Kirtankhola and Kalijira through more than a dozen canals that do not exist anymore.
Grabbers' hunger for land, authorities' collective failure as well as people's absolute disregard for the waterbodies led to this.
With the canals having no demarcation, grabbers closed in on them. Residents thoughtlessly dumped garbage in them every day -- choking the canals and disrupting their normal flow. And the authorities were reportedly reluctant to save them.
Gradually, the channels disappeared from sight in 20 years.
Barishal City Corporation Executive Engineer Anisuzzaman said there were 48 canals in the city. Of them, 14 are now dead, he said.
Talking to The Daily Star, many locals expressed their anger and frustration while some looked back nostalgically.
There were three canals -- Tajkathi, Gilatoli Prodhan and Gilatoli Shakha -- in and around Bashundhara Housing area years ago, said Khaleque Talukder, 68, a resident of the area.
"They now only exist in memory," he said.
After unabated encroachment, government agencies completed the final course of action by implementing development projects on them.
"Can you imagine there was a canal called 'Bhatar Khal' in place of the road I'm standing on?" said Shajahan Molla, 70, from Brown Compound area. The canal used to flow through the heart of the city, he added.
Similarly, no one can locate Chandmari, Kalikhola and Ghanopara canals in Sher-e-Bangla Hospital, Bishwashbari and Goalbari areas respectively. Residential buildings, business establishments and roads have replaced them.
"There was a wide canal near my house where hundreds of boats plied and people caught fish around two decades ago," said Maksudur Rahaman Khan, former principal of Government Rajbari Mohila College, who lives on Kalibari Road.
The 70-year-old added that he would transport various goods on boat through this canal.
He blamed the government, between 2001 and 2006, for destroying the canals and turning most of them into drains.
Shajahan Molla, a retired government officer, said, "I built my house near Bhatar Khal with hope for easy transportation and good drainage system around 30 years ago. But unfortunately the waterbody does not exist today due to the drainage project."
Former college principal Maksudur used to buy plants from boats which were carried from Sarupkathi, three decades ago. "I witnessed how the canals disappeared," he said.
Abdur Rahaman Khan, a retired banker living in Banglabazar area, said people used to take boats as transport as the city was blessed with dozens of canals.
"I came to this city on a boat with my parents for my matriculation exams in 1968," he said.
Reminiscing journey by boat on Battola Khal, a channel of Nobogram canal, he said youngsters today are deprived of that experience.
A market, Battola Bazar, developed because of its proximity to the canal. Now, the market exists but the canal does not, he added.
Haimanti Sukla, an architect of Barishal City Corporation, said there was a good drainage system 15 years ago because of the presence of Nobogram Khal, which is dying.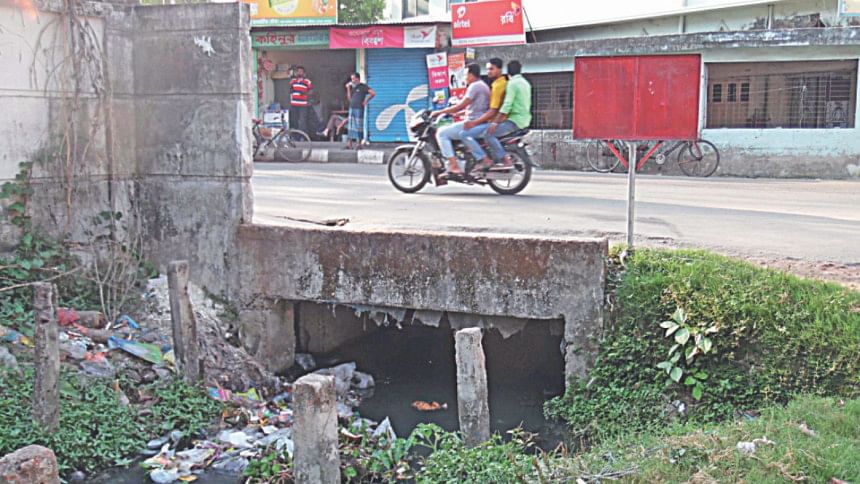 Dying canals are also affecting agriculture and business. Anower Hossain said, "I used to bring firewood on boat or trawler to sell those to city dwellers when the canals were alive. Transport cost was low. Now, I have to hire trucks at higher cost."
Similarly, Rafiqul Islam, 40, a farmer from Kalijira area, said, "Five years ago, I used to grow various vegetables and rice. I stopped growing those due to a lack of proper irrigation. Besides, my farmland gets waterlogged."
Such situation would not have risen if the canals had not died, he added.
Several other businessmen of Natun Bazar made similar comments.
Barishal City Corporation and Office of the Deputy Commissioner are entrusted with looking after the waterbodies.
"The canals could have been saved if proper actions were taken two decades ago. They were grabbed or dried up due to indifference of the departments concerned," said SM Ajior Rahman, deputy commissioner (DC) of Barishal, who took charge around four months ago.
"We will work with the city corporation to retrieve the canals as early as possible," he added.