No charm left in M'singh city polls
Mayor already elected unopposed; councillor candidates gear up for May 5 election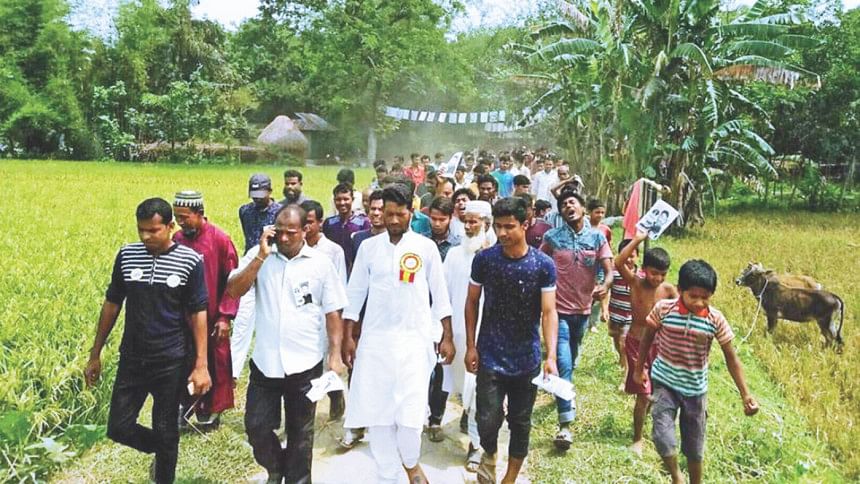 With Awami League candidate Ekramul Haque Titu already elected unopposed in the maiden Mymensingh City Corporation (MCC) election, the May 5 polls have lost its appeal.
Ekramul was elected uncontested as his only rival, Jatiya Party candidate Jahangir Ahmed, quit the race on April 17, the last date for withdrawing candidacy.
Ekramul, the incumbent administrator of MCC, is also the vice-president of Mymensingh AL. He was also the ex-mayor of the now defunct Mymensingh municipality.
Meanwhile, after getting electoral symbols on April 18, candidates for councillor posts in all 33 wards are now campaigning in full swing.
Posters of candidates can be seen across the city corporation areas while their followers are campaigning using loudspeakers.
Candidates are trying their best to woo prospective voters with pledges such as making the city free from corruption, criminal activities, traffic jam, and also improve civic amenities for residents.
Twelve new wards including three (wards 31-33) in char areas on the other side of Brahmaputra river were included in the city corporation. Talking to this correspondent, voters said there is no noticeable development in the areas.
"People [in char areas] mostly use easy bikes [locally made battery-run three-wheelers] to commute. The road from Shambhuganj to Paranganj Bazar and another one from Joybangla Bazar to Kachari Ferry Ghat are in a dilapidated state," said advocate Md Johirul Huq of Char Gobindapur.
"We have cast votes in the national elections hoping for a change… but things remained the same. We demand a bridge at Kachari Ferry Ghat point," said Md Harun-or-Rashid, a former union parishad member from Gobindapur.
He hoped that the mayor will take steps to mitigate their sufferings.
Nurul Amin Kalam, secretary of Mymensingh Nagorik Andolon, said city residents still have to put up with problems such as haphazard waste dumping, poor drainage system, footpath encroachment and traffic congestion.
Now-defunct municipal authorities took initiatives to address the issues but those were not sufficient, he said. He also hoped that the city corporation will address the issues with utmost importance.
A total of 258 aspirants for 33 ward councillor posts, including 70 for 11 women councillor posts, are in the race. Electronic voting machines (EVMs) will be used in all 130 voting centres in 33 wards. The government on April 2 last year recognised Mymensingh as the country's 12th city corporation. The total land area of MCC is 91.135 square kilometres with a population of 471,858.