'But we're not employees here'
Workers at DMCH deprived for years hopeful of regularisation at new burn institute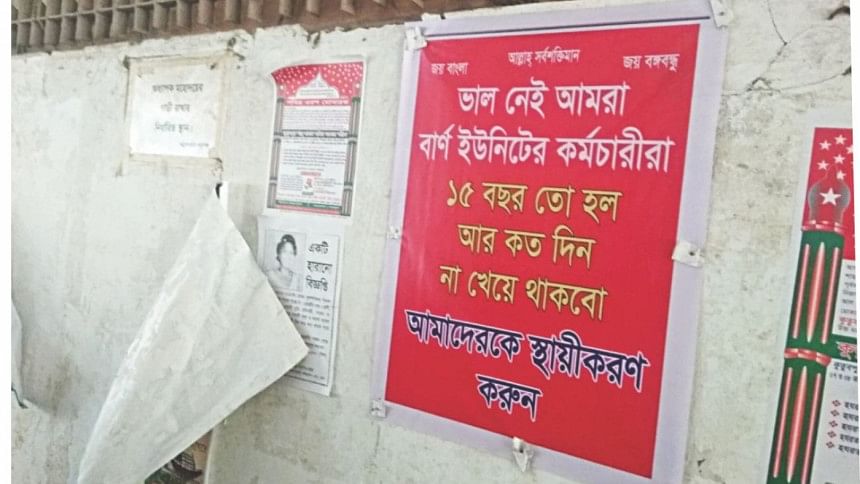 Abul Kalam dabs a wet swab on a baby's right arm, unperturbed by the infant's scream in pain from burns. His experienced gloved hands run quickly and carefully from the child's elbow down to his fingers as he dresses the wounds.
Within minutes, the 10-month-old's sobs have trailed off into feeble groans at the burn unit of Dhaka Medical College Hospital (DMCH). Triumphant, Abul speaks encouragingly to the child and his mother.
The 36-year-old is deployed at the dressing room, a few steps from the entrance on the left. Seeing him at work on Monday, it was hard to imagine he was a man without any technical education; a man who has studied only up to eighth grade.
Abul is one of 68 "irregular employees" who have been working without pay at the burn and plastic surgery unit for between five and 15 years. This is a way of self-employment of sorts for them, as they subsist on tips from patients and their attendants.
These irregular employees include peons, cleaners, ward boys, operation theatre attendants, dressers and electricians.
"We report to our ward masters every day as our shift starts. Our rosters are prepared as it's done in case of a regular [paid] employees," said Jibon Mia, an electrician.
There is an official procedure deciding who would do what, when and where; one thing that is absent officially is paychecks for the 68 who serve burn patients seven days a week and 365 days a year, except for any personal emergency.
Then again, patients and their relatives often allege that they are pressured to pay the irregular staff for services that are supposed to be free at the government facility.
Now that a new burn institute is about to be inaugurated today close to the existing facility, these irregular staffers are pressing the authorities to regularise them.
The new institute has sought an estimated 2,100-strong staff,  including doctors, nurses, technicians and cleaners. On several occasions, the irregular employees had been given assurance that they would be brought under government pay, but to no avail, Abul said. Doctors, nurses and class-III employees have been recruited a number of times to mitigate the manpower gap, but no one was hired in the lowest tier, he added.
The 100-bed burn unit has 15 female, male and children wards, 20 cabins, three High Definition Unit wards and a 10-bed ICU.
Only eight regularised class-IV employees are working as cleaners, assistants and dressers at the wards, cabins and four operation theatres.
Irregular employees like Abul and Jibon are helping the regular ones since the inception of the burn unit in December 2003 to serve patients five times its capacity -- every day in three shifts.
"The hospital cannot function without us… Some have been working for years, some for more than a decade, but we are not employees here," Abul said.
His learning on the job over the last 10 years helped him grow as a professional dresser. Both his parents had been class IV employees at DMCH.
At first, Abul used to help nurses. Then the authorities arranged monthly training for them along with regular staff, considering the need for their services.
Having had their call repeatedly turned down, the "irregular staff" held a token hunger strike on September 30 on the hospital premises, prompting those in the administration to sit with them. They were given the same assurance this time as well.
Talking to The Daily Star by phone, Dr Samanta Lal Sen, founder project director of the burn unit, said hospital authorities sat with health ministry officials two weeks back to discuss a remedy to the situation.
The ministry is in favour of outsourcing class-IV employees, but protests have been going on against this hiring procedure, not only at the burn unit but also in other government hospitals.
Dr Sen, national coordinator of the new Sheikh Hasina National Institute of Burn and Plastic Surgery, acknowledged the fact that the authorities would not get skilled hands like the ones having experience of serving burn patients for years, through outsourcing.
"A process is on to find out how to include them in the new facility," he said.