Nation observes Bangabandhu's birth anniversary
The 99th birth anniversary of Father of the Nation Bangabandhu Sheikh Mujibur Rahman and National Children's Day was observed yesterday in a befitting manner with various socio-political and cultural organisations holding diverse programmes across the country.
Ruling Awami League and political and socio-cultural organisations placed wreaths at the portrait of Bangabandhu, and offered munajat seeking eternal peace of his departed soul.
People from all walks of life thronged Bangabandhu Memorial Museum at the capital's Dhanmondi, and made a vow to work together following Bangabandhu's ideals. The day was a public holiday.
On this day in 1920, the nation's architect was born in Tungipara of Gopalganj.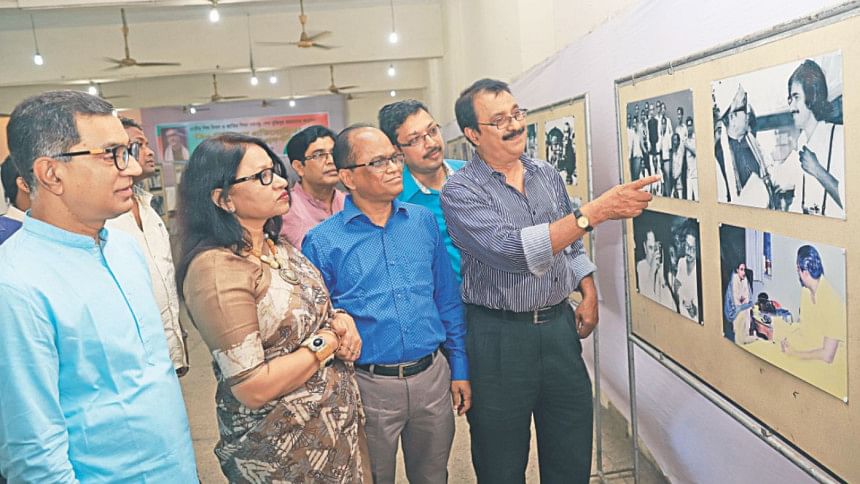 President Abdul Hamid and Prime Minister Sheikh Hasina paid homage to Bangabandhu by placing wreaths at his grave there. Afterwards, they stood in solemn silence for some time as a mark of respect while the bugle played the last post.
A smartly turned out contingent drawn from the Bangladesh Army, Navy and Air Force gave a guard of honour.
The president and prime minister also joined a munajat seeking eternal peace of the departed soul of Bangabandhu as well as other martyrs of the August 15 carnage.
Later, flanked by senior Awami League leaders, Hasina placed another wreath on behalf of the party.
Special prayers were held at Baitul Mukarram National Mosque and other places of worship.
Today, AL will organise a discussion at Bangabandhu International Conference Centre at 3pm. The prime minister will attend the event.
CRI CELEBRATES BANGABANDHU'S BIRTHDAY
Marking the day, AL's research wing Centre for Research and Information (CRI) held various events, reports BSS.
The events included a comic contest, participated by around 70 school-goers, held at the auditorium of Bangabandhu Memorial Museum. The sixth installment of "Mujib", a graphic novel series based on autobiography of Bangabandhu, was unveiled at the venue.
In the morning, the prime minister and her sister Sheikh Rehana visited the auditorium.
A puppet show was held for visitors at the museum. "Hasina: A Daughter's Tale", a historical docudrama on the life of the prime minister, was screened in the evening.