Mugging goes unabated on Dhaka streets amid shutdown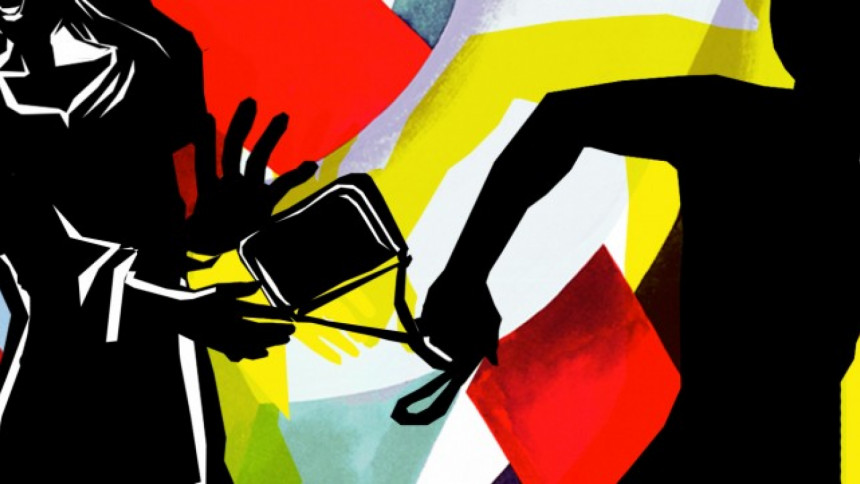 Thirty-two year old Turjo and his wife were on a rickshaw, heading towards their Dhanmondi residence on May 17 evening. 
He was holding his wife's handbag. 
Suddenly a private car approached their rickshaw at Shankar area; a man from inside pulled the bag, Turjo fell on the road and was dragged several yards before the muggers fled with the bag.
"My injuries could have been more critical," Turjo said recently, from a bed at National Institute of Traumatology and Orthopaedic Rehabilitation (NITOR).
One of his hands and a leg fractured on impact. Yet, he did not go to police station to file a complaint.
Incidents of mugging like this are happening on the apparently empty city streets, especially after dark, during the shutdown when law enforcers are focusing on containing the spread of Covid-19.
Many of the victims do not go to police station to report the incidents.
Similar mugging incident happened to private service holder Farzana Yeasmin when she was returning to her Kuril Kazibari residence on a rickshaw from Gulshan around 8:30pm on May 18.
As the muggers, in a private car, pulled her bag, like Turjo she too fell on the ground and the rickshaw somehow got stuck to the car's bumper.
As Farzana screamed for help, pedestrians chased the vehicle and police personnel with the help of some bystanders caught one mugger and recovered her bag.
But Tk 65,000 that was inside the bag went missing.
Just a day later, a staffer of an online news portal, Asgar Ali, fell prey to muggers near Bangla Motor around 10:00pm. He was returning to his Mohammadpur home on a bicycle.
Muggers stabbed him and took away his bicycle, wallet and mobile phone. He took treatment for his wounds at Dhaka Medical College Hospital.
"As the city streets are almost empty and police are busy trying to contain the spread of Covid-19, muggers are taking the opportunity," said Hamidul Islam, who was mugged near Shikshon Beribandh area just after iftar on May 21.
Three muggers attacked him and took away Tk 3,000 from the small trader -- threatening to stab him. 
Earlier on May 10, some muggers beat up Saiful Islam, an agent banking trader, and his brother at Sayedabad area and made away with around Tk 56 lakh when they were heading towards Motijheel from Jatrabari area on a motorcycle.
Four muggers on two motorcycles opened fire before speeding away. A case was filed with Jatrabari Police Station but none was arrested yet.
Besides, some people sharing vehicles with others during the shutdown have become victims of dope gangs, according to police outpost at Dhaka Medical College Hospital. 
Walid Hossain, deputy commissioner (media) of Dhaka Metropolitan Police, said criminal activities, including mugging, have gone down amid the shutdown.
"Some isolated incidents of mugging have taken place. We have detected several cases and arresting criminals. We are on alert," he added.
Another police official said some mugging incidents took place when police are busy working as frontline fighters against Covid-19. Because of this, monitoring and vigilance on the city streets might have been "relaxed" but this has been strengthened already. 
Nearly 1,300 police personnel from Dhaka Metropolitan Police were infected with Covid-19 so far while discharging duties, mainly ensuring people are maintaining distancing and following government guidelines. 
Thirteen police personnel have so far died with infections across the country.