Mosquito menace on the rise
Dhaka residents take it upon themselves as authorities' efforts not adequate; experts for integrated vector management system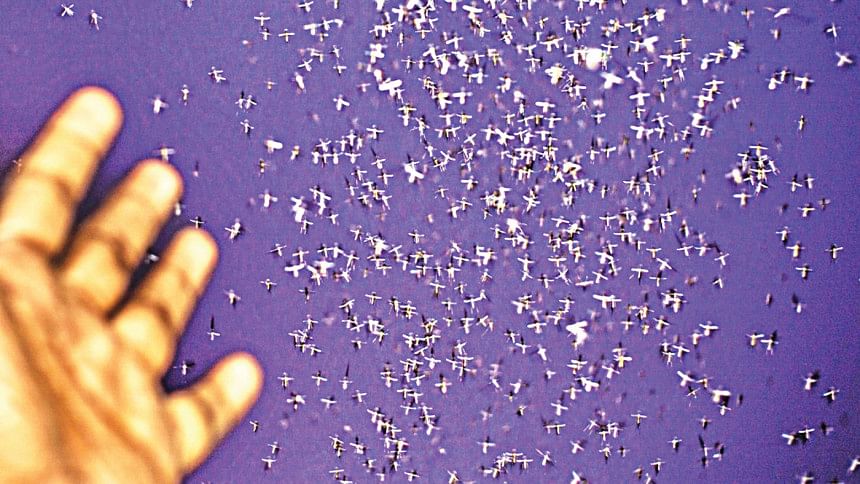 With the mosquito problem of Dhaka becoming more and more menacing, residents are having to strengthen their defences against the insects, and many complain that the city corporations' measures to control mosquitoes are not effective in their areas.
Although the city corporations are working throughout the year spraying larvicide and adulticide, stagnant water bodies and lack of proper monitoring at the field level are rendering many efforts ineffective, opined experts.
Residents of new and old wards have similar complaints and are seeking more permanent solutions from the city corporations.
A resident of newly-added ward-36 of Badda under DNCC, Shafikul Islam, said, "Mosquito problem is unbearable here. As soon as evening comes, lighting up a coil is a must. Or else you can't go two minutes without a mosquito biting."
"Every once in a while mosquito repellent is sprayed in the area with the fogging machine. But that doesn't seem to be doing much at all," he complained.
Residents of nearby areas including Notun bazaar and Nodda have similar experiences.
In the old DNCC ward-14 under Shenpara area lives Nobel Ronald, who echoed Shafikul's remarks on the fogging repellent's ineffectiveness.
"We have to keep our doors and windows shut at all times. We have to use aerosol or coil daily. At times there are swarms of mosquitoes in the area and that makes it difficult to concentrate on work or academic activities," said a disappointed Nobel.
Dhaka South City Corporation ward-71 resident AL Arafat said, "This being new ward, we feel neglected. Mosquitoes are everywhere. If you go outside after evening and stand for a few minutes at any shop, mosquitoes will swarm on you. Coils, nets, aerosols, all types of defence is necessary to keep the mosquitoes away."
DNCC ward-39 secretary Nesar Ahmed Russel said, "In our ward, we have 13 mosquito workers and two supervisors. The number of workers is inadequate for the size and population of the ward and we need double the manpower we have."
"Supervising workers is difficult unless they are followed closely at all times. Besides, the workers have to walk and carry machines weighing around 25 kg, which slows down the process of spraying pesticides," he said, adding that larvicide spraying time is between 8-11am and adulticide fogging time is 4-5pm.
There are 123 species of mosquitoes in Bangladesh, of which two types are dominant -- Aedes and Culex. The breeding season of Culex is between late November and March, while Aedes aegypti, the species responsible for causing Dengue, breeds between March and November, especially during the rainy season.
Jahangirnagar University Professor and Entomologist Kabirul Bashar opined that an integrated vector management (IVM) system is mandatory to control the mosquito problem. The system has four elements -- environmental control, biological control, larvicide and adulticide.
"In IVM, environmental control is the most important aspect. Eliminating breeding grounds of mosquitoes is a preventive measure, which yields better results than mitigative measures such as fogging. The efficacy rate for fogging is maximum 30 percent, so it is unwise to rely on it entirely," said Prof Bashar.
Recently in an interview with The Daily Star, DNCC Mayor Atiqul Islam said, "We have bought fourth generation pesticide Novaluron. It is experimental. We are putting those in a net with a stick in water bodies. But the local fishermen are throwing those away. So, the challenge is there of course. We are working on it."
DNCC sources said they have already spotted 629 breeding grounds and are planning to use Novaluron there. For larviciding, both city corporations are using Temephos and Malaria Oil B at the stagnant water bodies. They are also using Malathion for adulticide.
Atiqul also said, "The mosquito problem will be reduced gradually, but not overnight. I also directed the department concerned to change the pesticides after one or two years so that mosquitoes don't get to adapt those."
DNCC has undertaken an initiative called "400-gauge by 400-gauge", where there are supervisors to monitor the activities of workers engaged in mosquito control in every 400 square-gauge area of a ward. Presently, there are 15 workers in every ward who work with DNCC in this regard.
In the fiscal year of 2020-21, DNCC has allocated Tk 70 crore to curb the mosquito problem, while DSCC has allocated Tk 300 crore.
DSCC is planning to adapt BTI, a bacteria that will kill larvae once mixed with water. Currently they have 13 mosquito control workers in every ward.
Meanwhile, Prof Bashar expressed his pessimism regarding Novaluron, saying, "It hasn't yielded the expected result as a biological pesticide. It required more field testing. Also, if an area is larvicided properly, mosquito breeding can't happen easily. Therefore, proper monitoring needs to be ensured in the field level."
Asked, DNCC Deputy Chief Health Officer Md Golam Mostofa Sarwar said, "We can't say our pesticide is ineffective, because it is tested and certified by the Plant Protection Wing of the Department of Agricultural Extension and Institute of Epidemiology Disease Control and Research (IEDCR)."
"Stagnant waters are breeding grounds for mosquitoes. We spray our pesticides, but the pesticides get stuck on the upper part of water hyacinths and cannot reach the water surface properly. Interestingly, the mosquitoes breed in the roots of water hyacinth, which gives them protection. We are now cleaning those," he added.
He also mentioned that monitoring field workers is a challenge but they are doing their best.
Mentioning the stagnant waters as one of the challenges, DSCC CEO ABM Amin Ullah Nuri said, "If the canals are recovered and cleaned, there will be flow of water and the mosquito menace will reduce by a large margin. We are focusing on that now."
"As a biological control measure, we have released fish in Dhanmondi and Khilgaon lakes so that they eat up the larvae," he added.
Claiming there is no lack of monitoring, he said, "Our mayor, I, health and zonal officers are monitoring the situation. Because of the season and lack of wind, little increase of mosquitoes can be seen."