Misreading chest pain for acidity jeopardises patient's life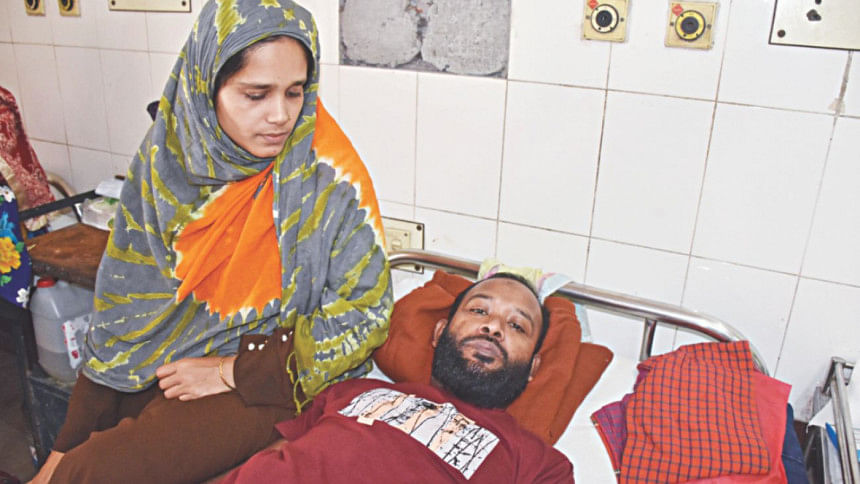 A heart attack victim has been thrust upon death's doorstep as wrong diagnosis and treatment in a Barishal-based private clinic has increased the patient's chance of sustaining permanent and irreparable damage.
Md Amir Hossain Bachchu, 39, a trader, went to a private hospital named "Shohag Clinic" in his hometown Rajapur of Jhalakathi on Thursday morning with complaints of chest pain that he had been experiencing since the previous night, said his wife Rashida Begum.  
After conducting various medical tests including Electrocardiography (ECG), the clinic's Sub-Assistant Medical Officer Sayed Ali Ahmed, holding a Diploma in Medical Faculty (DMF), diagnosed the chest pain as acidity related discomfort and injected Bachchu with some medication, she added.
Assuring him that the pain will subside by the afternoon, the doctor sent Bachchu home with a prescription.
"But my pain kept increasing. In the afternoon, I could not tolerate the pain anymore and went to Rajapur Heath Complex from where I was immediately referred to the cardiology department of Sher-e-Bangla Medical College Hospital (SBMCH)," he added.
"Bachchu's ECG report clearly indicates that he suffered a heart attack on Wednesday night. In case of heart attack, immediate action is critical in limiting heart muscle damage and optimising a better recovery for the patient. The delay in applying proper treatment has eliminated all the other options except for performing an open heart surgery or bypass surgery on Bachchu. His condition is very critical but we are trying our best to save his life," said Assistant Professor Jakir Hossain, chairperson of the department.
The complication and risk could have been minimised by injecting streptokinase, a drug used to break down clots in some cases of heart attack, within 12 hours of the attack, said Dr Jakir, adding that the patient's condition might deteriorate any time.
Abul Khayer Md Russel, residential medical officer of Rajapur Health Complex, said DMFs can only provide primary treatment. They are not even authorised to prescribe antibiotics except for applying a low dose of amoxicillin as primary treatment.
In case of chest pain, even an MBBS doctor has to refer the patient right away to the cardiology department where heart professionals will diagnose and decide whether it is only acidity or any heart related abnormality, said Russel referring to medical norms.
"The clinic has long been providing wrong treatment leading to several deaths every year. Absurdly, DMFs are handling serious patients there. No action has been taken against them although we have informed the higher authorities about the malpractice several times," said Rifat, emergency medical officer of SBMCH.
"I have inspected the clinic three times in last six months and written to the higher authorities concerned for taking action against it," said Dr Shamalkanti Howlader, civil surgeon of Jhalakathi.
"Amid several complaints against the clinic, we ran a probe over the last couple of months and sent the report to the Directorate General of Health Services, and the health ministry yesterday (Sunday)," said Dr Mahabubur Rahman, deputy director of health, Barishal.
Different anomalies and malpractices, including providing wrong treatment and admitting patients almost ten times its capacity, were found in the probe, he added.
Bachchu's wife and their two school-going girls are now living in uncertainty as he is the only provider for the family.
Cashing in on the shortage of doctors, especially in rural areas, some dishonest clinics along with their brokers are easily making patients like Bachchu their prey.
They should be brought to book immediately, demanded the doctors at SBMCH.
The Daily Star could not reach the accused DMF, Sayed Ali Ahmed, or the clinic authorities for their comments despite making several calls and sending text messages on their phones.