A mess 28yrs in the making
Savar Municipality cannot seem to find a landfill site; wastes being dumped beside roads, waterbodies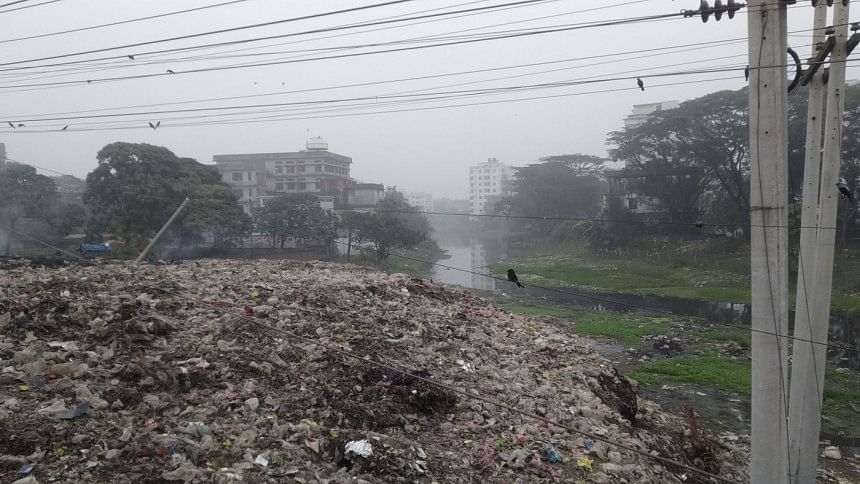 Savar Municipality authorities have failed to arrange a landfill or garbage dumping station in its 28 years of establishment, hampering waste management to a great extent.
Due to a lack of designated spot, wastes from households, businesses, healthcare centres, vendors, restaurants and roadside shops are regularly being dumped beside roads and waterbodies, said locals.
During a recent visit, this correspondent found piles of garbage on the banks of the river Bongshi at Namabazar, Dhaleshwari at Ulail and Karnapara canal near Dhaka Aricha-highway.
Even educational institutions were not spared. Heaps of garbage were seen next to Savar Women's College, emitting a tough-to-tolerate stench.
Kabir Hossen from Talbag area near the college said they continue to suffer from the filthy obstruction and stench.
Shohidul Islam, a resident of Namabazar area, said municipality cleaners as well as locals have been dumping garbage beside the Bongshi river for years.
The river is not only being polluted but also narrowed down due to such dumping, he said. The authorities should monitor this and take proper steps to save the waterbody, he added.
Salahuddin Khan Noyeem, secretary of Savar Nagorik Committee, a citizens' platform, said Savar Municipality had earned a good reputation at the beginning of its establishment in 1992. But it has completely failed to manage garbage, he said.
"To make Savar green and clean, I urge the municipal authorities to set up a refinery garbage dumping station immediately," he said.
Samsul Haque, secretary of Nodi o Poribesh Unnayan Parishad, said, "We have been holding programmes to save the rivers and canals from pollution and encroachment, but to no avail."
Mayor Hazi Abdul Goni, however, denied the allegation of such random garbage dumping by the authorities.
Although he claimed that they have selected a spot at Komlapur in Savar for this purpose, The Daily Star witnessed that the municipality workers were leaving garbage at Namabazar at nighttime.
Asked, Abdul Goni, who is running the municipality as the mayor for around five years, admitted his failure to set up a landfill.
"We have been trying to buy a piece of land... Besides, we wrote to the deputy commissioner of Dhaka twice for a government land. The DC said they are trying to find one."
"Moreover, we recently made a deal with a Finland-based company that will take the garbage to generate electricity. In this regard, we sent a project proposal to the Ministry of Power, Energy and Mineral Resources for its approval," said the mayor.
Around Tk 400 crore is needed to complete the project, said Abdul Goni. "Once the project is finished, there will be a permanent solution to garbage management," he said.