IPDC Young Professional Summit 2019 held at DU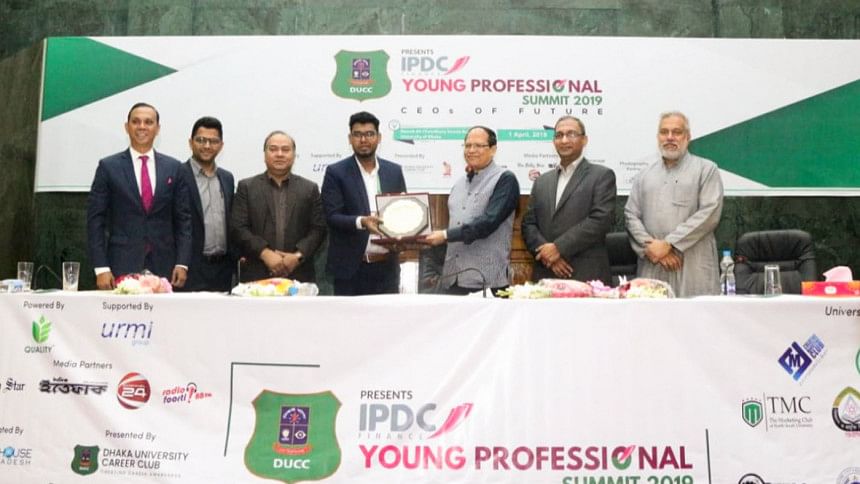 Dhaka University Career Club, one of the prominent clubs of Dhaka University, arranged the 'DUCC Presents- IPDC Young Professional Summit 2019' on DU campus today.
The program was initiated by LightHouse Bangladesh, powered by Quality Integrated Agro Limited and supported by Urmi Group and Faculty of Business Studies, University of Dhaka.
The opening of the Summit was held at 10:00am at Nawab Ali Chowdhury Senate Bhaban with Dr Atiur Rahman, former governor of Bangladesh Bank, in the chair.
Prof Dr Shibli Rubayat Ul Islam, dean of DU's Faculty of Business Studies and Prof Shoumitra Shekhar of the university's Department of Bangla and also advisor of Teacher-Student Centre (TSC), were present as special guests.
Nazmus Ahmed Albab, CEO of Lighthouse Bangladesh was also present there as the co-chairperson of the summit.
A total of 400 participants including 200 students from different universities, and professionals working in corporate and other companies participated in the summit. The summit was divided into 4 keynote sessions, 2 plenary sessions and 2 dialogue discussions.
The 4 keynote sessions were 'Change Maker-Leadership, Values and CSR', 'The Professional- Organizational Behavior and Corporate Values', 'Personal Branding- Etiquette and Interpersonal Skills and 'Future CEO-Decision making and Entrepreneurship Skills' which were respectively conducted by Mominul Islam, managing director and CEO of IPDC Finance; Dr Md A Moyeen, professor and chairperson of DU's Department of Organizational Strategy and Leadership; Shawpna Bhowmick, country manager of M&S and Intesham Shahjahan, managing director of Quality Integrated Agro.
Mominul Islam said, "If you want to make a change, you have to look differently to things. So, let's make a positive difference from now."
The plenary sessions were divided into two parts where 'Challenges Ahead-Vision, Mission, Strategy and Execution' was conducted by Malik Talha Bari, director of United Group; Afreen Huda - HR director (Bangladesh- Sri Lanka) of Reckitt Benckiser; Moyeen Hyder Chowdhury, branch manager of Puma; and Rizwan Dawood Shams, deputy managing director and head of business finance of IPDC Finance.
The second part was 'Millennial-Digitalization and Technology' which was run by Munir Hasan, coordinator of Youth Program of Prothom Alo; Ovick Alam, co-founder of WebAble Digital; Ferdous Yousuf, chief human resource officer of Bkash; Sami Ahmed, component team leader of LICT and Shezami Khalil, marketing director of Shohoz.
The dialogue discussions were held on 'Personal Assessment and DISC' and 'Communication Skills and Emotional Intelligence'. The first discussion was conducted by Quazi M Ahmed, president of Bangladesh Organization for Learning and Development and Afreen Huda. The second one was discussed by Mahjabin Ferdous, head of corporate communications of IPDC Finance; and Shamarukh Fakhruddin, director of Urmi Group Limited.
About 200 students of the summit got the opportunity to participate in 4 workshops of LightHouse Bangladesh which will play a vital role in their future career.