Iconic TSC soon to be erased
Decision to replace DU structure with multi-storied building sparks criticism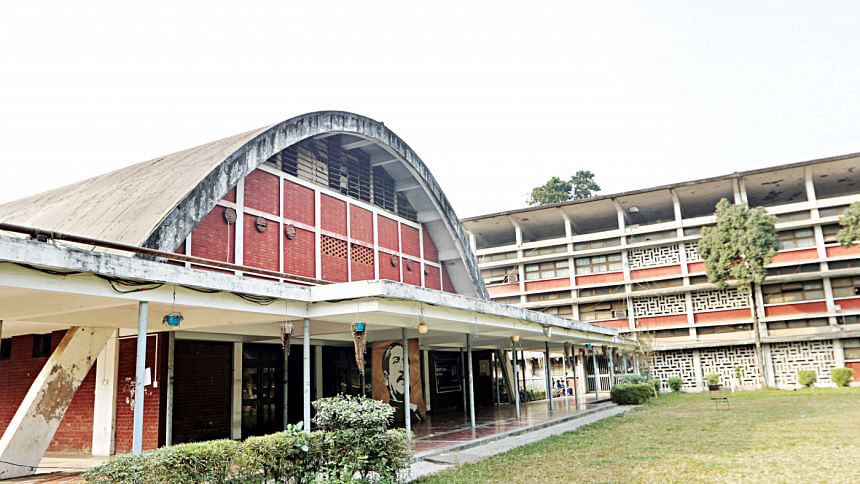 In the wake of Dhaka University's birth centenary in 2021, the decision to bulldoze its historical Teacher-Student Centre (TSC) and replace it with a multi-storied structure shocked students, alumni, and residents of Dhaka.
TSC is the work of legendary Greek architect and planner Constantinos Apostolos Doxiadis. The mastermind behind planning the city of Islamabad, Doxiadis was also the founder of Ekistics, a school of thought that concerns the science of human settlements, including regional, city, community planning and dwelling design. He designed TSC in the early 1960s.
The adjacent building was later constructed as part of the so-called Decade of Development (1958-68) of the then Pakistani regime.
The structure exemplifies a modernist architectural sensitivity toward spatial needs for tropical climatic conditions. It blends local parameters of space-making -- particularly the indoor-outdoor continuum and generation of space around courtyards -- with international-style visual expression of building forms.
TSC's dome-shaped structure is considered an iconic landmark not only inside DU campus, but in the broader cityscape of Dhaka. It has been home to countless students who show up between or after classes for a cup of tea with friends, and holds immense nostalgic value for them on top of being a historically significant site.
GOVT MAKING WAY FOR MULTI-STORIED TSC
Public Works Department (PWD) of the government has already begun the process of rebuilding TSC after Prime Minister Sheikh Hasina on September 2 ordered the authorities concerned to modernise Dhaka Medical College Hospital, TSC, and public library.
"Dhaka University is our university and we want to build TSC in a modern way," said the PM at a meeting on several development projects over video conference on September 2.
The TSC director provided a requisition list to the university's engineering department, which was subsequently submitted to PWD on October 18 by the DU authorities. According to this list, one auditorium with a capacity of 1,500 and two with the capacity of 300 will be constructed.
The new facility will also include rehearsal rooms for cultural activities, a gymnasium, rooms with modern facilities for TSC-based socio-cultural groups, indoor games room, separate cafeteria, teachers' lounge, three basements for vehicle parking, guest house and more.
The entryway might be built near the Bangladesh National Cadet Corps contingent office and the construction work may begin from the swimming pool area.
"WE'D RATHER KEEP THE OLD TSC"
The government's move to rebuild TSC has garnered criticism from teachers, students and academicians who opined that an establishment like TSC should be kept intact considering its association with significant moments in the university's history and the day-to-day lives of students.
"Yes, there may be a need to improve some aspects of TSC. We do not oppose modernisation of TSC either. But we do oppose the move to rebuild it entirely," said Amit Pramanik, a final-year student of Economics at DU.
He said this is reflective of the broader problem of DU authorities paying no heed to students' needs and opinions. "Such decisions should be made after consulting with and surveying students. Yet students never have a say in these decisions."
"I don't understand why modern facilities cannot be incorporated into the existing structure. Moreover, students do not want a shiny, air-conditioned, multi-storied building -- we enjoy the open and welcoming environment of TSC and its community," added Amit.
Over the years, TSC didn't stay exclusive to DU students. The cultural and social hub attracted people from all over Dhaka, such as lawyer Anupoma Joyee.
"Although I did not study at DU, most of my friends did which ensured that I know which 'mama' at TSC sold the best morich cha. Considering how limiting life in Dhaka city is getting for women, lazying around at TSC was a freeing experience. Events came and went by, whether it was Ekushey Boi Mela, Dhaka Lit Fest, Pahela Baishakh or just a random concert, a cup of tea at TSC before going home was a constant," she said.
From the architectural and anthropological lens, Architect Iqbal Habib mentioned, "Architecture and literature are two pivotal parts of human society that last for generations to tell the history of a nation. TSC is one of the first examples of modern architecture in Dhaka. The attempt to bulldoze such an iconic creation by Doxiadis is an attempt at erasing the city's history."
"This shows a clear lack of empathy in the part of the university. The compound could have been expanded without demolition of the original structure. By bulldozing such valuable architectural creations, they are depriving future generations from learning the true history and culture of our land," lamented Habib.
Wahiuddin Mahmud, economist and former professor of DU, echoed Habib's sentiments on preserving old architecture. "Renowned universities of the world can be recognised through their traditional architectural styles. Even 100-year-old buildings are carefully preserved. Yet TSC's legacy is about to be destroyed instead of being preserved."
The plan to rebuild TSC makes no mention of how the community of students, citizens and vendors around the area will be affected by the reconstruction. The move to demolish the existing TSC structure came soon after a similar decision was made regarding Kamalapur Railway Station. This year, multiple heritage buildings in the old part of Dhaka were demolished as well.
With such disregard for the significant sites of Dhaka, the city's history is now at stake.