House Sparrow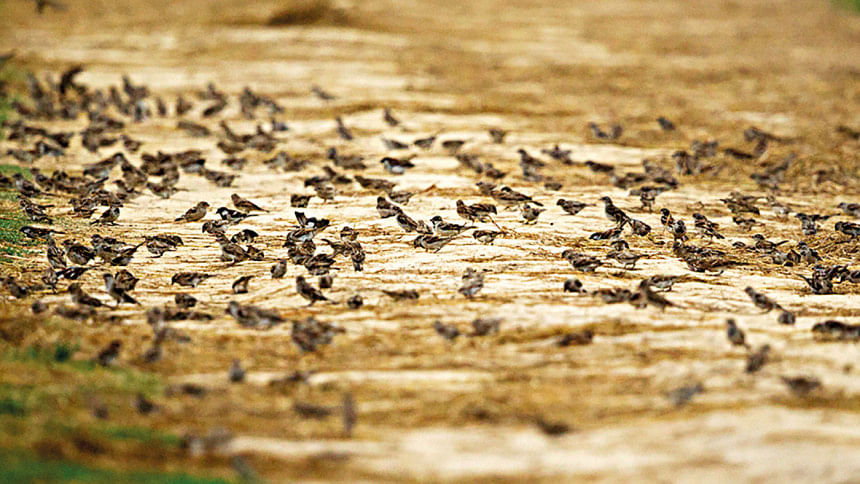 While we may not give them a second look, sparrows have distinguished lineage. They lend their name, Passer, to the order Passerines, which comprises more than half of the world's bird species. Another name for Passerine is songbird.
There are twenty five species of sparrows in the world. Of these, two are found in Bangladesh: House Sparrow and Eurasian Tree Sparrow.
Most species of sparrows remain localized and shy of humans. However, the House Sparrow is extraordinary. By coming close to humans while retaining its wild nature, it has spread all over the globe.
It is about 6 inches long, coloured brown and black. Male and female House Sparrows look different. The most prominent distinction is that the male has a black "bib" on its chin.
Over time, the House Sparrow has adapted well to humans. Its natural food is seeds of grass and weeds. But its feeding depends on the activities of humans. And so it eats our leftover food and crumbs and scavenges for food in garbage containers. When eating food that it has difficulty digesting, it swallows small pieces of stone or other hard material. These "grits" stay in the bird's intestines for a long time and help grind up food. Eventually the "grits" are passed with the stool.
To cleanse itself, the House Sparrow, like many other birds, prefers sand baths over water baths. I have seen this in sandy paths in villages as well as construction sites where sand is kept. It will dig a hole in the sand to dip itself, shaking vigorously and flapping its wings. A social bird, it often bathes in groups, taking turns dipping into the sand.
Another adaptation helping the House Sparrow thrive is its nesting and breeding habits. It builds nests in hollow areas of buildings such as roof overhangs and crevices. During courtship males engage in agitated twittering and strut around the female. It is prolific in reproduction, laying up to seven clutches of four or five eggs every year. However, the high birth rate is offset by a high mortality rate: young birds, as they leave their nest, fall prey to cats and bigger birds.
The House Sparrow has comingled with humans for thousands of years. In general the association is favourable: in Greek mythology it is a symbol of love and in Chinese culture it is considered auspicious. I imagine at least some of this is due to its abundant fertility, which also resulted its eggs being eaten as an aphrodisiac during the Middle Ages.
The bird has a large and versatile population. It can easily spread in a new place and drive away native species. Over the world, it is found in all continents except Antarctica. Among the estimated 50 billion bird population of the world, House Sparrow is one of only four species that cross a billion. The others are Barn Swallow, Ring-necked Gull and European Starling.
facebook.com/ikabirphotographs or follow "ihtishamkabir" on Instagram.