Govt gives due importance to promote tennis: PM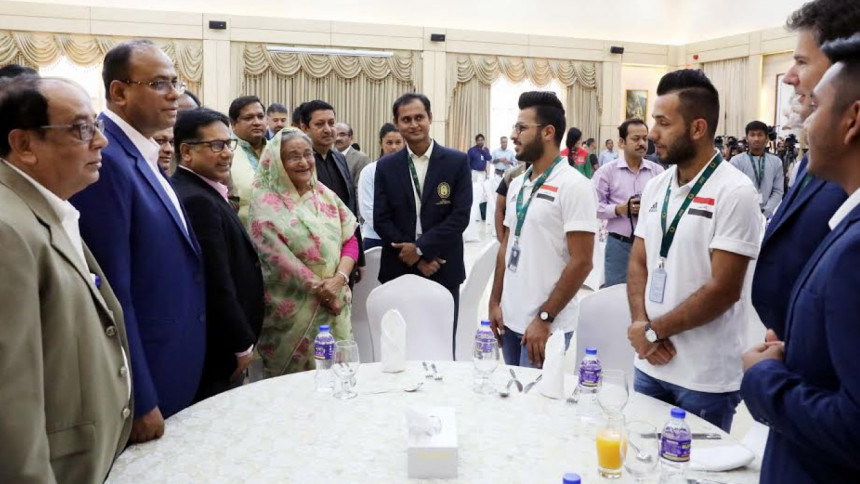 Prime Minister Sheikh Hasina today said her government has given due importance to the expansion of other games like tennis alongside football and cricket.
The prime minister simultaneously urged the people of the country to practice more tennis side by side with soccer and cricket.
"The people of the country are very much familiar with football and cricket. But tennis is also an important game. So, we've also given proper importance to the promotion of tennis," she said.
Sheikh Hasina made the remarks when the players and diplomats of the participating countries in Sheikh Russel International Club Cup Tennis Tournament-2019 paid a courtesy call on her at her official Ganabhaban residence here this afternoon.
Pointing out her government's initiatives for development of tennis in the country, the prime minister said her government has taken steps to set up more tennis courts in the country and impart training to the players so that people are more interested in tennis.
"Not only for football and cricket, we'll make more arrangements for training for the tennis players," she said.
Sheikh Hasina said her government wants more inter-university, inter-college and inter-school tennis tournaments be arranged in the country. "We want the children be more interested in tennis," she said.
Putting emphasis on hosting more international tournaments in the country, she said foreign players apart from local players participate in the tournaments. "It's good for both local and foreign boys and girls as they get a scope to know each other," she said.
The prime minister said her government is giving emphasis to expansion of games and sports in the country as it provides mental strength to the people.
"As much as our boys and girls will be engaged in games and sports their thinking and mentality will be flourished to that extent and they will remain healthy physically," she said.
Sheikh Hasina congratulated the players of 19 countries for participating in the Sheikh Russel International Club Cup Tennis Tournament-2019.
She also extended her sincere thanks to the organisers for successful arrangements of the tournament in Khulna.
Youth and Sports Secretary Md Akhter Hossain spoke at the function highlighting salient features of the tournament.
Commerce Minister Tipu Munshi, State Minister for Youth and Sports Zahid Ahsan Russel and lawmakers from Khulna Abdus Salam Murshedy and Sheikh Jewel were present on the occasion.
Khulna district administration organised the event from November 13-18 in cooperation with Cabinet Division and Ministry of Youth and Sports on the occasion of 54th birth anniversary of Sheikh Russel, the youngest son of Father of the Nation Bangabandhu Sheikh Mujibur Rahman.
The prime minister inaugurated the tournament on November 13 through a videoconference from Dhaka.
Seventy-four players from Bangladesh, Australia, Bhutan, India, Iraq, South Korea, Mongolia, Nepal, Sri Lanka, Thailand, Tunisia, Turkmenistan, Tajikistan, United States, Cameroon, Italy and Pakistan took part in the event.