Gen Lab brings 24-hr global hackathon 'Climathon' in Dhaka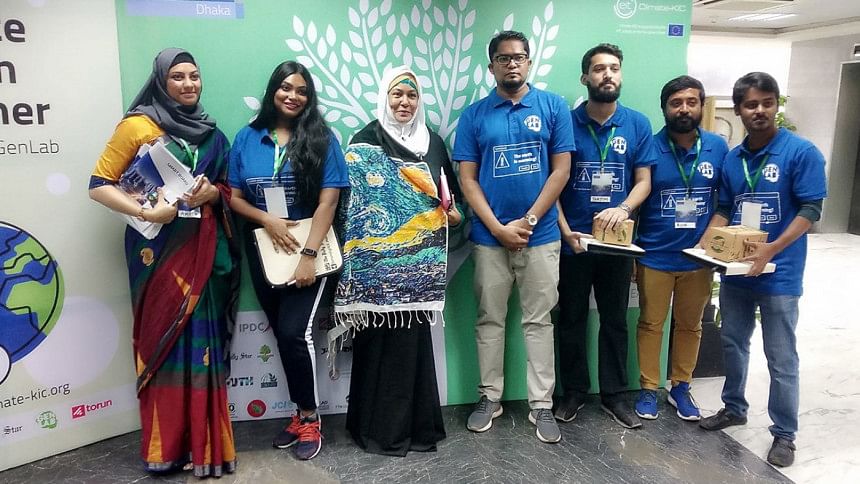 On Global Climathon Day, over 100 cities today started a solutions-hackathon aimed to tackle local climate challenges.
The hackathon is a part of Climathon, a global year-round programme initiated by EIT Climate-KIC, to mobilize cities and citizens to take climate action, together, a press release said today.
Climathon is taking place simultaneously in over 122 cities worldwide from October 25, 2019 and brings together entrepreneurs, students, programmers and policy makers to work on new, creative solutions to local climate change challenges.
In Dhaka, the opening Ceremony took place at 10:00am and will continue at 10:00 am till October 26 at the Daily Star Centre.
This year the focus is on solving three issues --food safety, waste management and energy consumption.
The exact problem is getting solved by the participants at Climathon 2019 is:
1.       How can contamination free fresh food be available to citizens of Dhaka?
2.       How can we bring positive change in citizen behavior to create energy efficient Dhaka city?
3.       How can we change our daily behaviour for making clean Dhaka city with efficient waste management?
Climathon Dhaka identified local climate challenges in close collaboration with related Stake holders. During the solutions-hackathon, Climathon brings together entrepreneurs, innovators, programmers, designers and professionals to develop solutions.
After 24, intense hours of collaboration, excitement and solution-finding, a jury panel will select the most promising and impactful ideas. After the hackathon the winning idea will be eligible for funding and will be prepared for incubation.
This climate action event is organized by Gen Lab with partnership of - European Union, UNDP,  Torun Digital, Daily Samakal, colours FM 101, Star youth , JCI Dhaka North, BNO lubricants, IPDC finance, The Daily Star, save and serve foundation, Center for Entrepreneurship Development ( BRACU), Center for Sustainable Development ( ULAB), ICCAD, University of Liberal Arts Bangladesh (ULAB), Green Savers Association.
The Opening Ceremony started at 10 AM at Daily star Centre Auditorium with a welcome speech conratulating the 100 participants of Climathon Dhaka 2019 from Ms. Ishrat Binte Rouf , Manager of communications of Gen Lab.
Afterwards the Executive Director of Gen Lab – Ratul Dev placed his speech and showed the video message of MP Nahim Razzak on Gen Lab and Climathon.
 Waseqa Ayesha Khan Member of Parliament, Khurshid Alam Asst. Country Director, United Nations Development Programme (UNDP), Arif M. Faisal United Nations Development Programme (UNDP), Dr Saleemul Haque Director, International Center for Climate Change and Development, Independent University of Bangladesh (ICCCAD) and Professor Rahim B Talukdar, Advisor- Centre for Entrepreneurship Development and the Vice Chancellor of Eastern University were present at the opening function.
The speakers expressed their enormous concern on climate change and the fact that  Bangladesh is one the most vulnerable nations to the impacts of climate change. The speakers agreed on one point that is –
Youth are the change makers and they can change the scenario by coming forward together in the fight for saving climate.
Khurshid Alam gave three messages –-
1.       Raise your voice as young people's fresh energy, fresh voice is heard by policy makers.
2.       Come up with innovative ideas which previous generation couldn't do.
3.       Let's work together.
MP Waseqa Ayesha Khan thanked Gen Lab for coming forward with such a great initiative and pledged to support this kind of activities in future.
Gen Lab aims to create a platform for Bangladeshi youth to engage in social development process of the country by means of acting together to bring about positive change. Gen Lab believes in the potential of young change agents and understands that a whole generation of youth working together can create the impetus that is required to build the nation we all have dreamt and long for.
Sustainability is one of the essential values of Gen Lab and it resonates in the organization's concern for bringing changes that would positively affect the lives of the future generation. Gen Lab aspires to be a link between the present generation of youth and that of the future while drawing inspiration from the one that has passed, of the elderlies, who had once helped create this nation from the scratch.
Gen Lab's vision is to create an inclusive and resilient Bangladesh.
Climathon is a year-round programme with a powerful solutions-hackathon at its core, generating projects, supporting climate-positive businesses and start-ups and addressing local policy changes.
Climathon empowers citizens, cities and local economies to come together to develop local solutions to cities' climate challenges. Powered by dynamic and dedicated Local Organisers, Climathon has grown to over 100 cities and with a global reach in the millions. Climathon is supported by EIT Climate-KIC, a body of the European Union. www.climathon-climate-kic.org