A gathering of literary enthusiasts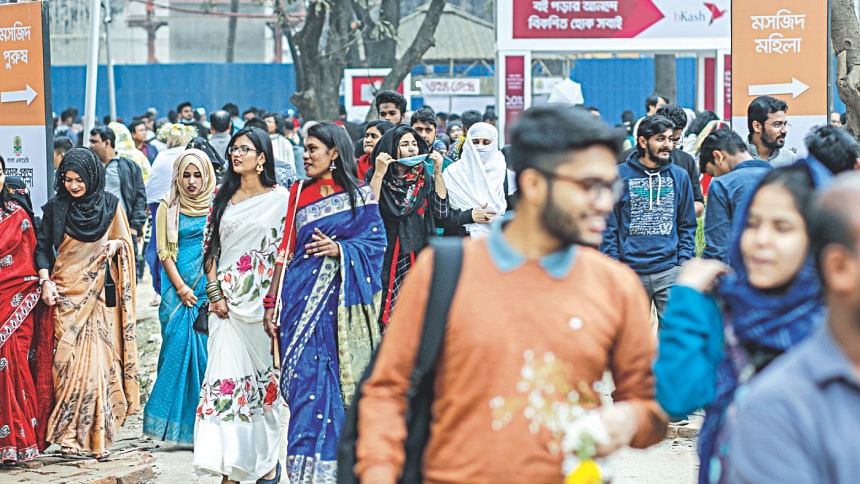 After an exhausting month of trade fair and city polls, the book fair got off to a slow start on February 2. But as the first weekend of the month rolled around, city dwellers thronged the fair, re-energised and ready to indulge in literature.
People of all ages visited with their friends, family, and loved ones, browsing books at Suhrawardy Udyan and Bangla Academy. Weekends at Amar Ekushey Book Fair is crowded, but the ambience remains festive.
 The fair opened its gate at 11am yesterday, and children enjoyed their time ar Shishu Prohor with Sisimpur characters: Halum, Shiku, Tuktuki and Ikri. Every Friday and Saturday, the 11am-1pm time slot is dedicated to Shishu Prahar, where parents bring their little ones.
 "My daughter watches these characters on TV and now she is seeing them live. I am delighted to see her happiness," said Farida Zaman, mother of seven-year-old Rafia, who was playing beside the stage with other children.
 Besides, as Swadhinata Stambha (Independence Memorial) lake at Suhrawardy Udyan is now a part of book fair premises, people get to sit at the lakeside, taking in the view and spending quality time with loved ones.
 Couple of yards afar from the lake, there is a designated  spot for writers, where they hold discussions on contemporary literature, and the audience also joins the conversation from time to time.
 "The whole experience of the  fair is exquisite. It gives you an excuse to reunite with old friends you haven't seen in a while. It's not just about buying books, it's a gathering of literary enthusiasts," said Arupa Haider, a private university teacher, who was sitting with her partner Raisul Islam on the grass, waiting to see a writers' discussion.
 On the left side of the writers' corner, there is a Mukto Mancha, and beside it, five artists were drawing portraits of attendees for a few hundred taka.
"Usually couples come to us for portraits. It acts as a memento of their time at the fair," said artist Md Ratan.
POETRY ON POLITICS, WITH A TWIST
As evening fell, the crowd got bigger, and stalls busier, with writers visiting to sign and launch their books.
Yesterday, The Daily Star's Editor and Publisher Mahfuz Anam along with noted personalities unveiled "Apotti Sotteyo" (In spite of Objection), a book of poetry with themes of political satire, by Mohammad Al Masum Mollah.
Former chairperson of Dhaka University's international relations department Prof Delwar Hossain; noted children's writer Lutfur Rahman Riton, and journalist Golam Mortoza, were also present at the book launch at the Udyan.
The Daily Star journalist Masum included 20 of his rhymes in the book, published by Agamee Prakashani.
NEW FROM THE DAILY STAR BOOKS
Among hundreds of publication houses at the fair, The Daily Star Books is bringing some unique works this year. At stall 491-492 of Suhrawardy Udyan, two new books are now on display for readers.
Of them, Inner State is a collection of poetry by Mohammad Shafiqul Islam, professor of English at Shahjalal University of Science and Technology. The themes of the book centre around identity, love, sensuousness, freedom, complexity of city life, nature, nostalgia, grief and suffering etc. 
Meanwhile, The Daily Star Books' other release, The Transition: How to Move from Fear Zone to Growth Zone, follows a completely different theme, with co-writers Tajdin Hassan and Rafeed Chowdhury offering insight on corporate life.
Tajdin, head of marketing at The Daily Star, accumulated his years of experience as a professional in this book.