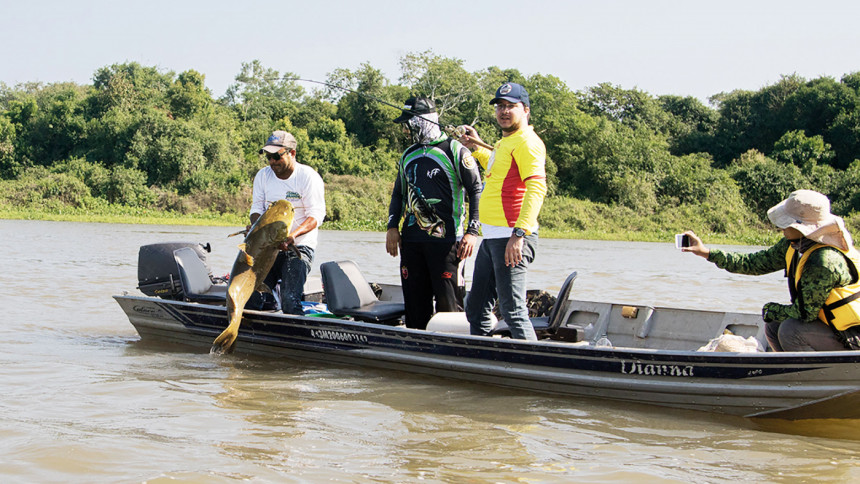 A string of failures followed by success – that is the story of my childhood fishing.
When I was eight, I developed an obsession for fishing. I tried the spear called kucha, various fishing nets, the fishing pole and my bare hands. They all provided entertainment but only one caught me fish.
As a child I seemed to be surrounded by fish. They were everywhere, taunting me, daring me to catch them.
The pond in front of our house had schools of fish that tickled my feet when I swam there, but when I dived to catch them they slithered away.
During the rains our lawn flooded and I saw tantalizing glimpses of fish playing in the grass under the clear rainwater. But there were also snakes and leeches so I had to be slow and cautious. I tried to trap the fish with a triangular frame net, but the clumpy grass underneath left enough openings for them to escape.
There was a large open canal running along the front of our house. The rains brought a flow of clear water and the fish came along. I could see them swimming in the shallow water. So I got a kucha – a spear-like contraption – which was the preferred fishing tool for shallow water. But no matter how hard I tried I missed the fish. Today I realize that refraction of light had something to do with it.
Then one day my luck changed.
My aunt Amu Fufu stopped by for a visit and saw my interest in fishing. "Why don't you come and fish in our pond," she suggested, "and don't forget to bring a fishing pole." Her family lived across town on Jail Road. The pond stood just outside their main compound. I had never given it a second look, but that was about to change.
And so a bamboo fishing pole was procured from the market and I got to work early the next morning. A household staff helped me prepare the bait - small balls made of dough – and showed me the basics. We hailed a rickshaw, and with two long poles sticking out the back window, we were on our way to Jail Road.
The pond, surrounded by a raised grassy bank, was separated from Amu Fufu's house which was fenced off by a hedge punctuated by koroi and banana trees. We found a spot to sit and I placed the bait on the hook. The buoyant stem of a water hyacinth plant served as the sinker. I cast my line and waited quietly. Soon the sinker started bobbing. There were nibbles and gentle tugs; then it went quiet. Pulling it out I saw the bait was gone. I had to replenish the bait several times before I felt a strong pull on the pole. The fish thrashed and my pulse raced. I finally pulled it out; it was a tilapia of decent size.
From that day, my fishing life changed. I kept returning to the house on Jail Road, landing tilapias, putis and the occasional koi. For bait, I started using earthworms. They were not as easily stolen by the fish and were ubiquitous under the topsoil.
After a month or two, I grew tired of catching those tilapias. My interest in fishing waned just as mysteriously as it had appeared. But even today, when I see someone land a fish – like the giant catfish I saw in Brazil – I feel a tug in my heart for those fishy mornings on Jail Road.
facebook.com/ikabirphotographs or follow "ihtishamkabir" on Instagram.