Field hospitals, isolation centres reopening in Ctg
Surging number of Covid-19 patients putting pressure on healthcare facilities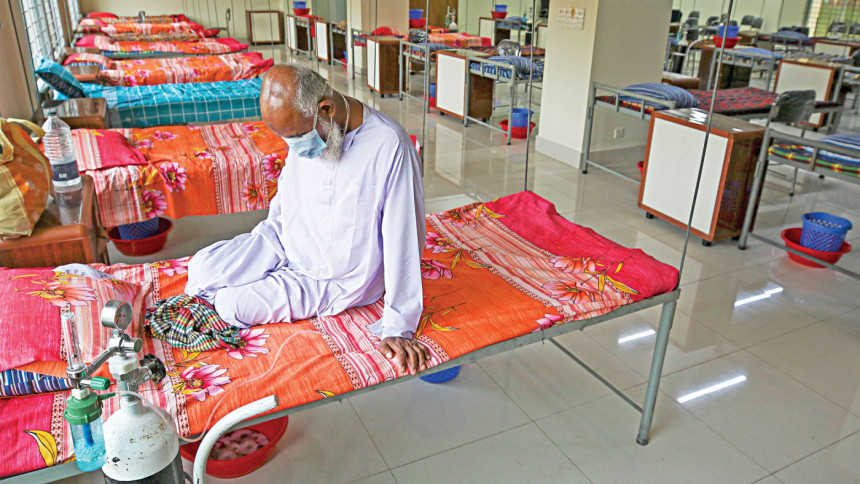 With the worsening situation of the Covid-19 pandemic, field hospitals and isolation centres in he port city are opening again, to handle the increasing numbers of patients.
Chattogram City Corporation (CCC) opened a 50-bed isolation centre at Laldighi Par in port city on Tuesday, after the second wave of Covid-19 hit the country.
Besides, Bidyanando Foundation in assistance with Premier University Chattogram and Chattogram Metropolitan Police is going to open a 70-bed field hospital soon.     
Earlier in June last year, when Covid-19 cases reached the then-highest peak in the country, CCC had introduced a 250-bed isolation centre to accommodate increasing number of patients. Once the number of patients began dwindling in August, the centre was closed.
Bidyanando introduced a 100-bed field hospital in last year at Patenga for Covid-19 patients.
These were only two among many initiatives taken by different humanitarian organisations and individuals in the port city and upazilas of the district last year. But almost all such initiatives were wrapped up once the number of infections dropped.
Now, as the country records over 7,000 infections daily, very few such initiatives are being noticed.
Sources said at least 20 field hospitals and isolation centres were introduced in 2020 in the city and 15 upazilas. These had the capacity of accommodating around 3,000 patients in total.
One such initiative was taken by Dr Bidduth Barua. He introduced the 60-bed Chattogram Field Hospital in the outskirts of the city with support from Navana Group and funds collected from people at Salimpur in Sitakunda upazila.
Asked whether he would reopen the hospital amid this second wave, Bidduth said he wanted to do so.
"We introduced the hospital in partnership with Navana Group. They provided us with land and infrastructure to open it," he said, "I will talk to them. If they cooperate with us this time, we will re-open the hospital."
Besides, this requires permission from the government authorities, he said.  
Another isolation centre was introduced by the incumbent CCC mayor Rezaul Karim Chowdhury at East Bakalia last year. Rezaul was a mayoral candidate at the time.
Now that he is the mayor and CCC has already introduced an isolation centre, it is not clear whether he will reopen the isolation centre.
This correspondent could not reach Rezaul to confirm the matter, despite multiple attempts.
Asked about the CCC isolation centre, its chief health officer Dr Selim Akter Chowdhury said the isolation centre has been introduced initially with 50 beds. All sorts of treatment facilities for Covid-19 patients will be provided in the centre, except for ICU support.
He said a 36-member medical team including 13 doctors will be on duty at the centre round the clock.
Jamal Uddin, coordinator of Bidyanando Field Hospital, Chattogram, told The Daily Star that the 70-bed field hospital would open on April 15 at a building of Premier University Chattogram at Sagarika Road.
"We already have a set-up of the necessary equipment and we are now installing those," he said. "Covid-19 patients will be treated under supervision of expert medical team. However, ICU support could not be arranged."      
Meanwhile, there are only 300 beds dedicated for Covid-19 patients in government hospitals of the port city. Of those, Chattogram General Hospital (CGH) has a 150-bed ward including a 10-bed ICU; Chattogram Medical College Hospital (CMCH) has a 100-bed ward including a 10-bed ICU while Bangladesh Institute of Tropical and Infectious Diseases (BITID) has a 50-bed ward with no ICU facility.   
According to Chattogram Civil Surgeon's office, a total of 494 positive cases were detected out of 2,540 samples tested in 24 hours till 10pm Tuesday, putting the positivity rate at 19.44 percent. Meanwhile, 66 patients recovered from Covid-19 within that time period.
Contacted, Dr Abdur Rob, head of Covid-19 ward at CGH, said eight out of 10 ICU beds are occupied while two-third of beds in Covid-19 wards have been filled.
CMCH director Brig Gen SM Humayun Kabir said the 100-bed Covid-19 ward of the hospital has already been overwhelmed with patients. Many were having to stay on the floor of the ward for treatment, he added.
Contacted, Dr Hasan Shahriar Kabir, Chattogram divisional director of Directorate General of Health Services, said they would take initiative to increase the number of beds in government hospitals and would appreciate any initiative by private organisations to open isolation centres.