Mystery remains
Autopsy performed on Banglamotor toddler; father remanded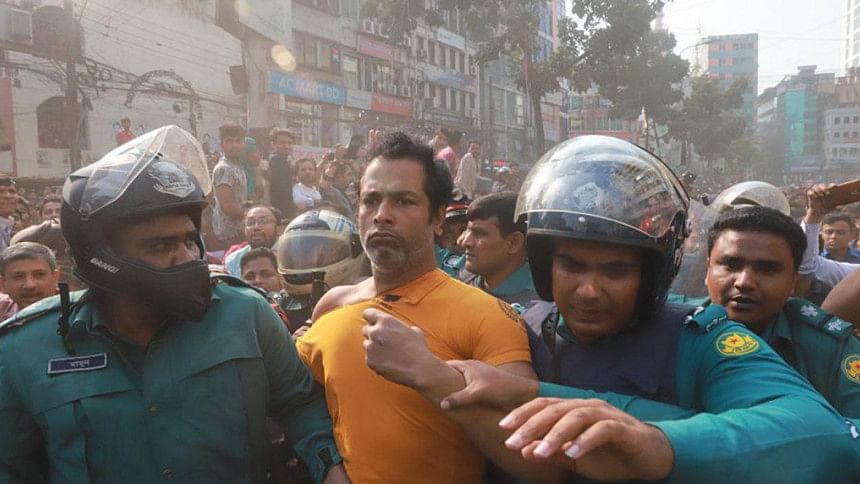 There was no sharp weapon or electric shock injury marks on the body of the two-year-old boy recovered from his Banglamotor home on Wednesday, according to the autopsy report.
A three-member medical board yesterday conducted the autopsy on Noor Safayet's body at the Dhaka Medical College morgue.
Sohel Mahmud, head of the forensic medicine department at the DMC, said there was a small injury mark on the child's forehead but no sign of bleeding.
"We found his lung and liver to be a bit swollen and we have sent his brain, liver, blood, and lung for histopathology," he added.
The injury mark on his forehead could have been due to a fall "but we need the histopathology report to confirm whether it caused his death," he said.
Police recovered the shroud-wrapped body of Safayet after a six-hour standoff with his father at their home on Wednesday. Safayet's four-year-old brother Surayat was recovered unharmed.
Their father Nuruzzaman Kajol was immediately taken into police custody.
Law enforcers went to the home after being told that "drug addict" Kajol allegedly killed his younger son and was wandering in their home clutching a knife, with Surayat in his grasp.
Meanwhile, a Dhaka court yesterday placed Kajol on a three-day remand in the murder case filed by the victim's mother Maliha Akhter Priya with Shahbagh Police Station.
Metropolitan Magistrate Dhiman Chandra Mondol passed the order after investigation officer of the case Champak Chakravarty placed Kajol before the court with a 10-day remand prayer.
Lawyer Abdus Sattar moved against the petition on behalf of Kajol.
During the hearing, Sattar said Maliha left Kajol following a fight. Kajol requested Maliha to take one of their children but she did not listen.
Kajol was disturbed following the incident but he did not kill his son, said Sattar.
"Kajol's son died of illness," the defence lawyer said.
Abul Hasan, officer-in-charge of Shahbagh Police Station, said Kajol provided police with multiple causes for his son's death.
He once said Safayet died of electric shock and then changed the story and said his son died of illness, the OC said.
Kajol admitted that he had slapped his son when he was crying, the OC added.
"We will be able to confirm the matter after investigation," he said.