Fashion brands see slow sale ahead of Victory Day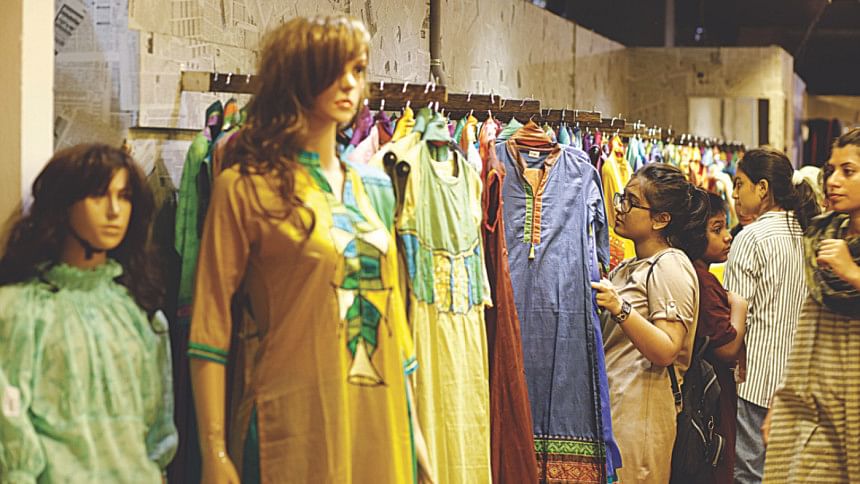 Over the last two decades, Victory Day became a festivity of sorts for a lot of urban people. To cater to the growing demand, prominent fashion brands have been bringing out collections themed in red and green, and in the last few years, sales surrounding the day have consistently been high, industry insiders said.
"In terms of sales, Victory Day is one of the biggest events," said Soumik Das, CEO of popular brand Rang Bangladesh.
The same can't be said for 2020, though. While even the most fashionable labels have kept their offerings to a minimum, smaller boutiques have skipped the occasion altogether.
Walking down Bailey Road on the penultimate Friday before Victory Day, this correspondent found stores on the otherwise popular shopping area relatively empty.
Even though special offer flyers were hung across the street and mannequins stood on pavements sporting red and green, all efforts failed to bring in customers.
"The demand for clothes has come down to under 50 percent (of pre-Covid levels). Demand for Victory Day attires is even lower," said a staffer of a well-known brand, requesting anonymity.
But lower demand is not the only reason behind fewer new collections in the market. "There's a shortage of labour, which is playing a significant role in downsizing our Bijoy Dibosh collection," Rang's Soumik Das said.
Companies are trying to adapt to this by employing alternative strategies. Bishwo Rang is reintroducing well-liked designs from the past rather than splurging on new designs, Bashar -- manager at a Bishwo Rang outlet at Bailey Road -- told The Daily Star.
As physical stores perform poorly, some are resorting to e-commerce to sell their items.
"Sales have been poor in our stores, but the response is better online," Soumik Das said.
Khalid Mahmood Khan, one of the founders of Kay Kraft, said in previous years, a bulk of Victory Day merchandise were bought by institutions organising programmes to mark the day. Bulk sales have been non-existent this year.
Earlier this month, the government announced of limited scale celebrations of Victory Day, and urged people to strictly maintain health guidelines while marking the occasion.