'Ensuring the safety of helpseekers top priority'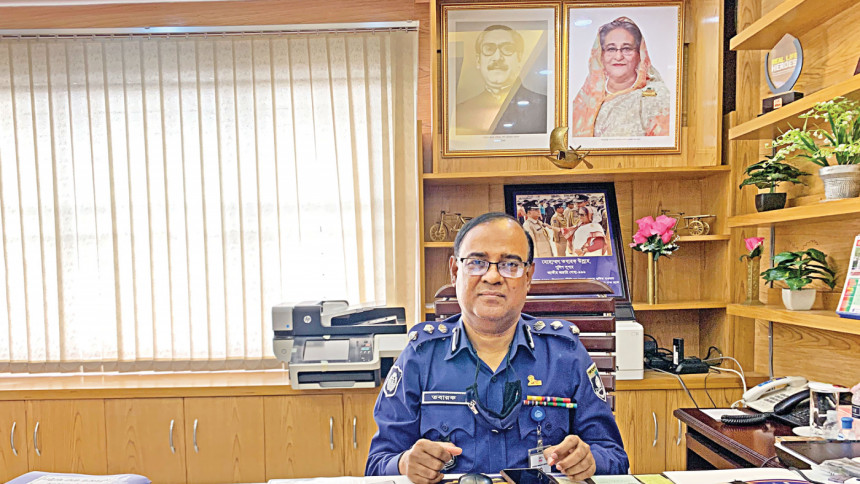 The National Emergency Service-999 has been providing service to around 23,000 to 25,000 emergency help seekers daily. Capable of attending around 120 calls per minute, the service providers mainly connect with the police, fire control, and ambulance services.  Recently, the government has given approval to turn the 999 service into a dedicated police unit. In this new arrangement, fire service and health ministry officials will work along with police to ensure better service. Mohammad Tabarak Ullah, additional deputy inspector general and chief of the 999 service unit, recently sat down with The Daily Star's Mohammad Jamil Khan and Shaheen Mollah to talk about the new features and limitations of the unit.
The Daily Star (DS): How many calls do you have to attend everyday? What is the most popular kind of service sought?
Tabarak Ullah: The 999-service started its journey on December 12, 2017. Till March 15 this year, we've received around 2.73 crore calls.
Among them, we managed to provide service to some 78.74 lakh calls. Of them, 78 percent were for police assistance, 11 percent for fire service, and 11 percent for ambulance service.
Although we provide emergency assistance for police, fire and ambulance services, a huge number of callers call on the toll-free number for other issues too, for instance over lost cell phones, information on how to file a general diary with police, request to arrest criminals or submit charge sheets.
DS: Where are most of these calls from? Is there any specific time of the year when the number of calls increase noticeably?
Tabarak Ullah: Urban callers out number rural callers by far, and the majority of them is from Dhaka metropolitan area. Of them, 78 percent are male callers while 22 percent are female.
The number of calls increase during national programmes or natural disasters, and religious occasions like Eid or Ramadan. Queries during these times are mostly related to information on the natural disasters or issues such as moon sighting (for Eid).
During these times, we sometimes receive up to 60 to 70 thousand calls a day.
DS: Is there any plan to increase capacity?
Tabrak Ullah: Initially, the only way to call the toll free 999 number was from T&T and cell phones. But now, citizens have the scope to communicate with us through our Facebook page, messenger, Twitter and WhatsApp.
We have around 100 stations to receive calls from T&T and cell phones and one station for the digital platforms. We have the capacity to receive around 120 calls per minute now.
Besides, two new apps of the 999-service will be launched soon. The police chief will inaugurate the apps soon. One is SOS, where a person can communicate with us just by pressing a single button. The other one is for ambulance service. Currently, we have 10,000 ambulances registered with our system.
DS: What is your response time now?
Tabrak Ullah: We are trying to minimise our response time. Currently, it takes around 15 to 20 minutes to respond to a call on average. This is mainly because police, fire service or ambulance services often face difficulty reaching destinations due to busy roads, narrow roads, or traffic jam.
For this reason, it is not possible to reach destinations or cross 20-kilometre distances within five or ten minutes.
Out of city, police stations have to cover around 20 to 30 kilometres, which delays response time too. In addition, we are working to include the facility of automatic locations and caller identification with our systems so that we don't have to waste time on these simple questions.
DS: How do police stations deliver services through the 999-service?
Tabarak Ullah: We are installing Thana Disperse System (TDS) in every police station for the 999-service so that we can communicate with the police stations without delay.
TDS includes a separate telephone line, computer and a desk. There's around 660 police stations across the country and we have already completed installing TDS in 315 of those. Besides, we have started installing "mobile data terminal" (MDT) sets in all police patrol cars to ensure quicker service. Once the MDS are installed, we will be able to monitor patrol car location from our office and direct nearby cars to rush to the aid of a support seeker.
MDT sets have already been installed in 275 patrol cars. The disperse system and MDT will also be installed in 350 fire stations and their vehicles in phases. Besides, police stations are already experts in dealing with the issues we receive calls for, so this will not be a problem for them.
DS: With all these planned expansions, what will your human resource situation be like?
Tabarak Ullah: We have around 450 staffers now, who are providing round the clock service in three separate shifts.
Besides, some 12 officials from the health ministry and six officials from fire service and civil defense are working with us. After a service seeker calls for fire hazards or ambulance service, these officials take charge of the issues and follow up on the incidents.
In the coming days, we have planned to increase our work stations to 500 so that we can receive over 500 calls in a minute. For this, we have already submitted a proposal to the Police Headquarters. The proposal asks for the staff pool to be increased to 2,888.
The cabinet has already approved 999-service to turn into a separate police unit under the lead of a police officer, who is at least of deputy inspector general rank on November 30, 2020. The fire service and health ministry officials will work with the unit jointly under the DIG.
The unit office will be situated in Demra and a 22-storied building has been contracted there. On top of this, seven-bigha land has already been acquired there from the land ministry and the land filling process has been started.
DS: Though caller identity was not supposed to be disclosed, there has been some allegations related to this, with some support seekers allegedly facing problems due to this. What do you have to say about this?
Tabarak Ullah: We do not disclose any caller's identity  But if any caller's identity gets leaked from the local police then we can take necessary action through proper investigation. We do not want any help seeker to get into any sort of trouble related to their identity. Ensuring safety of service seekers is our top priority.
DS: What are the challenges to ensure a smoother 999-service experience?
Tabarak Ullah: Due to our limited work stations, callers sometimes find our numbers busy, especially during the peak hours of 2pm to 10pm. Once the number of work stations will be increased this problem will hopefully go away. Besides, the number of staffers needs to be increased for smoother service delivery as well.