Ending the shame surrounding menstruation
Pad Bank providing free sanitary napkins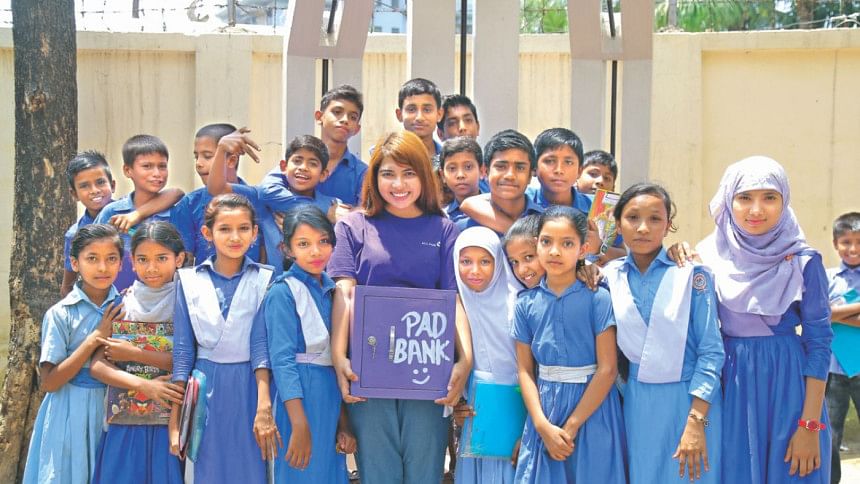 Fourteen year old Jhorna Akhter started getting her period recently. Along with physical changes during puberty, she is faced with change in emotional state as well.
She and her friends are often teased when their uniforms accidentally get stained during their monthly cycle, leading to a sense of deep embarrassment.
But the "All For One Foundation" has brought about a dramatic change in the lives of these disadvantaged girls in their formative years.
 "I am relieved to know that our school now has a 'Pad Bank'," said Jhorna, a class VII student of Dhamalkot Ideal High School and College in Mirpur in Dhaka.
"The foundation has taught me that menstruation is not a matter of shame."
"I was never informed about the do's and don'ts of menstrual hygiene because I was raised in a poor, uneducated family. My mother taught me to use an old piece of cloth each month and that is what I followed. Thanks to all the members of 'All For One', who are helping girls to be confident during their vulnerable time," Jhorna said.
Female hygiene products are still a prized commodity for underprivileged adolescent girls in Bangladesh. Using unclean cloth can lead to fungal infection, urinary and reproductive tract infection, and even make women vulnerable to infertility.
Kamrun Nesa Mira, a graduate from University of Liberal Arts Bangladesh in Media Studies and Journalism, started the initiative on March 26 last year.
With the slogan "Her period is the power", the aim of the organisation is to provide sanitary napkins and break the taboo surrounding a basic monthly hygiene issue.
Jhorna says she was always stressed about getting her periods suddenly at school. "But now I feel free, as I can easily get a sanitary napkin from the small purple box full of pads, underwear and soap at school."
"Underprivileged girls of different schools in Dhaka and other parts of the country are getting free sanitary napkins from our Pad Bank every month," said Mira.
On how she came up with the idea, Mira said, "On a visit to a char area in Bogura's  Sariakandi upazila in 2017, I was caught off guard when I suddenly got my period. Local women provided me with their solution -- a rag containing sand, which was a horrifying experience for me."
Not only that, while visiting Sylhet, she saw female tea garden workers using old rags filled with dry leaves during their periods, she added.
"Women of Bangladesh have achieved outstanding success in education and reached the summit of Mount Everest. How can our women and girls still be so ignorant about menstrual hygiene?" Mira wondered.
One day, she decided to write a post on the subject on social media platform Facebook, describing the ordeal of impoverished, rural women.
The post received response in the form of financial support, while many also came forward to work with her on the issue, leading to the beginning of the foundation.
It now has 965 volunteers, including 20 doctors and 25 trainers in Dhaka and other districts of the country, said Mira.
The first school they approached -- on April 25 last year -- was Dhamalkot Ideal High School, which has 171 girls in classes VII to IX.
The initiative will continue for a year, until they receive further funds to expand it, Mira said.
Girls of over 70 schools in Dhaka, Savar, Natore and Rajshahi are now getting free sanitary pads from the foundation each month, in addition to menstrual hygiene education (MHE).
To educate children on MHE, they visit each school every month. They are also educating the female tea garden workers of Moulvibazar and Sreemangal, and women living in the slums of Dhaka, alongside their male peers on MHE, said Mira.
Mira's initiative has been honoured as one of the top ten winners of the Joy Bangla Youth Award on October 28 last year.
"I was worried seeing a 2013 survey by icddr,b that said 82 percent of women don't use sanitary napkins during menstruation, posing serious health risks for them," said Mira.
"If the government cuts the VAT [value added tax] on sanitary napkins, insolvent people can afford those and their use will increase by 40 to 50 percent."
Mira is currently working on a design for a machine at Dholaikhal in the capital to make the sanitary napkins herself. The pads that she will manufacture will be given for free to underprivileged people, while lower middle class people will be able to buy those at a nominal price.
"My dream would never come true without the help of my team members, like Monisha Kaiser, and my father's unconditional support," said Mira, adding that Monisha, vice president of the foundation and an executive at Robi, has extended support for the venture all throughout.