Eid shopping a priority above health safety?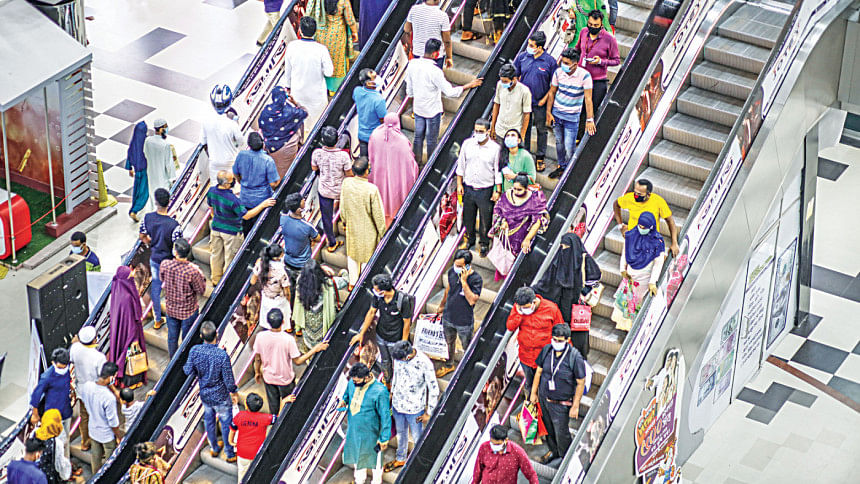 The government has directed all supermarkets, malls and shops of Dhaka city to adopt precautionary measures to stop the spread of Covid-19. However, the markets are struggling to maintain proper health and safety measures as there are large crowds of people shopping before Eid-ul-Fitr.
This correspondent observed such a situation in several markets of the city. During ramadan, the peak operating hours for the businesses are 11am-4pm and 7pm-9pm.
One of clothing brand Aarong's most popular branches in Asadgate often has queues forming in front of it. According to brand officials, the store can accommodate around 400 customers hourly.
On May 6, this outlet was fined Tk 1 lakh by Dhaka North City Corporation for allowing more people than its capacity and not maintaining the safety measures.
This correspondent, on a visit to Aarong in Asadgate, found that everyone was wearing masks inside the store, and customers were provided hand sanitiser at the point of entry. People also had to get their temperature checked before entering the store.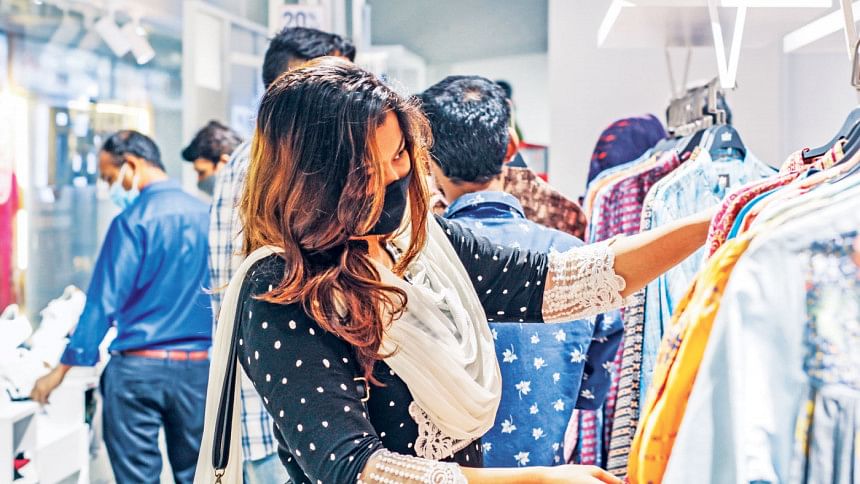 There were guards at the entrance to keep the number of people in check. Store staff were not keeping customers' bags in lockers before letting them enter, and outfit trials were also closed.
Last year, when the government shutdown was lifted initially, Aarong had a system of pre-registration for customers. However, this system isn't in use this year.
Seeking anonymity, a store manager said, "Pre-registration system wasn't friendly for all. Many customers would show up without registering beforehand and that would cause overcrowding outside the store. So we decided to forgo the practice this time."
"However, we have more displays than before, to help people choose quickly. All cash counters are open and trial rooms are closed. We also have additional measures to keep the crowd in check," said the manager.
Jamuna Future Park is also a popular destination for many. According to its officials, the five storey building can accommodate 60,000 people. At its main entrance, they have set up a temporary entrance that automatically measures the temperature of each person entering the mall. However, the sanitising system at the gate did not have any sanitiser in it.
The mall's general manager of maintenance and security did not speak to this correspondent as that would require "prior approval." However, an operations executive spoke with this correspondent under anonymity.
He said, "We strictly enforce wearing masks and regularly air announcements to encourage everyone to maintain precautions. As our space is bigger than any other markets, social distance is maintained."
When asked about the empty sanitisers, he said, "We fill the sanitisers regularly. Staffers at the gate maintain these. If it is emptied it will be filled up again."
Suvastu Nazar Valley in Badda and Notun Bazaar area is another five-storey building that draws crowds every year before. According to its officials, 10,000 people can be accommodated at the mall, although safety measures were relaxed there.
Only one of the two gates had an automated sanitiser spraying door. Guards were reluctant to measure the temperature of the customers at the gate, despite having thermometres.
The market's senior manager Towhidul Islam said, "It is Eid-ul-Fitr time and crowds will come in swarms which is natural. Yet we are trying our best to keep up."
"Our guards work all day and we ensure masks are worn by all. But people are often reluctant to wear masks inside. But we warn them whenever we see someone take masks off. People need to be more aware and maintain social distancing by themselves," he added.
The clothing and shoe stores in these markets are brimming with people. Few are being mindful of safety measures.
Faisal Khan, who visited Jamuna Future Park with his wife Sumi Akhter, said, "We thought that due to the pandemic, there won't be large crowds. But we were wrong. We have taken the vaccine and are trying to maintain social distance.
Meanwhile, DNCC began drives on May 5 to check shopping malls for proper precautions against Covid-19. While Aarong's Asadgate outlet was fined, Rajuk Complex in Uttara was declared closed on May 9 by DNCC as the market didn't have proper safety measures.