Man carrying 1lakh yaba tablets killed in gunfight at Malibagh; wife shot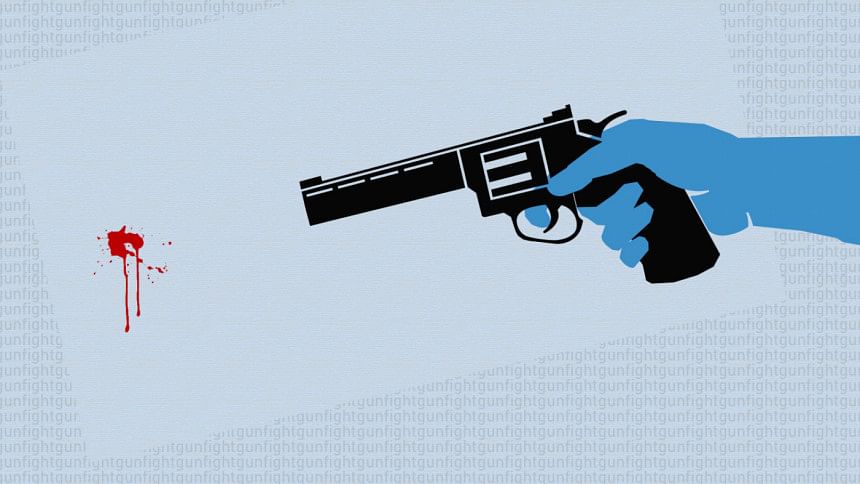 Rapid Action Battalion said a suspected drug peddler was killed in a gunfight in front of the counter in Shohagh Paribahan in Dhaka's Malibagh Railgate area.
The deceased was identified as Iqbal Hossain, 40, said Mohammad Mohiuddin Faruqui, a company commander of Rab-2.
Iqbal's wife Rafika Jasmin and brother-in-law Mashnur also suffered bullet injuries in the incident and are being treated at Dhaka Medical College Hospital.
What happened at Malibagh railgate this morning?
The Rab official who briefed media in this regard said they had information that a person carrying Yaba tablets was travelling from Cox's Bazar to Dhaka on a Shohagh Paribahan bus.
The Rab team took position near the Malibagh counter of Shohagh Paribahan and waited for all passengers to disembark when the bus reached the spot in the morning.
All passengers had left, excepting Iqbal Hossain, who had at least 10 to 12 items of luggage on him, Mohiuddin Faruki said.
After around 20 minutes of waiting, two private cars came to the spot to pick Iqbal, the Rab official said.
A man and a woman got off the cars and started to pick up Iqbal's luggage into the cars. But by that time, Rab members had cordoned off the area.
Sensing their presence, Iqbal Hossain fired shots at the Rab members triggering the "gunfight" in which he suffered bullet injuries, Rab official Faruki said.
Iqbal, his wife Rafika and brother-in-law Mashnur were injured in the alleged gunfight and were later rushed to Dhaka Medical College Hospital where duty doctors declared Iqbal dead, the official said.
One lakh piece of Yaba tablets, Tk 1.80 lakh in cash, two private cars, and one pistol have been recovered from their possession, he said.