FROM SHOUT
University Rankings: Do they matter? Should you care?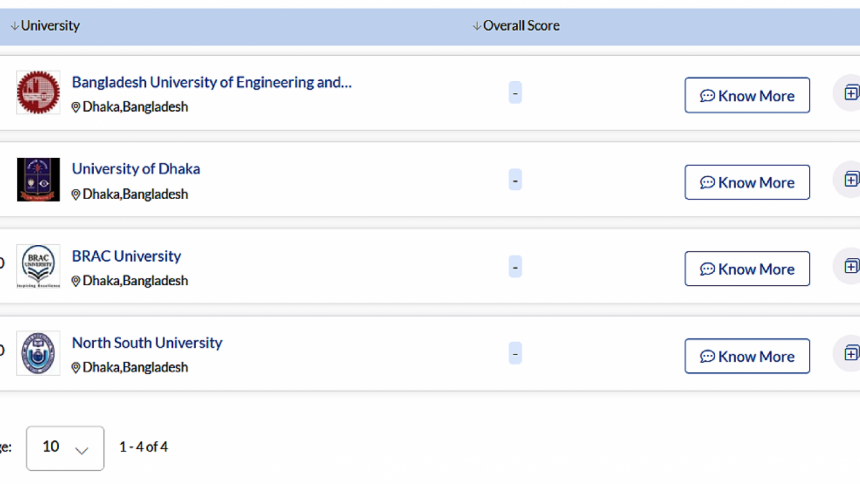 The Quacquarelli Symonds (QS) World University Rankings for 2022 were unveiled on June 8. Like the previous edition (2021) of the rankings, University of Dhaka (DU) and Bangladesh University of Engineering and Technology (Buet) failed to climb into the top 800 positions, as both institutions were placed in the 801-1,000 bracket again. Two private institutions, Brac University (BracU) and North South University (NSU), were placed in the 1,001-1,200 bracket.
QS evaluates universities based on six unique metrics: academic reputation, employer reputation, faculty-student ratio, citations per faculty, international faculty ratio, and international student ratio.
The metrics echo the state of performance of these universities. To make matters worse, Bangladesh has more than 150 universities (public and private) that are nowhere near the rankings, let alone a position in the top 500 or 1,000.
Among the four Bangladeshi universities, NSU has the highest scores in international faculty ratio, international student ratio, and employer reputation. BracU scored highest in terms of faculty-student ratio. DU has the highest academic reputation, whereas Buet has more citations per faculty.
But do these rankings matter to the students? And do they care about such rankings at all?
"I believe rankings are just a general idea of where that university falls in comparison to all other universities," says Abdullah, a final-year student at the Department of Computer Science and Engineering at BracU. "Universities with more funds will have better facilities and are also most likely to have a higher number of publications. But a rank is not necessarily reflective of the education quality in the institute."
Although it is an easy way to determine which university is generally doing better than the rest, Abdullah believes that one must also evaluate certain other factors before choosing a university. He adds, "A student should not take admission decisions with rank in mind. Instead, they should look at the programmes and course structures the universities offer, their alumni history, facilities that students can enjoy, faculty members and their qualifications, and so on."
However, recent graduate and software engineering intern Afia Fahmida Rahman from BracU argues, "In my opinion, it may matter when it comes to getting recognised by international universities or organisations. For a company that has not heard about my locally high-ranked university at all, looking at the QS rankings may give them a rough idea of how the university actually is and how it might have nurtured me to become a potential employee for them."
For a higher rank, universities need to invest in certain areas, especially those that impact rankings. Institutional research is a major area that requires attention as well as funding. And a lot depends on the research output by these universities.
"I think research output at our university is quite good," comments Samin Rahman Khan, a fourth-year engineering student at Buet. "Recently, we are working on solutions for significant real-world problems in our labs, which makes our research very impactful. Aiming for a more thriving research culture is evident from our citations score."
The question now is whether universities should concentrate on improving their rankings, and how.
"I feel like there are more pressing matters for the universities to handle before getting worked up about rankings," states Syeda Afrin Tarannum, a third-year economics student at NSU. "Maintaining proper protocol regarding classes and ensuring students' mental health go beyond sending YouTube recommendations and vague surveys. Once that is taken care of, maybe they can try for a higher ranking."
"Students should not be bothered about the number one position," says Anika Anjum, a second-year student at the Department of Sociology, DU, matching Afrin's views. "They should be concerned about whether necessary requirements and experiences are being met. Students carry these experiences both in academic as well as their professional fields."
She, however, says, "When we see the rankings, as students, we realise how much we are falling behind in opportunities."
In the 2022 index of the QS Rankings, Massachusetts Institute for Technology (MIT), USA, secured the top position, followed by University of Oxford, Stanford University, University of Cambridge, and Harvard University.
A total of 26 Asian universities made it to the top 100 list. Besides, the 2022 index saw eight Indian and three Pakistani institutes rank in the top 500. Given how things are progressing, everyone might have to wait a long while to see a Bangladeshi university among those ranks.
Read SHOUT, the definitive youth magazine of The Daily Star on www.thedailystar.net/shout. Follow on Instagram @shoutds and Facebook at fb.com/ShoutDS