DNCC drive met with resistance at Mirpur-11
Locals say 3 Bihari camps facing eviction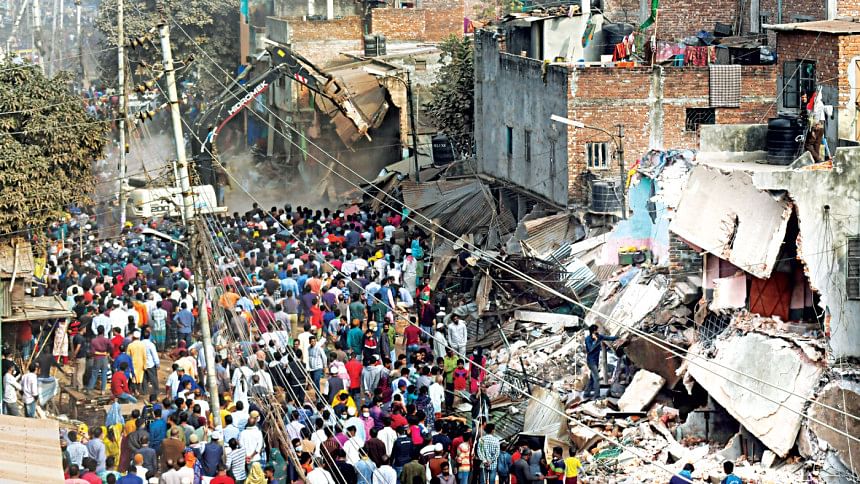 Officials of Dhaka North City Corporation faced obstruction from locals while conducting an eviction drive in Mirpur section 11, block-C yesterday.
A chase and counter-chase took place when locals pelted brick chips targeting the DNCC officials and police.
Around 10:30am, a team of DNCC started the drive at Nannu Market area, but the drive was halted in the face of resistance from locals. Some brickbats were thrown from surrounding houses as well.
On information, additional police members rushed to the spot and brought the situation under control, said Officer-in-Charge of Pallabi Police Station Kazi Wazed Ali. Police used five rounds of teargas shells.
The eviction drive resumed after a 20-minute break, Wazed Ali said.
DNCC Mayor Atiqul Islam also visited the spot around 11:15am and stayed there for a while. He said the drives will continue.
He said around 150 structures were demolished in the drive which continued till 6pm and they will resume it on Friday (today).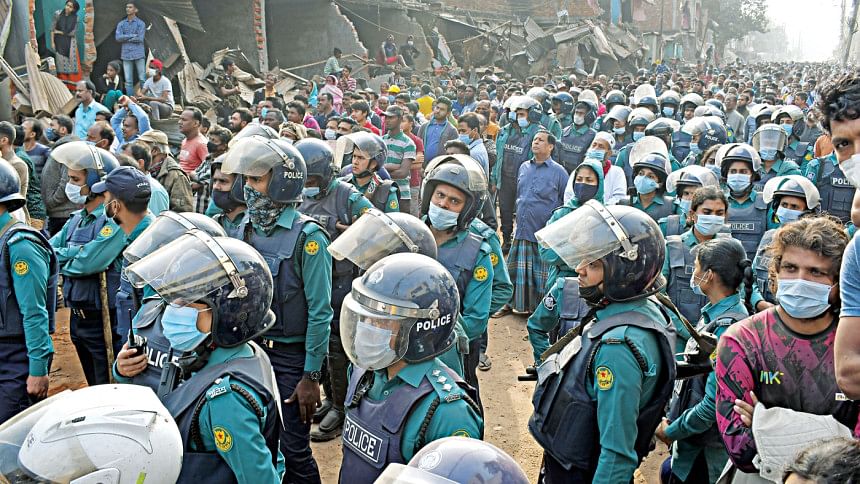 Md Sadaqat Khan Fakku, acting president of Mirpur-11 New Society Market, on the other hand said three bihari camps were demolished during the drive.
He said they did not get any notice before the drive and the drive was conducted violating a Chamber Judge Court order.
Around 300 houses would be demolished in the drive, he said.
Atiqul said DNCC will construct a two-kilometre long, 60-70 feet wide road from Mirpur 11 to Kalshi via Bounia. There will be a huge improvement in connectivity for locals after completion of the road, he added.
The DNCC mayor said a project of Tk 29 crore has already been undertaken and the work will begin after completing the eviction drive.
He said it will be a parallel road to Kalshi, which will improve connectivity with the airport. Atiqul added that late mayor Annisul Huq also widened many roads in Pallabi and people are getting benefited by those.
Additional chief engineer Md Sharif Uddin said work was underway to widen roads and footpaths under a government project and their work is a part of it.
He said people were running shops by encroaching land on both sides of the road, which resulted in narrowing vehicular movement.
Sharif said they talked with the illegal shops' and structures' owners many times and asked them to evict but they did not pay heed.
DNCC has been conducting drives against illegal structures constructed occupying roads, footpaths or canals since Atiqul took charge as mayor.
The mayor said they will continue their drive to recover all canals in DNCC areas as well as to widen roads and construct footpaths.