Dhaka could benefit from more public spaces
Prof Holger Kleine says at Bengal Institute's public forum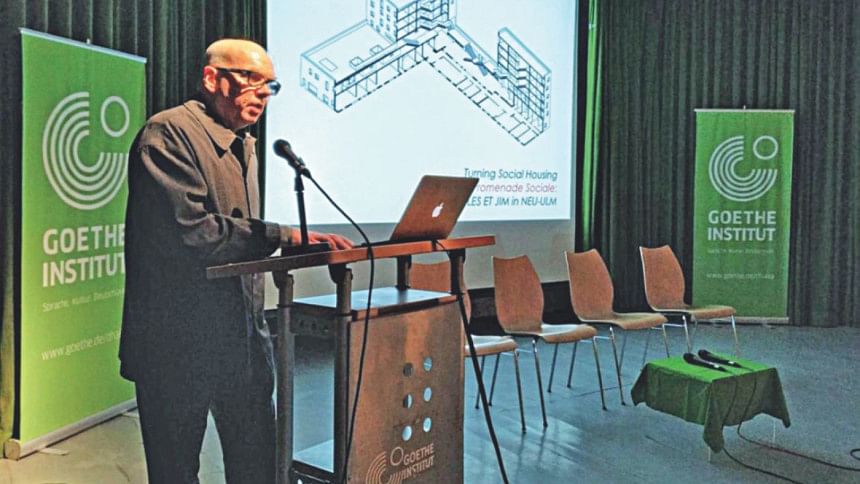 What is good architecture? Definitely not an easy question to answer, but Prof Timmy Aziz and Prof Holger Kleine managed to enlighten an audience in Dhaka in the process of exploring this subject.
Organised by Bengal Institute, the public forum titled "What is Good Architecture?" was held at Goethe-Institut on Thursday and went on for two hours. Students, architects and interested individuals quickly filled up the auditorium to listen to the talk, which was based on Prof Kleine's methodologies and framework detailed in his book "The Drama of Space".
The event started with an introduction of Prof Kleine and his book by Prof Aziz. Discussions on intentions, definitions of architecture, and utilisation of space ensued after Prof Kleine got on stage.
The latter part of the talk revolved around Dhaka and its architecture. When talking about the Bait Ur Rouf Mosque, Prof Kleine said what he mostly liked about the space is that one does not feel like they are filling it up with their presence.
At the same time, he lamented the lack of public spaces.
He also pointed out the degrading air quality in Dhaka. "After [taking] 20 steps outside our apartment [we realise] the air is unbearable in Dhaka... We have to find solutions..."
Water and its use were an important part of the talk. Prof Kleine elucidated on how Venice developed its architecture by not going against water but by using the geography to its advantage. He also talked about Berlin and its utilisation of water, and finally explained how the waterways in Dhaka can be used for the better.
Later on, Prof Kleine compared some of Dhaka's unique architecture with that of abroad, and then focused on Hatirjheel, which prompted a discussion on the two professors' initiative to build a public structure there.
"So idyllic, right?" Prof Kleine said while pointing to a picturesque photo of a part of Hatirjheel. "But because of the sound of the Moghbazar flyover, it's terrible. We need a high wall; we need architecture to block off the sound. This wall should be something for public [enjoyment]."
Finally, Prof Kleine showed everyone models/renderings of a curved wall with a waterfall in the middle and bike lanes above. The wall would have space for people to relax and enjoy. Local students, guided by Prof Kleine, planned and designed the structure at a four-day workshop.
After a brief question and answer session, the two professors bid adieu by stating how satisfying their journey was.