Dehydration, heat strokes drain working class in Ctg
Experts urge CCC and Wasa to rush water ATM booth project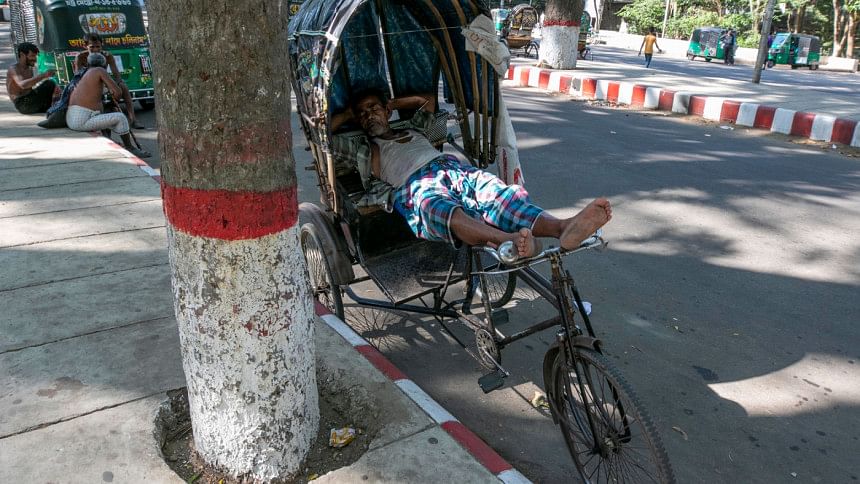 At 12 noon on Friday, rickshaw-puller Md Belal stood at Jamal Khan Road with his clothes stuck to his body with sweat. The 37-year-old has been pulling rickshaws for long, and dealing with heat is a part of the job. Yet, the scorching sun was threatening to get the best of him. Exhausted, Belal pulled out a Tk 5 note and went for the nearest lemonade vendor.
According to the Met Office, the highest temperature in the city was 35 degrees Celsius yesterday. The same mark was hit over the last two days, while average temperature remained similar. Coupled with high humidity, this was enough reason to put people -- especially those who do hard labour -- in misery.
People across the port city, especially day-wage earners like Belal, suffered immensely due to working directly under the sun throughout the day. This correspondent came across several stories of heat strokes.
"Heat stroke is a common heath concern for the people who work under this scorching sun," said Dr Sujat Paul, head of Medicine at Chattogram Medical College.
Across the city, one other tale echoed: dehydration. Withstanding the heat is one thing, but what compounded these working people's woes is the unavailability of affordable safe drinking water.
According to health experts, safe and unsafe drinking water can be the decider for water-borne diseases like diarrhoea, jaundice and typhoid, especially during this heat wave.
But due to the lack of safe sources, most people have to resort to other means, like untreated water from drains and canals, or straight from the tap, said Dr Paul.
For example, Belal said he is well aware of the consequence of drinking unsafe water; his fifth-grader daughter told him about it. But he has no options.
"My daughter forbade me to drink unsafe water from roadside shops and gave me a bottle of boiled water when I came out with the rickshaw in the morning," said Belal. "But I finished that one litre of water within an hour."
"My earnings are stuck at Tk 300 a day because I cannot work through the day fighting the severe heat," he told this correspondent. "From this, Tk 50 goes to the owner. If I spend Tk 30 to 50 for bottled water, what do I take back home?" The most he can afford is the Tk 5 he spent for the lemonade, whose water possibly comes from a dubious source.
As a solution, Dr Mahfuzur Rahman, convener of Public Health Rights Protection Committee, Chattogram, said public service providing organisations like Chattogram City Corporation (CCC) and Chattogram Wasa should set up safe drinking water booths for every two kilometres, working together for this if needed.
"It will not be a costly project but will hugely benefit people from the low income group who cannot afford bottled water," he said.
Beyond the working class, the drinking water booths will also be of immense help for other demographic groups too, like students, said SM Nazer Hossain, vice president of Consumers Association of Bangladesh (Cab).
"Commuters and workers of the city have a right to safe drinking water, which they should have either for free or at a nominal cost," Nazer added.
Contacted, Ariful Islam, superintendent engineer of Chattogram Wasa, admitted to the necessity of setting up drinking water booths across different points in the city.
"We've already started a pilot project -- in collaboration with a private company -- to set up water booths from where people can buy a litre of drinking water at fifty paisa," he said.
"For starters, a few of these water ATM booths have been set up at Khulshi, Agrabad and Halishahar areas under pilot project," Ariful said.
"We will set up a total of 100 booths in the city," he said. "We are talking to CCC in this regard as we do not have sufficient space to set up the booths."
Despite repeated attempts over phone, CCC mayor Rezaul Karim Chowdhury could not be reached for comments.