Breaking perceptions
Human Library Bangladesh holds storytelling session on Women's Day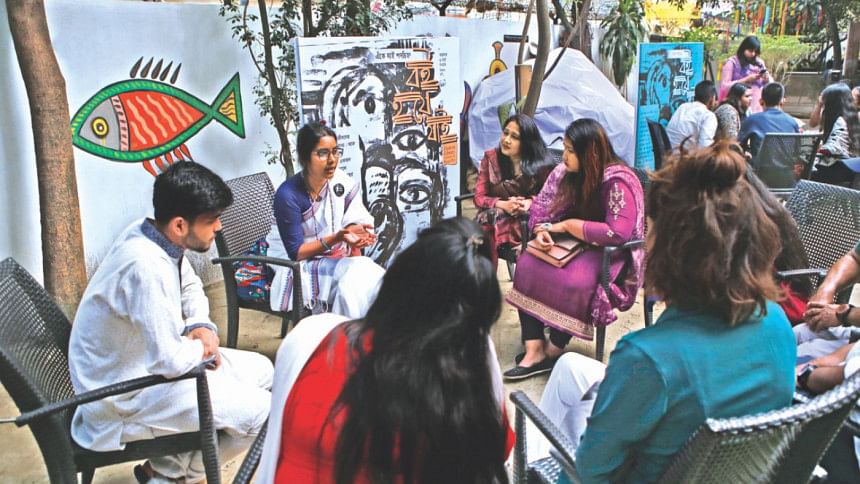 Human Library Bangladesh (HLB) started with a mission to break prejudices. HLB organises storytelling sessions and discussions where individuals participate as "books", narrating their stories to "readers" (participating audience). Yesterday they held the fifth session to further this cause.
Held at Bengal Boi in Dhaka, the session titled "Boi Hoye Jai" started at 4pm and went on for two hours. The session was divided into three sub-sessions where readers got to pick a single book they wanted to listen to for half an hour each.
Marking International Women's Day, the organisers invited women from different backgrounds to talk about the various forms of discrimination they have experienced. 
"HLB is a nice platform to interact with people from all walks of life," said Sutrishna Nandy Prithu, one of eight "books" at the session. "Unlike a regular book that does not offer a conversation with the reader, here you get to discuss, question and reply to fully empathise with the stories."
"Telling your personal stories to others gives one a new appreciation of the hardships one overcame," she added.
The stories themselves were regarded by readers as unique. One such story was that of a teacher who spoke about the various impressions we hold about madrasas, and what the reality is. "At this platform, people bring the truth to the table; the stories are raw and unrestricted," said Kazi Naseef Amin, a reader of the book.
The event also gave way to talk about important social issues. "The government gave recognition to us Hijras but did not follow through to make our lives easier," said Ivan Ahmed Katha, a transgender woman. "We are still not allowed to enter many restaurants and malls. I urge everyone to look at us with a bit of empathy."
When asked about the particulars of the event and the platform as a whole, Maisha Zaman, one of the organisers of HLB, said, "Primarily readers who participate in our events are youngsters but this time older individuals took part as well. Possibly because Bengal Boi urged us to write synopses of the books in Bangla."
"We love the curiosity with which people listen to the stories, and are glad that we get to play a part in helping others form balanced perspectives on various issues that are often not talked about," she added.