Architecture for the people
Exhibits at Manik Mia Avenue, Gulshan become public attractions
If you have passed through Manik Mia Avenue recently, you may have noticed six shipping containers sitting right outside the parliament complex -- each depicting the unique architectural landscape of Dhaka in different seasons. Designed by artist Reesham Shahab Tirtho, the vibrant graffiti on the container walls have caught the attention of all commuters, many of whom stopped to check out the exhibit.
The insides of the containers have been transformed into makeshift galleries, showcasing over a hundred genre-defining projects of Bangladesh -- from the iconic Curzon Hall and Jatiya Sangsad Bhaban to award-winning residential and commercial designs. This exhibition will conclude on Wednesday (November 6).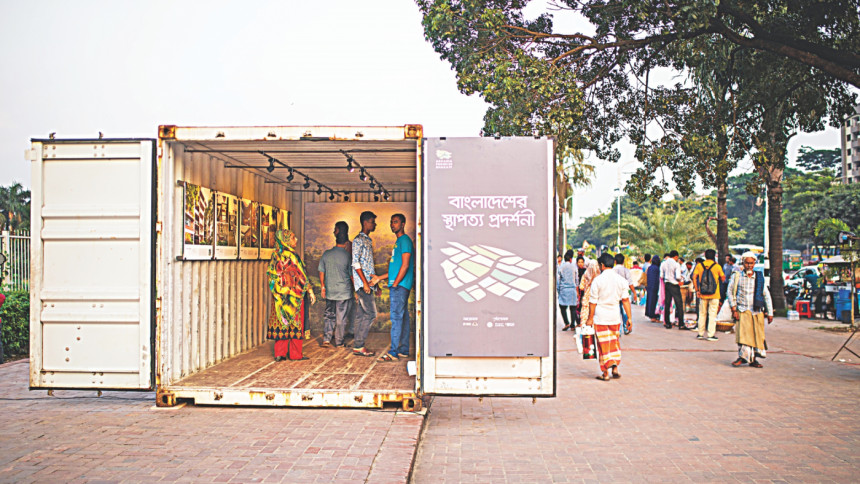 "I've actually learned a lot through this exhibition, and I enjoyed walking along this street and exploring each shipping container," said Sobnom Lopa, a second-year student of architecture at Bangladesh University.  
Her classmate Saddam Hossain chimed in: "It would be great if more details and photos of the interiors were displayed, as the optimisation and use of indoor space is a crucial part of our lessons."
This public exhibition is part of ARCASIA Forum 20. Institute of Architects Bangladesh (IAB) is hosting this year's forum of Architects Regional Council Asia (ARCASIA), and this year also happens to be the latter's golden jubilee. On the occasion, multiple programmes are happening across Dhaka, including another public exhibition at Gulshan's Shaheed Tajuddin Smriti Park.  
Titled "An Enclosure of Permeability and Aperture", the exhibit at Gulshan was designed by architects Saiqa Iqbal Meghna and Suvro Sovon Chowdhury. It offers an entirely different experience from that of Manik Mia Avenue.
"The set-up made of large bamboo sticks create an open-to-sky gallery. The idea behind this translucent pavilion design is deeply rooted in the desire to engage people with ease and simplicity," the organisers explained. This exhibit will be open till November 15.
"Architects work for social good. Our designs and constructions are very people-centric, and it ultimately contributes to the making of a great city," said Ehsan Khan, vice president of international relations at IAB.
"These exhibitions are open to all, and situated in very accessible locations so that the public can get an idea of what architects do and how they contribute to society," he said.  
The organisers of the public exhibitions also ensured that their works remain sustainable. "Shipping containers were a great choice for a temporary exhibition. We did not have to construct anything new on the streets, and the containers are reusable," said Ehsan.  
The exhibit has certainly managed to stir conversation among Dhaka dwellers, as people thronged the venue on Manik Mia Avenue for selfies and photos. Meanwhile, there is a play-area for children at the Gulshan park site, as the designers want to ensure that the exhibit does not take away the essence of the park, rather enhances people's leisure time.
Open exhibitions are a great addition to Dhaka, a city that is notorious for having little to no recreational facilities for its citizens. It is also the perfect weather for such events, and truly goes to show how art and architecture can enhance the lives of people.